There aren't any Events on the horizon right now.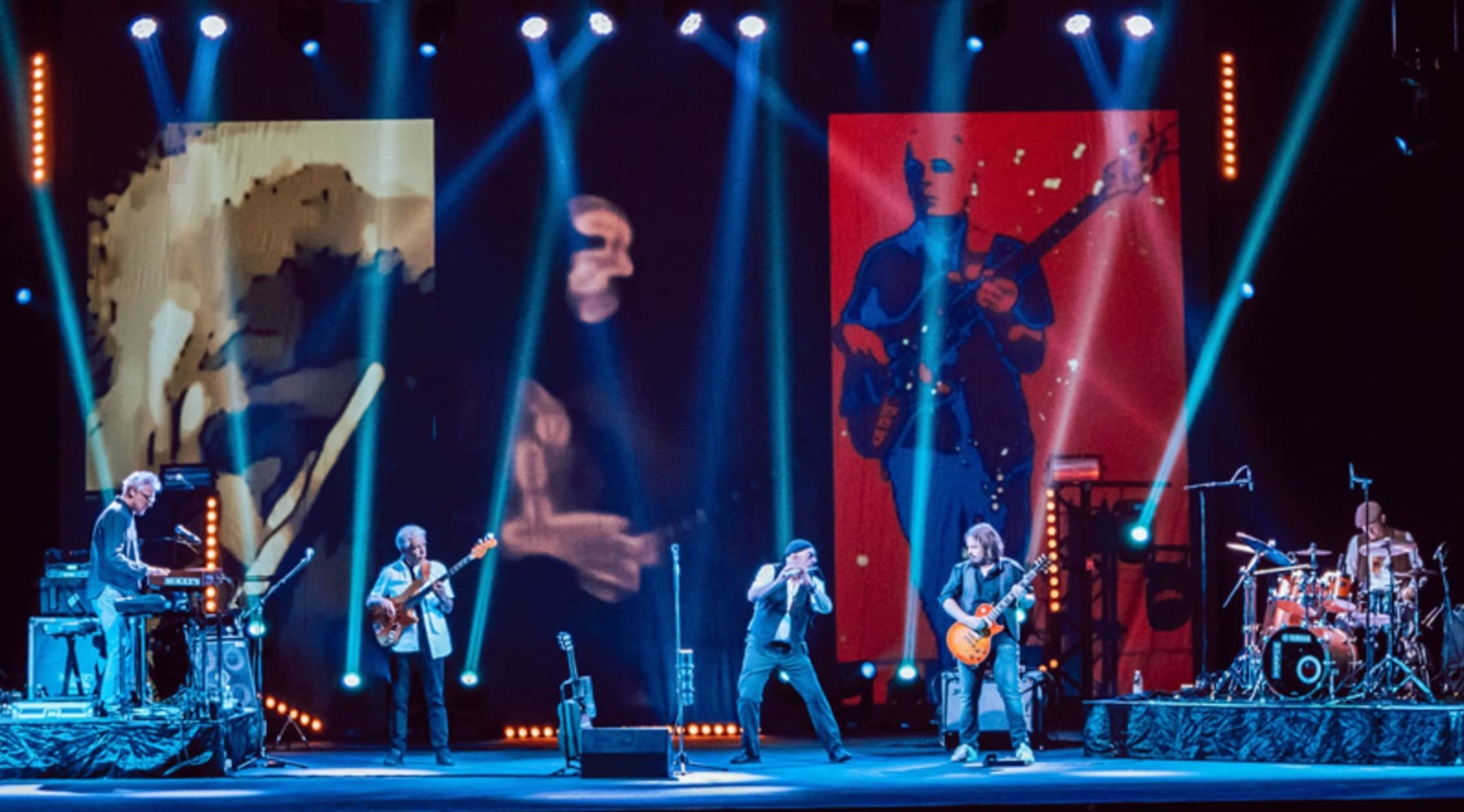 Zuma
Jethro Tull Tickets
Jethro Tull Tickets
In its prolific history, Jethro Tull has put out 21 studio albums, nine live albums, 15 compilation albums, 12 video albums, four Extended Plays and 33 singles. Its music has inspired other musical superstars like Nick Cave, Iron Maiden, Geddy Lee of Rush, Eddie Vedder of Pearl Jam, John Myung of Dream Theater and Jenny Conlee of the Decemberists. With roots in blues rock, Jethro Tull quickly evolved its signature sound to fuse components of hard rock, progressive rock, folk rock and even electronic rock.
The Many Faces of Jethro Tull
Since first forming in in 1967 in Blackpool, Lancashire, England, Jethro Tull - named for the pioneering 18th-century agriculturist who invented the seed drill and helped to develop modern British agriculture - has experienced many changes in lineup as its musical style evolved over the years. The one constant throughout, however, has been its leader, Ian Anderson, with the distinctive sound of his flute and his songwriting expertise. A keen observer of modern life and its problems, Anderson has written lyrics about religion, education and societal challenges like climate change. He remains the last original member of Jethro Tull in the current lineup and continues to take its helm. After the group disbanded in 2010, Anderson revived it for its 50th anniversary in 2017, and it hasn't stopped playing since.
Where can I buy Jethro Tull tickets?
Get your Jethro Tull tickets at StubHub. All ticket purchases are guaranteed by StubHub's FanProtect guarantee to be completely safe and secure.
Who are the members of Jethro Tull?
Currently touring as Jethro Tull alongside Ian Anderson on vocals, acoustic guitar, flute and other instruments are David Goodier on bass, John O'Hara on vocals, keyboards and accordion, Florian Opahle on guitars and Scott Hammond on drums. Other musicians who have played as members of Jethro Tull include (in the order in which they first joined the band): Mick Abrahams, Clive Bunker, Glenn Cornick, Tony Iommi, Martin Barre, John Evan, Jeffrey Hammond, Barriemore Barlow, John Glascock, Dee Palmer, Dave Pegg, Mark Craney, Gerry Conway, Peter-John Vettese, Doane Perry, Maartin Allcock, Andrew Giddings and Jonathan Noyce. Over the years, Jethro Tull has also welcomed guest musicians into the lineup on tour, including Tony Williams, Eddie Jobson, Phil Collins, Don Airey, Steve Bailey, Mark Parnell, Anna Phoebe, Ann Marie Calhoun and Unnur Birna Björnsdóttir.
What are some popular Jethro Tull songs?
Songs you may hear at a Jethro Tull show include "Hunting Girl," "Living in the Past," "Bungle in the Jungle," "Velvet Green," "Aqualung," "Thick as a Brick," "Cross Eyed Mary," "Locomotive Breath," "Farm on the Freeway," "Broadsword," "To Cry You a Song," "Nothing Is Easy," "Witch's Promise" and "Teacher."
How many Grammy Awards has Jethro Tull won?
Although the band boasts 15 gold or platinum albums, only one received a Grammy nomination and win. Jethro Tull's 16th studio album, Crest of a Knave, won the inaugural Grammy for Best Hard Rock/Metal Performance Vocal or Instrumental in 1988, edging out the expected winner, Metallica, and upsetting many of its fans. Tull's record label responded with a Billboard ad that read, "The flute is a heavy metal instrument," according to TIME magazine.
Where can I see the Jethro Tull tour?
There are many ways and places to see Jethro Tull on tour. You can attend the JETHRO TULL Performed by Ian Anderson tour, hitting sites worldwide like Plassenburg in Kulmbach, Germany, Castello Scaligero in Villafranca di Verona, Italy, Open Air Kunst! Rasen in Bonn, Germany, and Fiesta City Festival in Verviers, Belgium. You can also see the Jethro Tull 50th Anniversary Tour in Europe at spots such as Malmo Arena in Malmo, Sweden, Musical Theatre in Basel, Switzerland, and Theater Heerlen in Heerlen, Netherlands. The anniversary tour in North America includes performances at venues like the Chevalier Theatre in Medford, Mass., and Mohegan Sun Arena in Uncasville, Conn. In addition to these concerts, fans can also enjoy Ian Anderson's Christmas shows at venues such as Johann Sebastian Bach Kirche in Arnstadt, Germany, and Wakefield Cathedral in Wakefield, UK.
Who are Jethro Tull's influences?
At any Jethro Tull performance, you may well hear hints of its many musical influences, like Cream, Traffic, Procol Harum, The Moody Blues, Howlin' Wolf, Muddy Waters, The Beatles, Rahsaan Roland Kirk, Bob Dylan, Led Zeppelin, Fairport Convention, The Yardbirds, The Incredible String Band and Martin Carthy.
Back to Top