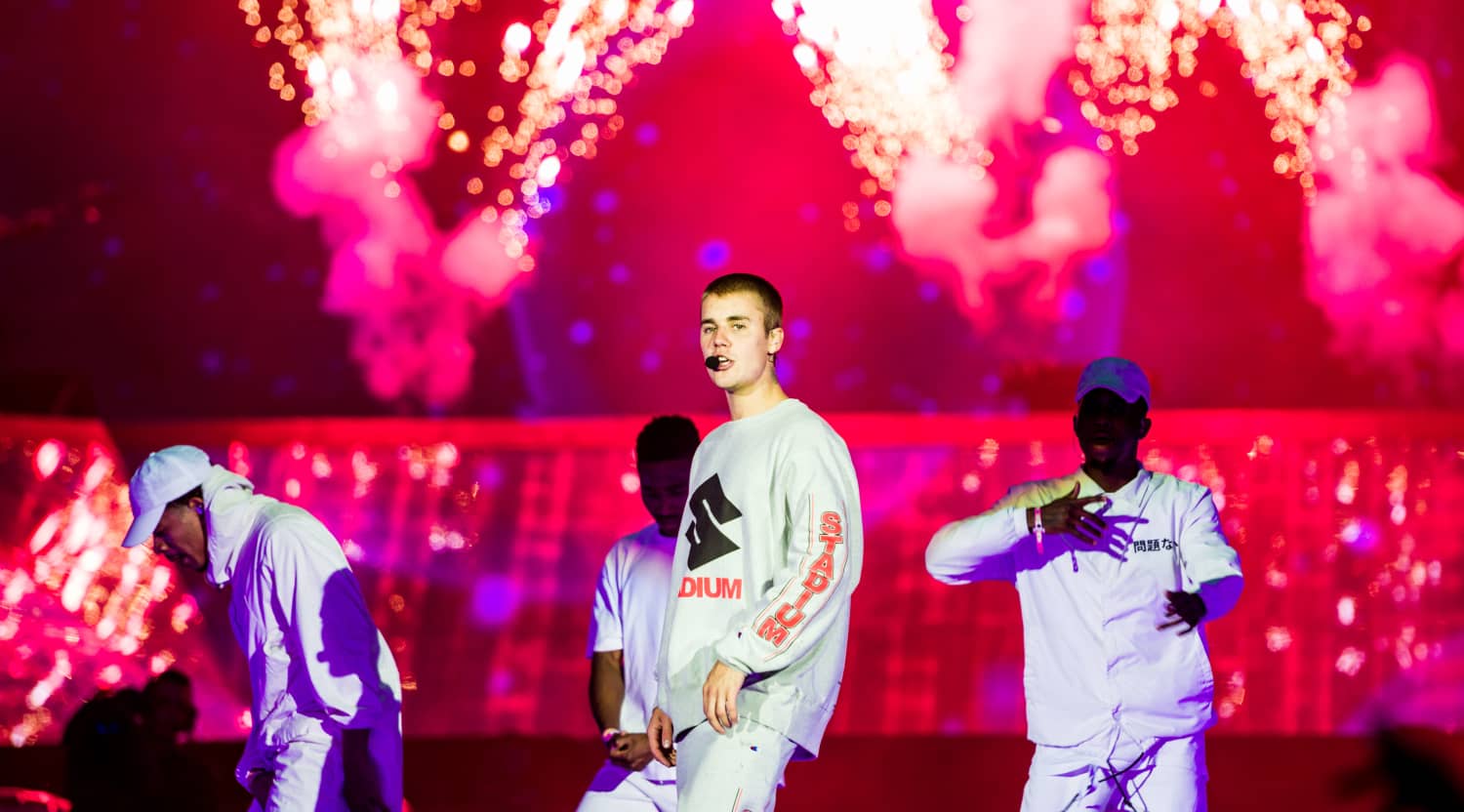 Zuma
Justin Bieber Tickets
Justin Bieber tickets
Justin Bieber is a Canadian singer and songwriter who has gifted millions of fans with his chart-topping pop and hip hop music since 2007. Bieber first hit the music scene with his single "One Time," which reached No. 12 on the Canadian Hot 100 in its first week of release and later hit No. 17 on the Billboard Hot 100. Starting his career with the introduction of a softer side of love, with songs that tore through our hearts detailing the mysteries and heartaches of adolescence, Bieber now presents a more raw feeling through his music that keeps his audience on the edge of their seats. Fans can expect high-energy performances at any of Justin Bieber's concerts where they can scream along with some of his top songs like "Love Yourself" and "Baby."
Bieber's Beginnings
Justin Bieber was born the only child of Jeremy Bieber and Patricia Mallette on March 1, 1994, in Ontario, Canada. He has three younger half-siblings and a stepsister through Jeremy Bieber. Though he was raised by his young single mother with the help of her parents, Bieber does remain in contact with his father. As a child, Justin Bieber attended a French-language immersion elementary school and used his free time to learn the drums, guitar, piano and trumpet. In 2007, Bieber won second place in a Stratford singing competition with Ne-Yo's song "So Sick." As a teenager, Bieber often sang covers of various hip hop artists that his mother videotaped and posted to YouTube for friends and family to view. At age 13, Bieber was discovered by talent manager Scott Braun, who accidentally clicked on a Bieber video when looking for another artist. He has since won numerous awards for his musical talent, including the American Music Award for Artist of the Year in 2010 and 2012, as well as a Grammy Award for Best Dance Recording. On top of his impressive musical achievements at such a young age, Bieber also graduated from St. Michael Catholic Secondary School with a 4.0 GPA in 2012.
Is Justin Bieber touring in 2020?
Justin Bieber has a massive tour in store for his fans in 2020. His North American tour will take him to locations all over the United States and Canada. Justin Bieber's tour will kick off May 14 at Centurylink Field in Seattle and will conclude on September 26 at Metlife Stadium in East Rutherford. Along the way he'll make stops at venues such as the Rose Bowl, Bok Center, Lincoln Financial Field, Bell Centre and more. Be sure to check StubHub for ticket prices and tour dates.
Where can I buy Justin Bieber tickets?
For a phenomenal pop star concert experience, grab your Justin Bieber tickets at StubHub, and have the night of your life.
What can I expect from a Justin Bieber concert?
Justin Bieber enchants his fans with energy-fueled pop and hip hop songs that are centered on the concept of love. He generates a positive, feel-good vibe in all of his performances. His first studio album, My World 2.0, which hit No. 1 in several countries and was certified triple platinum in the US, was inspired by American singer Justin Timberlake. Fans purchasing tickets to a Justin Bieber concert can expect to have the night of their lives as they watch him perform with talented dancers and witness impressive costume changes all while pyrotechnics and confetti cover the stage.
How long is a Justin Bieber concert?
The length of a Justin Bieber concert depends greatly on his setlist, the list of intended songs he will perform that night. Typically, Justin Bieber fans can expect to hear 20 different Bieber songs at a single concert, each lasting approximately four to five minutes. Add to that the small gaps of time throughout his performance for minor stage adjustments and audience interaction, you can expect a typical Bieber concert to last anywhere from two and a half to three hours.
Who has Justin Bieber toured with in the past?
On previous tours, Bieber has shared the stage with Carly Rae Jepsen, Cody Simpson, Hot Chelle Rae, Mike Posner, Post Malone, Moxie Raia and many more.
Where has Justin Bieber toured in the past?
Justin Bieber's world tours typically make stops in hundreds of cities around the globe. He typically performs in the Americas, Europe, Asia, Africa and Australia.
Back to Top
Epic events and incredible deals straight to your inbox.