We didn't find anything nearby, but here's what's happening in other cities.
There aren't any events on the horizon right now.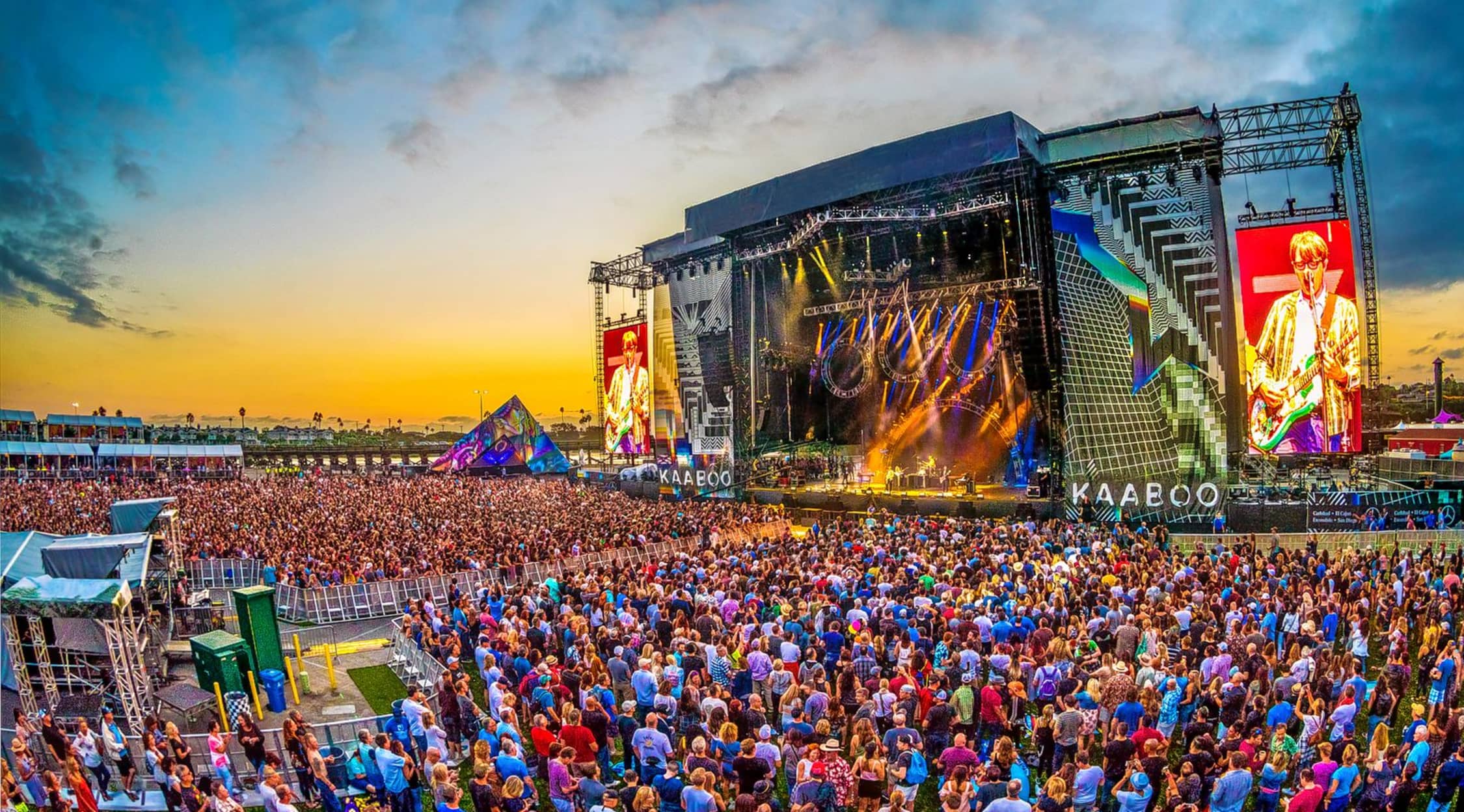 KAABOO
KAABOO Music Festival Tickets
KAABOO Music Festival Tickets
For an exhilarating experience with the best live performances of rock and roll and comedy matched with fabulous food and drink, there is only one event that took all that and added a Las Vegas-style pool party. Promoters describe the KAABOO Music Festival, set for its fifth incarnation Sept. 13-15, 2019, in at the Del Mar Racetrack + Fairgrounds near San Diego, Calif., as "an adult escape, uniquely curated to appeal to all five of your senses." Prestigious national and international music and comedy performances are always onstage to delight and entertain the huge numbers of fans that enjoy the unique variety of options for adult fun of nearly every taste. When the day's concerts end, there is an after party where the crowd can continue to dance while a DJ takes over the soundscape of the arena.
Making History in Live Music Touring
It seems the event producers and managers are finally starting to get ahead of the curve when it comes to live music events that draw crowds in excess of 100,000 with KAABOO, which is not just a music festival but an appreciation of art in many of its forms that people can collectively enjoy. Some exclusive areas feature unique acts separate from the main show and closer encounters with some of the talent that is a part of the lineup. Artisanal food is prepared by chefs from local and national houses of fine cuisine. Dozens of limited-production craft libations from wines to beers are available to wash it down. Another interesting dimension of this event is the effort made to provide places where attendees can find relaxation and a peaceful respite from the bustling crowds. One of these is the walkthrough art exhibit comprised of photography, installations, jewelry, paintings and sculptures, including many for sale. Continuing the theme of rejuvenation of the spirit is the unique spa area where people can have a rubdown or makeover to get them ready to swing into the next round of thrilling music.
Where can I buy KAABOO Music Festival tickets?
At StubHub, you have four options for admission to this wildly popular festival. You can choose a three-day pass for admission to the entire event, or a one-day pass for Friday, Sept. 13; Saturday, Sept. 14; or Sunday, Sept. 15. Don't wait too long because tickets are selling fast.
What are some favorite acts that performed at KAABOO in the past?
Crowds at KAABOO Music Festival in the past have enjoyed some great moments in live entertainment from musical greats like Robert Plant, Pink, Foo Fighters, Cypress Hill, Imagine Dragons, Collective Soul, Lenny Kravitz, Jimmy Buffett, No Doubt and the Zac Brown Band. Comedians who have cracked up the crowds include Sarah Silverman, David Spade, Dana Carvey, Arsenio Hall, Whitney Cummings and Cheech and Chong.
Who are some headliners scheduled to be at KAABOO in 2019?
Headlining the festival this year are Dave Matthews Band, Kings Of Leon, Mumford & Sons and Duran Duran.
Will any of the original bands be onstage again at this year's festival?
This gathering of musicians will include return engagements by several fan favorites from earlier years, like Sheryl Crow, Snoop Dogg and Switchfoot.
What are the live music shows like at KAABOO Music Festival?
With a myriad of concerts and creature comforts, attendees can enjoy top-quality performers who put on an eclectic set of hits from nearly every generation of music to delight everyone in the audience.
What kind of music can I expect to find at KAABOO Music Festival?
The musical assortment at KAABOO is a varied collection from across genres such as indie, pop, alternative and hip-hop.
How long will the performances go on each day?
Musicians and comedians will take the stage from 2 p.m. to 12:30 a.m. on Friday, 1 p.m. to 12:30 a.m. on Saturday and 1 p.m. to 9 p.m. on Sunday.
Back to Top