There aren't any Events on the horizon right now.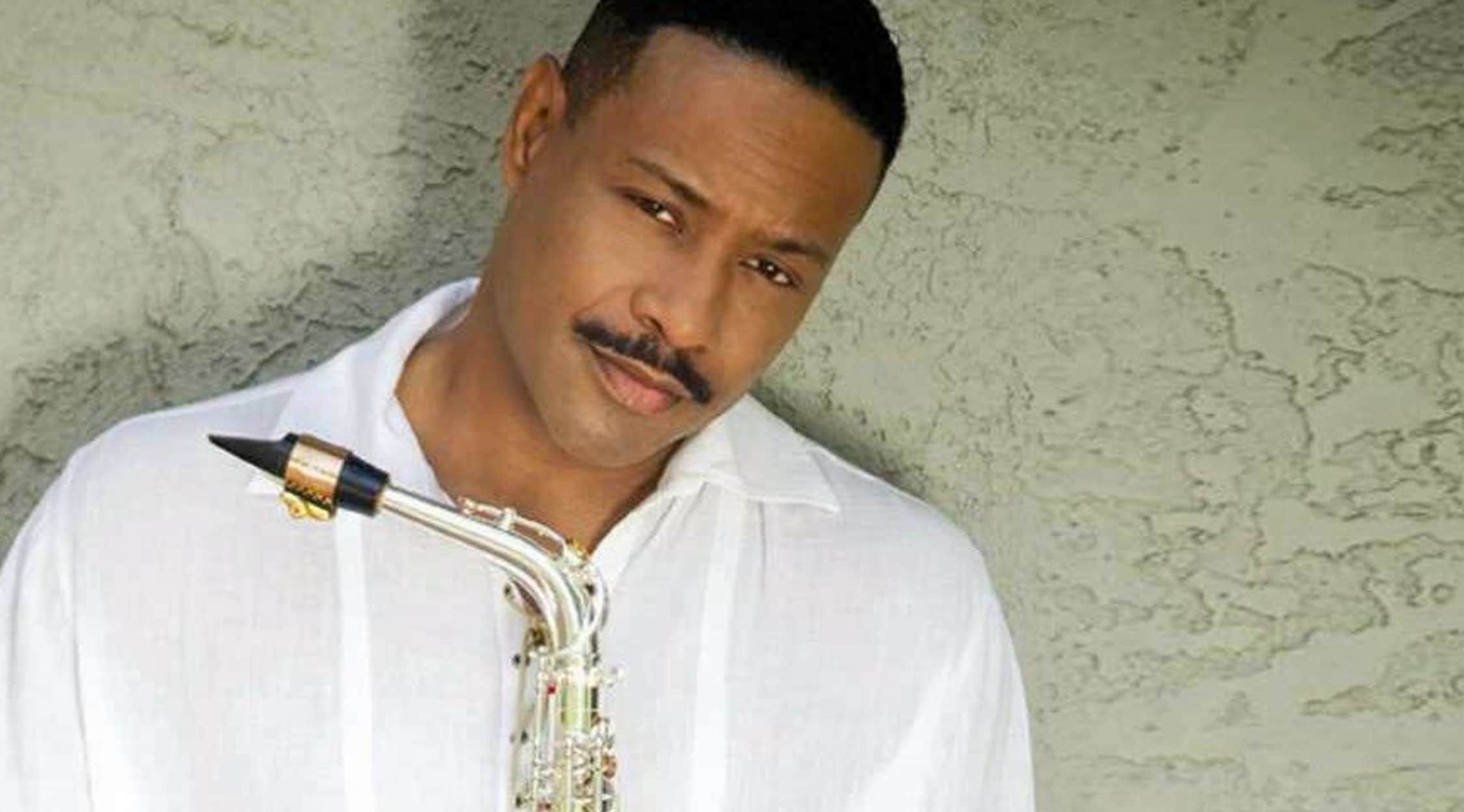 Rovi
Kim Waters Tickets
Kim Waters – The 2016 Tour
Kim Waters' latest tour will take him to some of the classiest concert halls in the United States. He will be blowing the audience away in venues such as Rams Head Live on Stage in Annapolis, the Hollywood Casino Event Center in Columbus, Catalina's Jazz Club in Los Angeles, and more! Whether he is performing in the most intimate clubs or the most state-of-the-art concert halls, be sure to see Kim Waters for what is guaranteed to be an unforgettable night of smooth jazz saxophone. Get your tickets today!
About Kim Waters
With his fittingly titled 2014 album, Silver Soul, sax star Kim Waters marks his 25th anniversary as a studio artist. The album is Waters' 20th solo full-length and adds to his impressive discography, which includes numerous Top 10 and chart-topping smooth jazz singles, four number one jazz albums, and millions of discs sold. Once again, Waters delivers another twelve delightful tracks to his global audience with his soul-filled, unique melodies, suave grooves, and inspired guest performances from big-name artists who join the prolific Waters in this musical milestone.
"Dreaming of You" is a celebration of the spectacular. Waters' career is constantly expanding, as is his immediate and extended family who keep supporting this skilled saxman. "Dreaming of You" opens the album with a melodic, up-tempo groove, and features the keys of Waters' daughter Kayla. Next, listeners embark "On a Mission". This is a classic Kim Waters cut, bringing listeners to a place where love reigns supreme (as on each of Waters' albums). Wherever people can manage to "Stay Together", Waters is ready to bring R&B-inflected, romantic ballads that eloquently implore and imply.
"Go-Go Smooth" offers a tribute to Chuck Brown (a.k.a. the Father of Go-Go), the renowned Washington, DC artist. Brown was a friend and mentor to Waters, and the two have shared countless music stages over the decades.
Singer Dana Pope, Water's wife, has appeared on previous albums, and she has amassed her own loyal following. She gives a powerful interpretation of the ballad "Anything You Need", which Waters wrote as an expression of the love he has for her and his deep thankfulness for their partnership. Then, the groove goes up for the easy and happy "Cruising Round Rock". This jubilant musical jaunt is named after the town in Texas where the Kim and Dana have made their home.
"All of Me" is another tribute – this John Legend classic is Waters' homage to the master, and it is a soulful and special performance. Next, another album standout arrives in the form of "Fireflies", an exquisite tune that has already been a big hit for Zendaya, who guests on Waters' cut.
Next is "Let's Make Love", followed by "Highstride". This pair finds Waters going back to his basics with feel-good future classics rife with those super-addictive hooks for which Waters is so well-known. The adoring and emotive "A Song for Dana" is another celebration of Waters' wife, who his soulmate and muse. This is among the best love ballads that Waters has written to date.
Silver Soul goes back to urban R&B grooves for album closer "Laying Beside Me", which features vocals from Waters' co-writer and dear friend Eric Roberson. The track is an apt finale for this expressive and brilliant examination of past and present by a skilled recording artist and saxophonist.
Waters is a native of Baltimore and comes from a family of musicians. His main inspirations are jazz icons Cannonball Adderley, Paul Desmond, George Benson, Herbie Hancock, Coleman Hawkins, Charlie Parker, and Duke Ellington. The violin was Waters' first instrument, which he began learning at the age of eight. (Waters' remembers that this choice did not sit well with his male friends.) In five years, he had made his way to the soprano and alto saxophones that were his real calling. Shortly afterwards, Waters assembled his first band with brothers James and Eric and hometown friend Cyrus Chestnut. James and Kim still perform together, and Chestnut went on to become a jazz piano star. Waters went on to share stages with some of the biggest names – Grover Washington, Jr., Phyllis Hyman, Isaac Hayes, Al Green, Ray Charles, and more. Waters now lives in a town near Austin, Texas, and his touring takes him to some of the biggest music venues in the world.
Waters' latest album Silver Soul is sure to please his countless fans, win him new listeners, and once again affirm his stature as the best urban jazz sax player in the world. Waters has always hoped that his music would enhance the world with positivity. He firmly believes that people can't evolve without music.
Previous Hits
Kim Waters' hit singles are "Stay" (1989), "Just Be My Lady" (1990), "Reaching Out" (2010), "Free Fall" (2011), "Heart Seeker" (2012), "It's a Party in Here" (2013), "Dreaming of You" (2014), and ""Go-Go Smooth" (2015). His most successful album is 2007's You Are My Lady.
Every now and then, in brief spurts in the expectedly smooth You Are My Lady, Waters proves that he is a master saxophonist, recalling such legends as Grover Washington, Jr. and Eddie Harris. Most of the time, however, You Are My Lady sticks with melody statements, soulful sax riffs, and repetitive grooves. With the help of Chris Davis (a.k.a. "Big Dog"), Waters plays all the unidentified synthetic instruments, with sporadic guitar contributions. The cover of the disc states that You Are My Lady is the most sensual offering from the chart-topping smooth jazz artist to date – the cuts are meant to provide romantic background music for couples, not creative jazz projects. The songs are reliably danceable, with nary a note that would fluster a smooth jazz radio programmer.
Trivia
Zendaya, diva of Disney, is the niece of Kim Waters' wife, Dana Pope.
The Kim Waters Concert Experience
Full of all the best urban R&B technique and songcraft, the Kim Waters concert experience is the best smooth jazz performance in the world today. Kim Waters has taken it upon himself to deliver album upon album of top-notch jazz, and his live performances of this repertoire satisfy his long-time fans and win him new followers. Don't miss out on your chance to see the one-and-only Kim Waters in concert!
Back to Top
Epic events and incredible deals straight to your inbox.