We didn't find anything nearby, but here's what's happening in other cities.
There aren't any events on the horizon right now.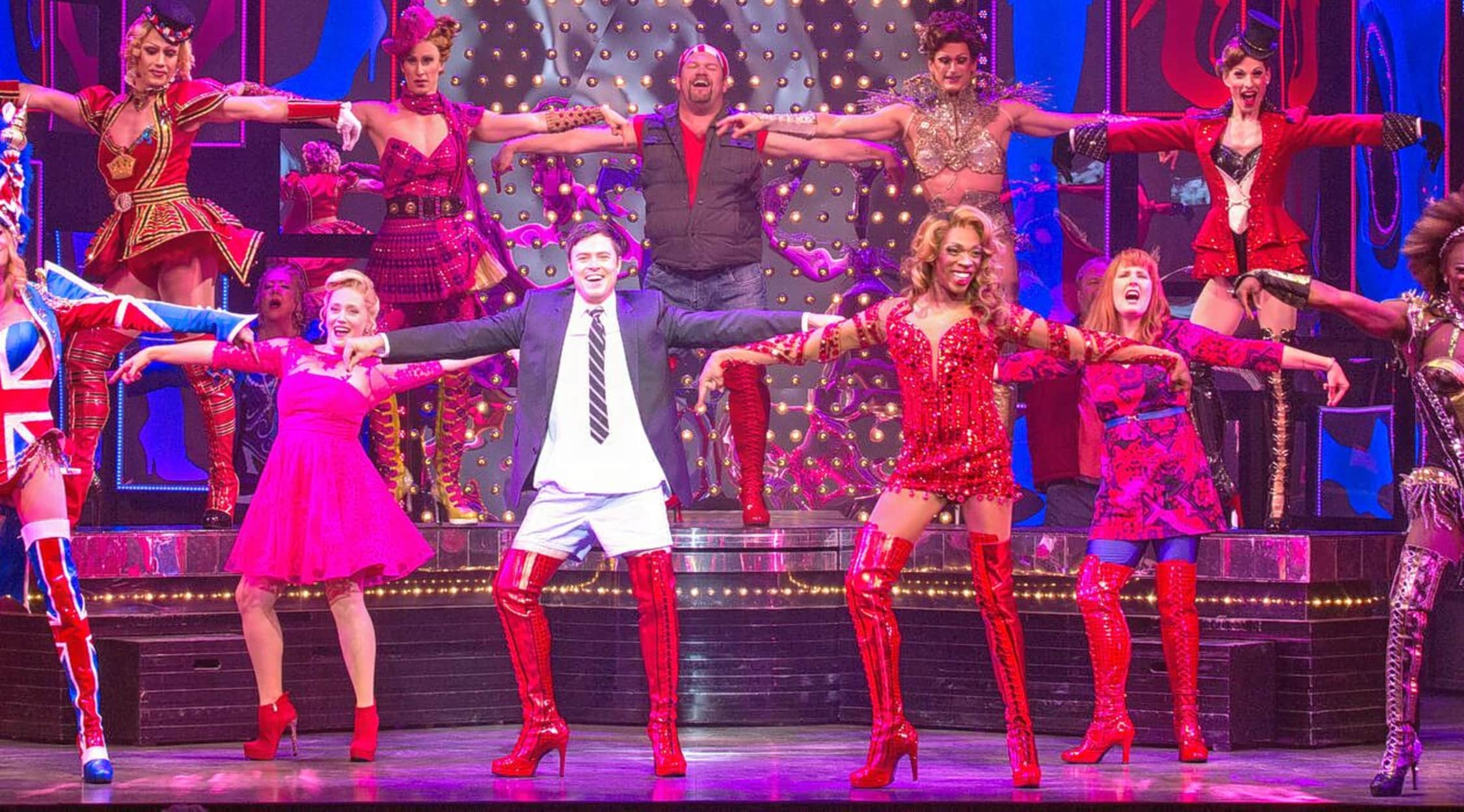 Kinky Boots Atlanta Tickets
Kinky Boots Atlanta Plot
There are a lot of industries today that once had masters at work making artisan goods that served the general public. When you get a new shirt, you could always easily take it to the local tailor to have it adjusted to your custom fit. If you were in need of a particular tool to get a job done, you could always talk to the local blacksmith to forge one for you. But when it's come to shoes, there has always been the tradition of a talented cobbler in town that could replace soles and makes beautiful, usable footwear for all to use. While those days may be long gone now, there's a show on the stage that deals with a figure that depends on cobbling for his livelihood. If you're interested in a hilarious look at the way the world has changed over time, make sure you buy your tickets in advance to experience Kinky Boots when it comes to be performed on a stage next near you! Charlie Price is in a tough situation. As a cobbler, his business is near shuttered due to the popularity of sneakers edging his business out. Though he's great at what he does, Charlie finds it hard to find customers to pay for his beautifully crafted boots. That is, until he meets Lola. Lola is a drag queen that understands the need for kinky boots in the community, so she teams up with Charlie to bring him business. This hilarious story about an unlikely duo of entrepreneurs, you'll be sure to love all that comes to the stage in Kinky Boots when this hit production opens next near you!
Kinky Boots Atlanta Schedule
Are you eager to change the way that your weekend normally runs by picking a popular show to go and see that differs from the normal selections you make? If you're going to the theater with a different set of friends this weekend as opposed to the group you always head to sporting events with, you'll have the opportunity to see some of the hottest new shows on the stage that fans and critics are talking about! Switching things up is a great way for you to experience new works of art that you may not have come into contact with otherwise, so make sure that you come and see Kinky Boots when it opens for the stage next at the Fox Theatre Atlanta in beautiful Atlanta, Georgia! But move quickly to buy your tickets as there's no telling just how long there will be some available to get you and your loved ones into this show! A popular and hilarious production penned by two of the biggest names in entertainment, it's easy to see why so many continue to flock to see Kinky Boots on the stage! Don't miss your chance to explore the world of Kinky Boots by buying your tickets through StubHub while you still can!
Kinky Boots Atlanta Cast
Chosen for their amazing performances during auditions, the talents of Stark Sands, Billy Porter, Annaleigh Ashford, Celina Carvajal, Stephen Berger, Eugene Barry-Hill, Marcus Neville, Joel Edgerton, Chiwetel Ejiofor, Sarah-Jane Potts, Nick Frost, Linda Bassett, Jemima Rooper, Robert Pugh, Ewan Hooper, Stephen Marcus, Mona Hammond, Kellie Bright, Joanna Scanlan, Geoffrey Streatfield, Leo Bill, Gwenllian Davies, Sebastian Hurst-Palmer, Courtney Phillips, Ilario Bisi-Pedro, and more are on display in this exciting production to bring the hit show Kinky Boots to life! Working hard to ensure a flawless performance at every show, these talents have trained for countless hours to ensure that excellence for the attending audience. Come and see the most professional stage show you've ever seen in person by getting the tickets you'll need to experience Kinky Boots on a stage next near you!
Kinky Boots Atlanta Author
Those who are wholly unfamiliar with the theater tend to have an image in their mind of what a stage show is. Often, it involves ruffled shirts and falsetto voices. Thankfully, that's not the way that most stage shows turn out. The world of the theater has gone through many rapid upheavals as public sentiment has changed over the years, but one thing that's always remained true about the theatrical world is that new, creative ideas are always in demand. Those who think the world of the theater is full of rote stories that have been told time and again surely hasn't visited a stage in a while. If you've been looking to get out of the house this weekend to see a popular show on the stage that'll be sure to leave you laughing and praising this production, take a look at getting your tickets early to enjoy the production of Kinky Boots when this show comes to be performed next in your area! Whether "Girls Just Want to Have Fun" and "Time After Time" are two of your favorite songs or if you're just a huge fan of the work of Cyndi Lauper, you'll be sure to love Kinky Boots when you hear the amazing soundtrack that this popular musical artist created for this show! Joined by playwright Harvey Fierstein of Cheers, Murder She Wrote, and Mrs. Doubtfire fame, these two talents set off to create one of the zaniest, funniest shows to come to the stage in recent years! Come and celebrate the weekend the right way by getting your tickets to get in on all of the fun when Kinky Boots opens on a stage near you!
Kinky Boots Atlanta Trivia
Q: Which one of America's most celebrated cities further gave itself distinction by acting as the host of the debut performance of Kinky Boots when this celebrated show first came to the stage?
A: Kinky Boots has been running in theaters for three years now, as it first debuted for the stage in Chicago in 2012.
Q: Following the success of Kinky Boots on the stage, what accolades did this exciting production take home?
A: Kinky Boots was successful in winning a Tony award for Best Musical as well as a Tony award for Best Original Score.
Back to Top