We didn't find anything nearby, but here's what's happening in other cities.
There aren't any events on the horizon right now.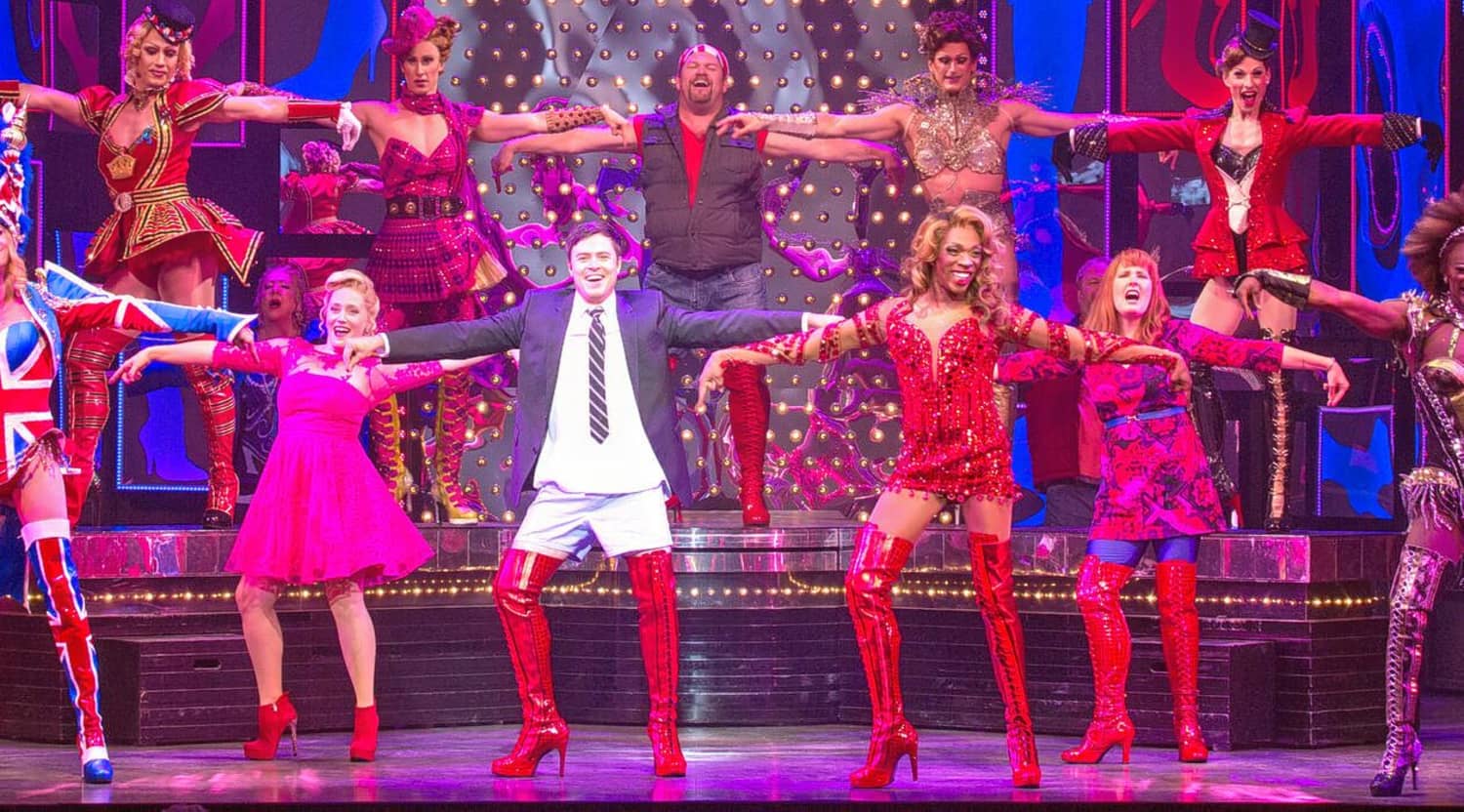 Kinky Boots Cincinnati Tickets
Kinky Boots Cincinnati Plot
With today's rapidly changing job market, it's easy to see how someone can be frustrated when the skill that they spent years learning is no longer in high demand. While there were once many of jobs in the newspaper that you could turn to, even if they weren't setting you up for a career, you could always find a task that you could handle to make end's meet. Today, the world of computers has rapidly changed things, leaving some industries entirely gone from the world of business as it's become cheaper to let machines do the work. While this has effected a lot of industries, manufacturing has taken the biggest hit. There's a stage show headed your way that deals with this exact problem as you learn the trials and tribulations of a talented cobbler that's having trouble making end's meet in a world where sneakers dominate the business! To get in on all of the fun of this show, make sure that you get your tickets early to see a production of Kinky Boots when it opens next near you! Life is hard for Charlie Price, especially because he makes some of the best boots in town. As a cobbler, one would think that's a good thing, but as the world of sneakers takes his business away, Charlie is more and more likely to shut his shop down and find another career. Little does he know that a drag queen named Lola recognizes the potential of his work and sets about to find him customers that are seeking out someone with Charlie's skills to craft kinky boots for the community. Don't miss out on this hit show by getting your tickets to see Kinky Boots today!
Kinky Boots Cincinnati Schedule
Are you eager to spend some quality time with the friends that you haven't had the chance to see in a while? Do you think you have what it takes to find a show that'll be the right fit for everyone in your group? Well if you're looking to head out and enjoy a production on the stage this weekend, make sure that you take the time to get out of the house and to take advantage of your chance to see Kinky Boots when it opens for the stage at the Aronoff Center for the Arts Cincinnati in beautiful Cincinnati, Ohio! Hailed for it's quality music that's been crafted by one of the most celebrated Pop stars of our time, Kinky Boots continues to win praise from both critics and fans alike that have enjoyed this wild romp through a world they may not be wholly familiar with! Bringing the words "drag queen" and "cobbler" into the same sentence, Kinky Boots has managed to craft a creative new show that's sure to inspire future generations of theater-goers. If you haven't yet had the chance to see for yourself why so many people love Kinky Boots on the stage, make sure you plan ahead and get your tickets in advance to see this show before it's totally sold out! Get your tickets through StubHub today!
Kinky Boots Cincinnati Cast
Becoming so popular that it would require a 2005 movie adaptation, a talented cast has been assembled to counter the film and prove that the stage version of this production is the way to go if you're planning on seeing Kinky Boots. With actors like Stark Sands, Billy Porter, Annaleigh Ashford, Celina Carvajal, Stephen Berger, Eugene Barry-Hill, Marcus Neville, Joel Edgerton, Chiwetel Ejiofor, Sarah-Jane Potts, Nick Frost, Linda Bassett, Jemima Rooper, Robert Pugh, Ewan Hooper, Stephen Marcus, Mona Hammond, Kellie Bright, Joanna Scanlan, Geoffrey Streatfield, Leo Bill, Gwenllian Davies, Sebastian Hurst-Palmer, Courtney Phillips, Ilario Bisi-Pedro, and more coming to show off their talents in this show, you'll walk away glad that you took the opportunity to enjoy Kinky Boots and all that it has to offer! Come and see Kinky Boots on the stage by getting your tickets to see it through StubHub while you still can!
Kinky Boots Cincinnati Author
Have you been thinking about what you're going to do the minute you have time off this weekend to rush out and see a fun show on the stage? Are you regularly on the hunt for the next big show that you can head out and go see that will give you bragging rights with your theater-loving friends? Well if you're thinking of heading out to see a popular show on the stage, make sure you invite all of your closest friends along, especially if you're planning on heading out to one of the celebrated shows coming to the stage near you that you'll get access to through StubHub. StubHub only has tickets available to the absolute hottest shows in your area, so if you were hoping to see an instant classic on the stage this weekend, get your tickets to enjoy a beloved stage production like Kinky Boots today! Music fans today are more than familiar with the 1980's hits "Girls Just Want to Have Fun" and "Time After Time", but few then would have ever assumed that superstar Cyndi Lauper would bring her musical talents to the stage at any point in her career! Proving them all wrong by making the music to this hit show, Cyndi Lauper has transformed herself into a well-respected figure in the theatrical community. Spurred on by writer Harvey Fierstein, whose acting appearances in Cheers, Murder She Wrote, and Mrs. Doubtfire pale in comparison to the amazing works he's written for the stage, these two have been able to create one of the most beloved shows to come to the theater in recent years. Don't sit out on your opportunity to enjoy Kinky Boots in person, purchase your tickets to see this popular show through StubHub while you still can!
Kinky Boots Cincinnati Trivia
Q: When were audiences first able to take advantage of going to see the show Kinky Boots on the stage?
A: Kinky Boots first debuted for the stage in Chicago in 2012.
Q: Praised for the new elements it brought to the theater, did the show Kinky Boots come home with any awards following its debut?
A: Yes, Kinky Boots was successful in winning a Tony award for Best Musical as well as a Tony award for Best Original Score.
Back to Top
Epic events and incredible deals straight to your inbox.