We didn't find anything nearby, but here's what's happening in other cities.
There aren't any events on the horizon right now.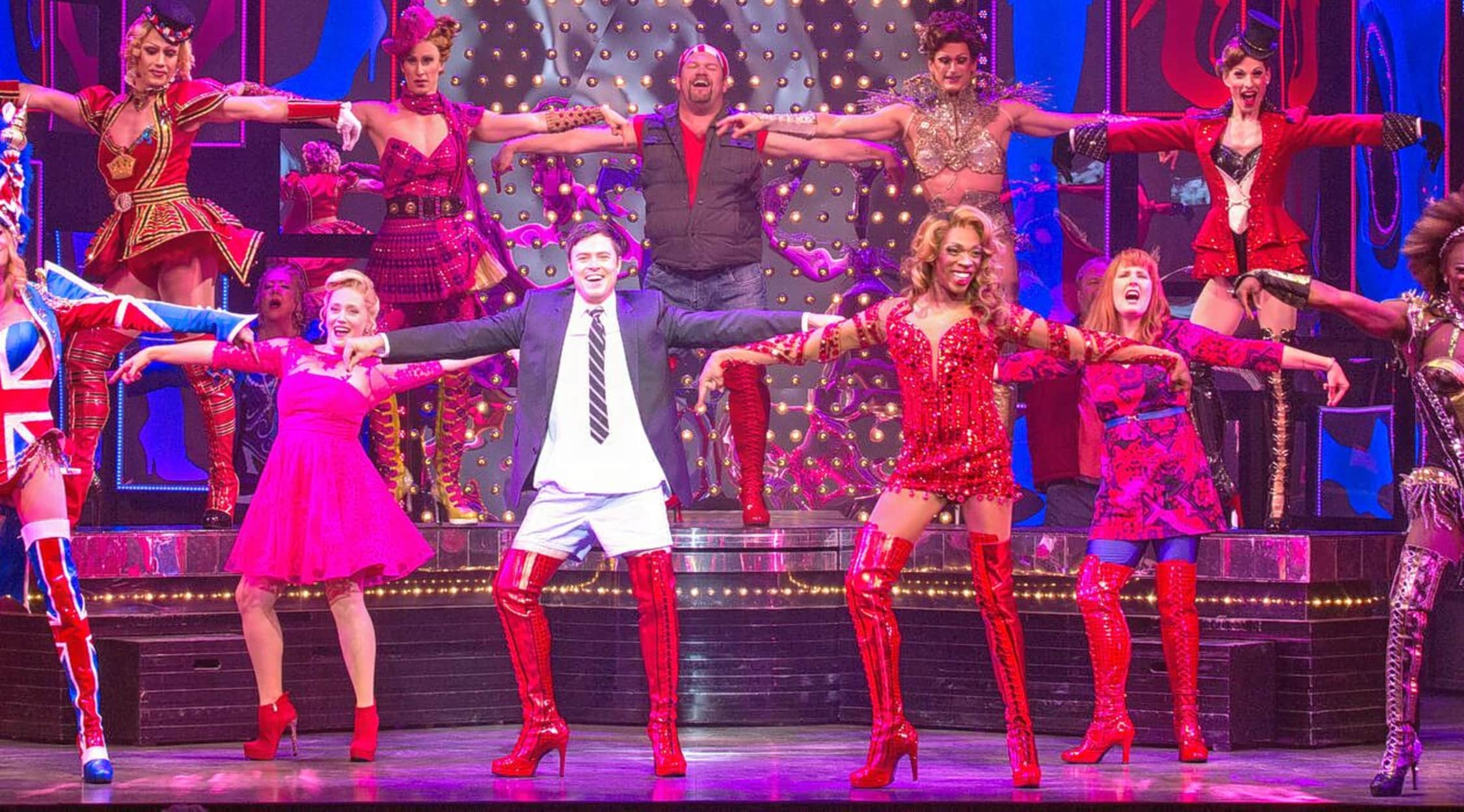 Kinky Boots Kansas City Tickets
Kinky Boots Kansas City Plot
No matter what people tell you, how you dress does matter. While you can be completely comfortable in a Hawaiian shirt and flip-flops, the more professional folks in the world are sure to look down on such an ensemble if you were to wear it to a business meeting. Dressing the part is an important part of getting any job, and while we'd all like to believe that the substance behind a person's abilities is sure to drive them further than their clothing, it's not entirely out of line to suggest that people make first impressions based on looks. But that's why it's so important for folks to "dress for the job you want" rather than how you feel. If you've been bored lately and looking for a fun new show that'll take you on a wild ride through the world of both cobblers and cross-dressers that'll leave you both laughing and wanting more from one of the most exciting productions to come to the stage in recent years! If you're still on the fence about what to do with your time off, come out and enjoy all of the laughs waiting for you on the stage when the hit production of Kinky Boots comes to be performed next in the Kansas City area! After years of training as a cobbler, Charlie Price might have to shudder his business. It's not that he's not good at what he does; in fact, he's one of the best. But a lack of interest in cobbled boots leaves him in financial distress, hopeful that someone can come along and change his fortunes so that he can continue his career. Enter Lola. A drag queen with an eye for fashion, Lola understands that Charlie's boots are perfect for the drag community. Working together, they embark on an ambitious business venture that can save Charlie's career and establish Lola in the world of fashion! Head out and see Kinky Boots on the stage today!
Kinky Boots Kansas City Schedule
Thinking that you want to have your chance to experience some of the most stellar stage shows to be brought to the theater in recent years? Well if you're already on StubHub, chances are you're aware that this is the best place to head to get access to the hottest upcoming concerts, stage shows, and sporting events to grace the many venues in your area that are regularly bringing the shows that you want to see to the stage! Make sure that if you're interested in a show this weekend that you come and see Kinky Boots when it opens for the stage next at the Music Hall Kansas City in beautiful Kansas City, Missouri while you still have the chance, as there are going to be plenty of other fans out there that are just as eager as you are to hear the amazing songs and dialogue in this show that have made it a favorite for so many around the country! Experience the joy of a comedy show on the stage this weekend by taking advantage of StubHub's easy-to-use system to purchase tickets that'll leave you with the access you need to the shows that you don't want to miss out on! So what are you waiting for? Switch things up this weekend by gathering your friends together and taking them out to experience one of the most hilarious comedy shows to come to the stage in years! Purchase your tickets early to see Kinky Boots on the stage while you still can so that you can share a weekend that'll give you bragging rights with your peers by getting yours through StubHub today!
Kinky Boots Kansas City Cast
Masterfully chosen for their acting abilities in other works is an all-star cast that's been assembled to bring Kinky Boots to the stage! With Stark Sands, Billy Porter, Annaleigh Ashford, Celina Carvajal, Stephen Berger, Eugene Barry-Hill, Marcus Neville, Joel Edgerton, Chiwetel Ejiofor, Sarah-Jane Potts, Nick Frost, Linda Bassett, Jemima Rooper, Robert Pugh, Ewan Hooper, Stephen Marcus, Mona Hammond, Kellie Bright, Joanna Scanlan, Geoffrey Streatfield, Leo Bill, Gwenllian Davies, Sebastian Hurst-Palmer, Courtney Phillips, Ilario Bisi-Pedro, and more, showing off their acting abilities in this work, you'll be left wanting more when this production is finally over! Come and see why so many fans continue to send their praise to this show when Kinky Boots opens next for you to enjoy!
Kinky Boots Kansas City Author
The amount of hard work that goes into creating a show for the stage isn't something often considered by the layman attending these productions. Besides the original work that needs to be done by the author in collaboration with those in charge of the music, lyrics, and choreography, a casting director must then step up and use their skills to find only the best performers to represent a work on the stage. Following many hours of rehearsal, only then is a show ready to be previewed for critics. It's a lengthy process, but it's been set up to vet any productions that might not be up to snuff on the stage and giving the creators the chance to tweak things before a show is performed live. If you're hoping to see one of the latest and greatest shows that's been hailed by critics, you're not going to want to miss out on any of the excitement headed your way when the stellar production of Kinky Boots comes to a stage next near you! Combining the hit song-writing abilities of "Girls Just Want to Have Fun" and "Time After Time" creator Cyndi Lauper with the character-building skills of playwright Harvey Fierstein of Cheers, Murder She Wrote, and Mrs. Doubtfire fame is the exciting production of Kinky Boots! Bringing a story to the stage not often seen in this medium, the world of handmade fashion collides with cross-dressing in this riveting story that'll leave you laughing and wanting more! Make sure you purchase the tickets you need early to see Kinky Boots on the stage when this hit show opens next in your area!
Kinky Boots Kansas City Trivia
Q: Long highly regarded for its associations as one of America's shining cities, what former center of meat production in America that's also been tied to gangster Al Capone served as the debut city for Kinky Boots when it opened for the stage?
A: Kinky Boots has been running in theaters for three years now, as it first debuted for the stage in Chicago in 2012.
Q: What awards did the show Kinky Boots come away with following it's successful debut run on the stage?
A: Kinky Boots was successful in winning a Tony award for Best Musical as well as a Tony award for Best Original Score.
Back to Top