We didn't find anything nearby, but here's what's happening in other cities.
There aren't any events on the horizon right now.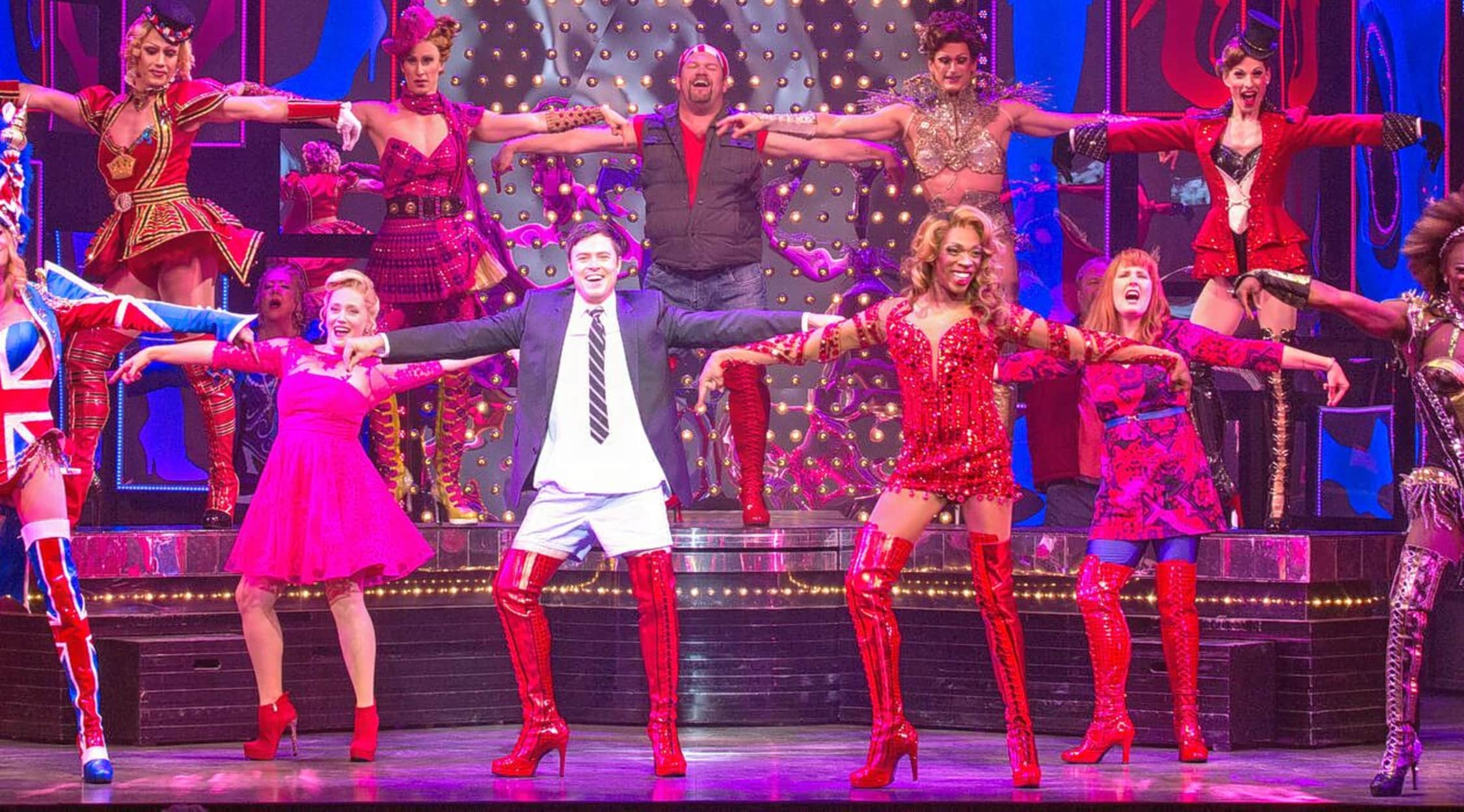 Kinky Boots New Orleans Tickets
Kinky Boots New Orleans Plot
Everyone can think of at least one article of clothing that they've had in their lifetime that was a game-changer for the way they approached fashion. There's definitely a "before" and "after" period for many children from the 1980's and 1990's when it comes to fashion, where "before" was a time when their mother picked out their clothes, and "after" being an era of light-up L.A. Gears and shoes that you would pump to help you jump higher while playing basketball. Of course, while these styles may no longer be the rage, it's interesting to see what changes can come through the fashion world that can disrupt an entire industry. One such show that deals with these changes is the celebrated production Kinky Boots, so if you're going to be around this weekend to see a stage production, know that you'll be loathe to miss out on seeing a beloved production like Kinky Boots when this show opens next on a stage near you! Charlie Price is a master cobbler. While his technique is flawless, his store remains empty. It seems as if no one in today's world is looking for a pair of quality, hand-made boots. That is, no one except for a local drag queen, Lola. Hearing that Charlie is considering closing up shop, Lola suggests to him that he try creating "kinky boots" for the drag community - something always in high demand. Together, the two set out as an unlikely pair, taking Charlie's business in a new direction and succeeding in the process. Come and enjoy all that the theater has to offer you this weekend by getting away from the stresses of work and into your seat to enjoy Kinky Boots when it opens next in your area!
Kinky Boots New Orleans Schedule
Are you into the more odd and absurd show ideas that come to the stage? Do you eagerly await the chance to see what productions are highly regarded for their inventive and creative use of the artist's talents in a stage production? Well if you're interested in being entertained this weekend, make sure you head out to take advantage of your chance to see Kinky Boots when it opens for the stage at the Saenger Theatre in beautiful New Orleans, Louisiana! Dealing not just with identity but the world of business as a whole, you'll get a glimpse into the world of two very different people in this show as they struggle to find success - Lola in her community, and Charlie in his business. It becomes clear early on in this show though that regardless of their initial intentions that these two characters need each other to get what they're after, forging a friendship in the process. Don't sit out on your chance to enjoy a stage production as popular as Kinky Boots or you may be forced to find another show if tickets are sold out to this exciting production! Make sure you head out and get your tickets early so you don't miss any of the fun waiting for you on the stage when Kinky Boots opens next near you!
Kinky Boots New Orleans Cast
Popularized even further by the 2005 movie adaptation of the same name, Kinky Boots remains as popular on the stage as ever. That's due to the quality cast chosen for this round of performances that brings talents like Stark Sands, Billy Porter, Annaleigh Ashford, Celina Carvajal, Stephen Berger, Eugene Barry-Hill, Marcus Neville, Joel Edgerton, Chiwetel Ejiofor, Sarah-Jane Potts, Nick Frost, Linda Bassett, Jemima Rooper, Robert Pugh, Ewan Hooper, Stephen Marcus, Mona Hammond, Kellie Bright, Joanna Scanlan, Geoffrey Streatfield, Leo Bill, Gwenllian Davies, Sebastian Hurst-Palmer, Courtney Phillips, Ilario Bisi-Pedro, and more to the stage to recreate all of the drama in this show. Performing in large boots and drag isn't easy, especially when there's dancing involved, but these talents have all taken the time to master their roles in preparation for a great review from audiences across the country. Don't miss out on your chance to see Kinky Boots in person, buy your tickets today through StubHub!
Kinky Boots New Orleans Author
Do you believe in having second chances? Everyone makes mistakes from time to time, but no one deserves to have anything held over their head for the rest of their life, no matter how in the wrong they were. There are a lot of stories in the theater that come to the stage that deal with this kind of redemption, as it's clearly a quality that's come up time and again throughout history, going to show you that human regret knows no bounds. If you've ever had regrets about something in your past and wanted to start over fresh, take a look at a popular show coming to the stage near you next. For a great evening out to see a show that deals with what it's like to get a second chance, come and see the hilarious show Kinky Boots to explore how Charlie Price deals with his regrets over his career's path only to find that he'll have the chance for success when this hit show opens next on a stage for you to enjoy! When people set out to see a stage show, they want to know that they'll be getting their money's worth. Anyone setting out to see Kinky Boots on the stage is sure to be pleased though once they find out that the two collaborators behind the show are some of the biggest figures in the entertainment world! Using her knowledge from her time writing pop songs like "Girls Just Want to Have Fun" and "Time After Time", Cyndi Lauper has taken a break from the world of pop production to write for the stage in this exciting show. Her musical talents have been combined with the writing done by Harvey Fierstein. While he's appeared popularly in Cheers, Murder She Wrote, and Mrs. Doubtfire, Harvey Fierstein is a well-respected playwright, and Kinky Boots only adds to the quality of excellence associated with his work. Don't miss this chance to see Kinky Boots in person when this exciting stage show opens next at a venue near you!
Kinky Boots New Orleans Trivia
Q: While Broadway tends to be the location for most theater debuts, what city was chosen to play the host to the debut production of Kinky Boots?
A: Kinky Boots has been running in theaters for three years now, as it first debuted for the stage in Chicago in 2012.
Q: Praised upon it's release in theaters, what awards was Kinky Boots given over the years following it's debut?
A: Kinky Boots was successful in winning a Tony award for Best Musical as well as a Tony award for Best Original Score.
Back to Top