We didn't find anything nearby, but here's what's happening in other cities.
There aren't any events on the horizon right now.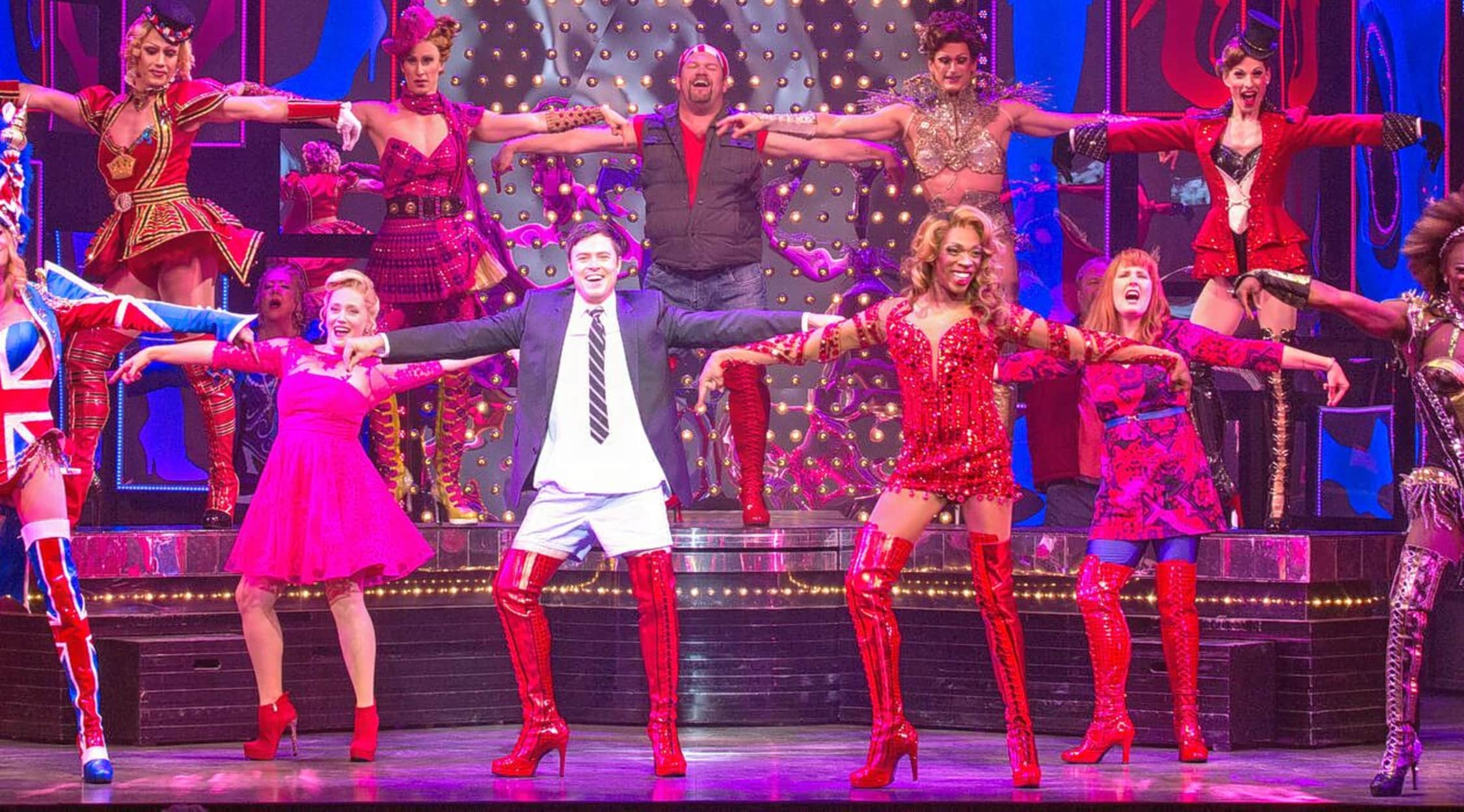 Kinky Boots New York Tickets
Kinky Boots New York Tickets
Since 2013, Kinky Boots has enchanted audiences all around the world, from Tokyo to Hamburg and from Australia to Broadway. The musical is based on the true story of the struggling owner of a shoe factory who teams up with a drag queen to manufacture kinky boots for men. The book is adapted from a 2005 British film starring Oscar-nominated actors Joel Edgerton and Chiwetel Ejiofor, but it adds an original soundtrack and new storylines for fans to enjoy.
Wear Your Heart on Your Heels
Tony-winning producers Daryl Roth and Hal Luftig came up with the idea to adapt Kinky Boots into a musical after they attended a screening of the film on separate occasions. They enlisted the help of Harvey Fierstein, who had a long career as a Tony-winning actor in Hairspray, the Torch Song Trilogy and elsewhere, to turn the story into a book for the musical. Grammy-winning singer and songwriter Cyndi Lauper wrote both the music and the lyrics, bringing a unique flair to the story. After a brief tryout period was held in Chicago, Kinky Boots made its official worldwide debut at Broadway's Al Hirschfeld Theatre on April 4, 2013. The opening night cast on Broadway starred Stark Sands as Charlie Price, Billy Porter as Lola, Annaleigh Ashford as Lauren, Daniel Stewart Sherman as Don, Marcus Neville as George and a large supporting cast. Popular with critics and audiences, Kinky Boots finally closed almost exactly six years later in 2019 after 2,507 straight performances. The original Broadway production received voluminous recognition on the award circuit. At the 2013 Tony Awards, the musical won six awards out of 13 total nominations, including Best Musical, Best Original Score, Best Actor in a Musical and several technical awards. It also received the Best Musical Theater Album from the Grammy Awards. After being staged in London, Kinky Boots won three Laurence Olivier Awards, including Best New Musical, Best Actor in a Musical and Best Costume Design.
Where can I purchase Kinky Boots New York tickets?
If you are interested in attending a live performance, then purchase your Kinky Boots New York tickets at StubHub.
Where is Kinky Boots being performed in New York?
After the end of its six-year run at the Al Hirschfeld Theatre, there are currently no plans to stage a production of Kinky Boots in New York. If you want to be informed about future Kinky Boots performances, then you should keep checking StubHub for the latest updates.
What are the musical numbers for Kinky Boots?
Kinky Boots features an original pop and rock soundtrack by Cyndi Lauper. Act one includes the songs "Price and Son Theme," "The Most Beautiful Thing," "Take What You Got," "The Land of Lola," "Step One," "Sex Is in the Heel," "The History of Wrong Guys," "I'm Not My Father's Son" and "Everybody Say Yeah." Act two features "What a Woman Wants," "In This Corner," "The Soul of a Man," "Hold Me in Your Heart," "Raise You Up/Just Be" and a reprise of the "Price and Son Theme." Upon its release, the cast recording debuted at No. 1 on the Broadway albums chart and No. 51 on the Top 200 Chart.
What can I expect from a Kinky Boots performance?
Kinky Boots is a fun, lighthearted comedy and drama with some serious themes running through it about acceptance and parental expectations. The story is conveyed through both dialogue and Cyndi Lauper's infectious score. The musical is intended for ages 10 and over. Check with the local theater venue for any information about age restrictions.
How long is the running time for Kinky Boots?
The running time is two hours and 20 minutes with a 15-minute intermission between the acts.
Which musicals are similar to Kinky Boots?
If you enjoyed a Kinky Boots performance, then you might want to check out the Tony-winning musical Priscilla, Queen of the Desert.
Back to Top