We didn't find any Events nearby, but here's what's happening in other cities.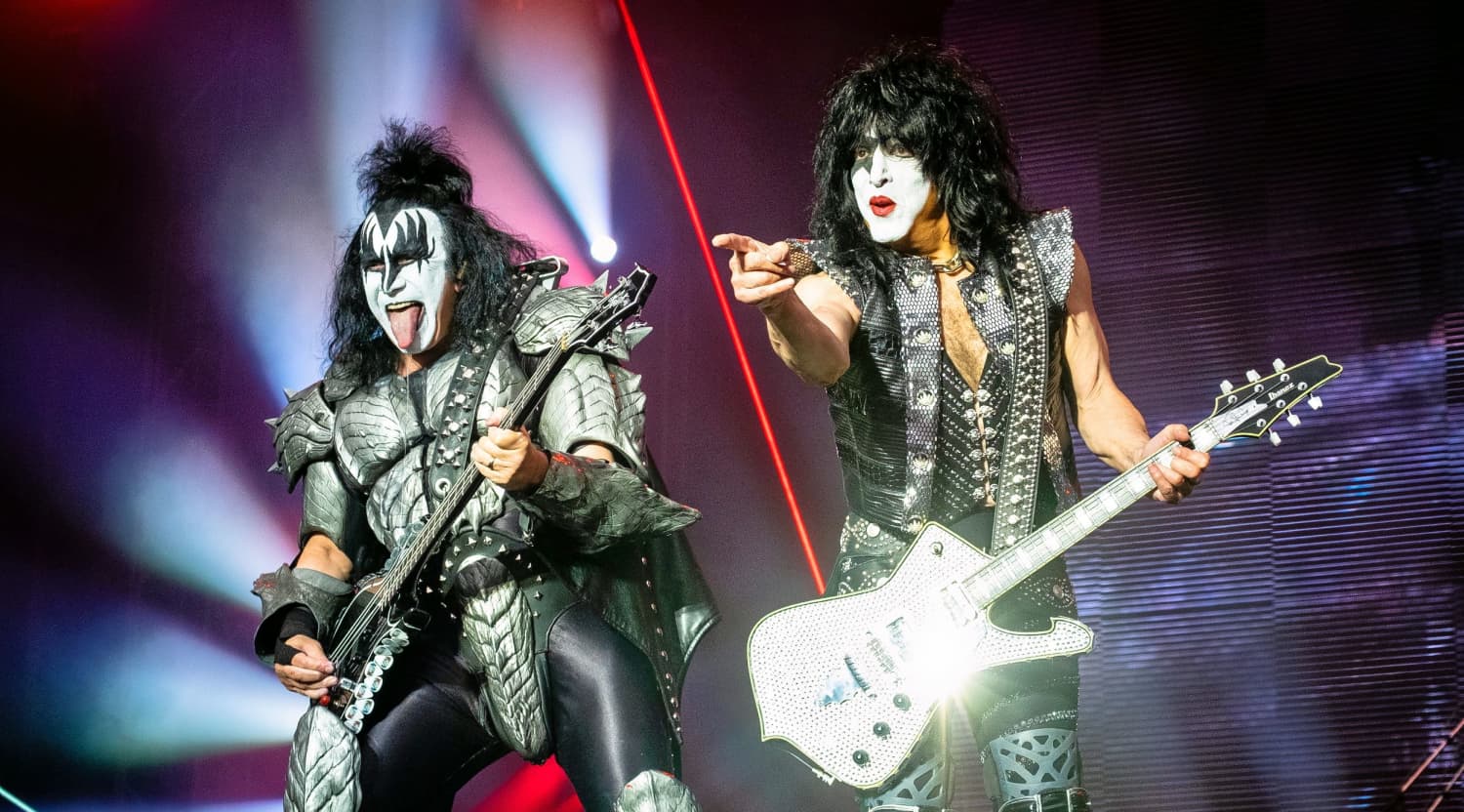 Zuma
Kiss Tickets
Kiss Tickets
With or without makeup, Kiss has established a rock and roll reputation as well as a loyal army of fans since its formation in 1973. Known for strong live performances, the band's breakthrough came with the album Alive! in the fall of 1975 that featured recordings of live shows at venues such as the Cobo Center in Detroit, Mich. Commercial success arrived with the recording of "Beth" for the 1976 album called Destroyer. Kiss concerts are known for elaborate lighting, moving stage components and loud amps, which the founding members have stated were influenced by acts such as Alice Cooper.
You Wanted the Best
The band has released 20 full-length studio recordings as well as multiple Kiss tours in support of them. While the band members do mix up the setlist for every scheduled Kiss concert, the majority of songs come from the band's catalog from the '70s. The current lineup includes Tommy Thayer as the "Spaceman" and Eric Singer as the "Catman," replacing original members Ace Frehley and Peter Criss in the iconic makeup. Every Kiss show features concert staples like "Beth" and "Rock And Roll All Nite." The original members were inducted into the Rock and Roll Hall of Fame as part of the 2014 class.
Where can I buy Kiss tickets?
StubHub is your source for tickets to many events in your area, including Kiss concert tickets. StubHub offers purchasing and seating information that allows you to find the best seating options available at the moment you're shopping.
Will Kiss tour in 2019?
Yes, Kiss is currently performing on its End of the Road World Tour. The band announced this tour in late 2018 after performing on America's Got Talent. The tour started at the end of January 2019 in Vancouver, Canada. Kiss has stated that this will be its final concert tour.
What is the Kiss tour setlist like?
While the band does like to showcase popular songs from all eras of its history, the majority of songs found on the setlist heard at today's shows consist mostly of material from the group's heyday in the '70s. "Detroit Rock City" is a staple for opening a Kiss concert, and "Rock and Roll All Nite" will more than likely close out any encores at performances you might attend. Songs from the group's non-makeup era during the '80s will include "Lick It Up" and "Heaven's on Fire."
Who are the members of Kiss?
The current touring lineup consists of original members Gene Simmons on bass and vocals as well as Paul Stanley on guitar and vocals. Lead guitar duties are performed by Tommy Thayer, while drums are played by Eric Singer. It can be confusing because Tommy performs in the "Spaceman" makeup of original lead guitarist, Ace Frehley, and Eric performs in the "Catman" makeup of the original drummer, Peter Criss. Former members include Criss, Frehley, Eric Carr, Vinnie Vincent, Mark St. John and Bruce Kulick.
What can I expect from a Kiss performance?
Kiss concerts are known for the stage show as much as for the music. The band is highly visual, so there will be live camera shots that present close-up looks of the band members as they perform. The stage has moving components that lift and lower band members and their equipment during the concert. Lights are combined to add to visual effects, such as Gene Simmons spitting blood during "God of Thunder" or Paul Stanley doing a zip line stunt.
How long is a Kiss concert?
The band can play up to 20 songs during a performance and have at least one encore. This will average out to about three hours per show. That time frame doesn't include the opening act and intermission between opening performers and Kiss. You also want to keep in mind that the weather can affect the length of outdoor shows.
Back to Top
Epic events and incredible deals straight to your inbox.