There aren't any Events on the horizon right now.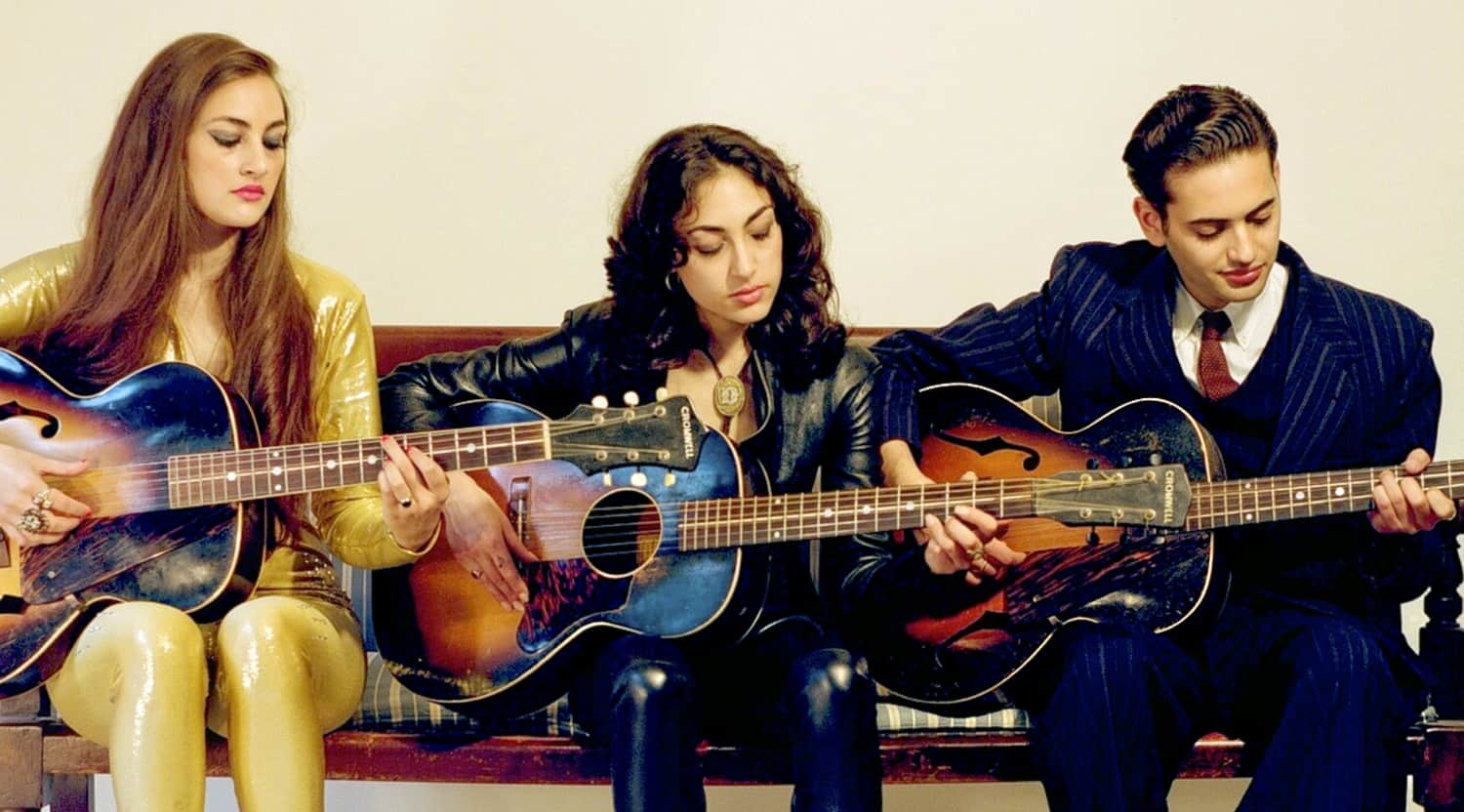 Rovi
Kitty Daisy and Lewis Tickets
Kitty Daisy and Lewis Schedule
Kitty Daisy and Lewis are family. Hailing from north London, the siblings, don a 1950s classic style and perform toe-tapping R&B and hillbilly swing. They even make their music a true family affair by involving their parents in their live shows.
"At the beginning it was just us. Then we dragged our parents into the band for live shows. They didn't want to do it at first. They were too embarrassed. My dad used to hide behind the speakers," Kitty said.
This unique family is responsible for hypnotizing fans worldwide with their eclectic sound that includes a vintage, soulful blend of 40s and 50s music, featuring hints of R&B, country, roots music, ska, rock and Hawaiian.
Kitty Daisy and Lewis are scheduled to play venues like the Belly Up Tavern in Solana Beach, California; The Independent in San Francisco, California; El Rey Theatre (LA)in Los Angeles, California; Bluebird Theater in Denver, Colorado; Reverb in Reading, Pennsylvania; Turf Club in Saint Paul, Minnesota; Lincoln Hall in Chicago, Illinois; Magic Bag in Ferndale, Michigan; Lees Palace in Toronto, Ontario; Bowery Ballroom in New York, New York; World Cafe Live in Philadelphia, Pennsylvania; The Sinclair in Cambridge, Massachusetts; and U Street Music Hall in Washington, D.C. Stay on top of everything this family is up to with StubHub's event updates.
Kitty Daisy and Lewis Background
Kitty, Daisy, and Lewis Durham started their musical journey as children. Their parents used to take them to The Golden Lion pub in London on Sunday afternoons. "We would sit in the front row on three chairs listening to the bands. Then we'd get fired up and go home to play music," explained Lewis. As kids, they were regular staples at this "Come Down and Meet the Folks" country/rockabilly event and it didn't take long for them to be invited on stage to join in. With Lewis and Daisy not even in their teens and Kitty then just seven, the trio were cutting their musical chops. In 2005, Kitty, Daisy and Lewis issued their debut track "Honolulu Rock-a-Roll-a." The group then inked a deal with the Sunday Best record label. "Mean Son of a Gun" was their sophomore single, which arrived in 2006. They dropped two tracks, "(Baby) Hold Me Tight" and "Going Up the Country" in 2008. That same year, their eponymous album arrived. The group's latest effort is called Kitty, Daisy & Lewis The Third (2015).
Kitty Daisy and Lewis Albums
Kitty Daisy and Lewis are credited with A-Z of Kitty, Daisy & Lewis: The Roots of Rock 'n' Roll (2007); Kitty, Daisy & Lewis (2008); Kitty, Daisy & Lewis (2009); Smoking in Heaven (2011); and Kitty, Daisy & Lewis The Third (2015).
Kitty Daisy and Lewis Trivia
Did you know that Kitty Daisy and Lewis have high-profile admirers? Yep, it's true! For instance, Chris Martin of Coldplay is one of the many and invited them to tag along on his 2009 U.S. tour. Daisy said, "He was late on stage because he was jamming with us backstage in the dressing room and Kitty was trying to teach him harmonica."
Kitty Daisy and Lewis Concert Experience
Able to mesmerize their fans with their authentic sound and joyful stage presence, a Kitty Daisy and Lewis concert is one you just can't afford to miss! With an army of fans spread out across the planet, this family trio has thrilled sellout crowds everywhere they go!
Kitty Daisy and Lewis know a thing or two about getting their audiences pumped up. So make sure you head to one of their concerts.The concert experience is nothing short of spectacular, as any fan can confirm, but it's still something that you need to do in person in order to appreciate the full scope of their unique talents.
This is one opportunity that doesn't come along every day. Just picture yourself at that concert now – with the music about to get started, as the crowd's buzz steadily rises in anticipation for this group to hit the stage. It's the very moment you've been daydreaming all week in your cubicle. When you feel the electricity of the fans at your side, you'll understand loud and clear the difference between hearing Kitty Daisy and Lewis in person and relying only on your albums at home. As always, StubHub has your back when it comes to Kitty Daisy and Lewis concert tickets and so many other event tickets, such as theater tickets, musical tickets, sports tickets, comedy tickets and more. And, don't forget to check back with StubHub early and often for venue details, the latest schedules and festival lineups, seating charts and more! Make sure you bookmark StubHub now for all of your entertainment needs. StubHub is the only place you need to go for the events you want to be a part of!
Back to Top
Epic events and incredible deals straight to your inbox.