We didn't find any Events nearby, but here's what's happening in other cities.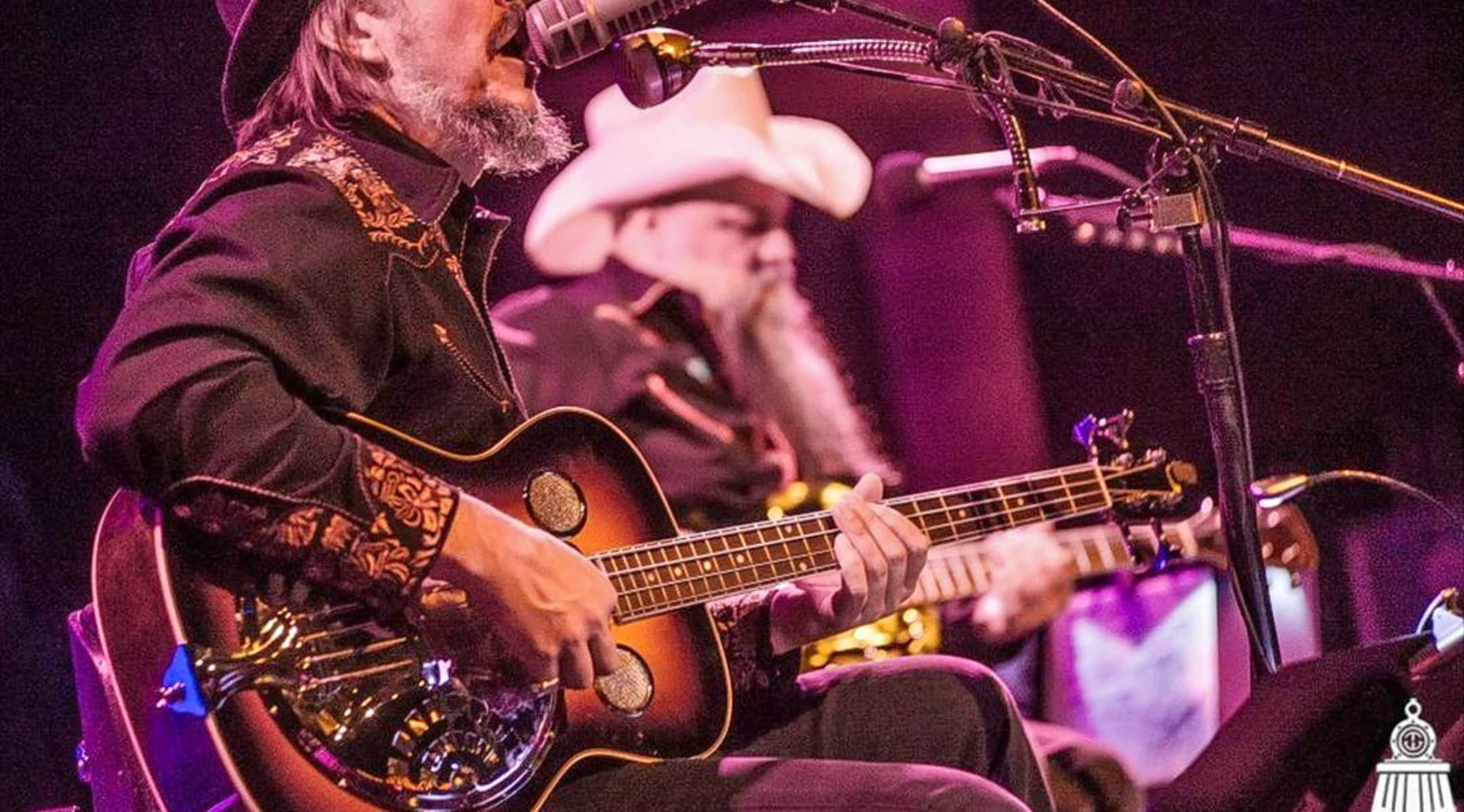 Rovi
Les Claypool Tickets
Les Claypool – 2014 Concert Schedule
Les Claypool is one of America's most unique musicians. He is best known as being the bassist and lead vocalist of the band Primus, and also for his style of playing that incorporates flamenco, slapping, and whammy bar effects. After Primus took a break, Les Claypool embarked on his solo career and he delved into the world of film making and writing. His most recent musical venture is Duo de Twang, a country music duo formed with M.I.R.V. guitarist Bryan Kehoe. This talented musician is now embarking on another concert tour, and you don't want to miss his show when he comes to a venue near you. If you love Les Claypool's distinct playing style and quirky sense of humor, then be sure to head over to StubHub today to get your tickets. It's not every day you get to see a musician as uniquely talented as Les Claypool, so get your tickets before they're all sold out!
About Les Claypool
Musician Les Claypool spent his formative years living in El Sobrante, California, where he took up bass guitar at the age of fourteen. While honing his musical talent as a young adult, Claypool worked as a carpenter. By the mid 1980s, Claypool had formed the band Primus with guitarist Todd Huth, and they went on to enjoy a successful career during the next couple of decades. They headlined at the 1993 installment of Lollapalooza, made an appearance at Woodstock '94, performed on late night television shows, and were even asked to record the theme song for the show "South Park."
In addition to his work with Primus, Les Claypool also embarked on a solo career starting in 1996, with the release of his album, "Les Claypool and the Holy Mackerel presents 'Highball with the Devil'." The album was self-produced at his own studio, and included tracks like "Calling Kyle," "The Awakening," "El Sobrante Fortnight," and more. The album also features appearances by Adam Gates, Mark Haggard, Jay Lane, and Henry Rollins. In 2000, Claypool began a collaboration with Phish's Trey Anastasio and The Police's Stewart Copeland under the moniker Oysterhead. The band played at Jazz Fest in New Orleans and Bonnaroo, and also released a studio album, "The Grand Pecking Order."
Throughout the years, Claypool has continued to collaborate with a number of other musicians and experiment with his creativity in other ways, even film. In 2000 he formed an experimental rock group called Les Claypool's Fearless Flying Frog Brigade, after he was asked to put together a band for the Mountain Aire Festival that is held in Angels Camp, California. With a lineup consisting of Claypool, Todd Huth, Eenor, Jay Lane, Skerik, and Jeff Chimenti, the band went on to release two live albums, one of which won the "Best Live Album" award at the Jammys. Later in 2006, Claypool made his debut as a filmmaker, with his feature length film, "Electric Apricot: Quest For Festeroo." The movie was a mockumentary-style spoof of jam bands, following the story of the fictional band Electric Apricot. The film actually went on to receive a number of awards, including "Best Feature (Audience Choice)" at the Malibu Film Festival.
Les Claypool's Breakthrough Album
Les Claypool got his big break when his band Primus released their third studio album, "Pork Soda," which debuted at the number 7 position on the Billboard Top 10 chart. The album had a noticeably darker tone than their prior albums, but it was a hit with fans. The album produced the singles "My Name is Mud," "Mr. Krinkle," and "DMV." "Pork Soda" was certified Gold in 1993, and by 1997, the album was certified Platinum. After Primus went on hiatus, Les Claypool was able to explore his solo career and he also collaborated with a number of other artists. Since his days with Primus, Claypool has continued to record and tour, and he when he comes to a venue in your city this year, you don't want to miss his show.
Les Claypool Trivia
Les Claypool auditioned for the bassist position in which metal band in the 1980s?
Les Claypool auditioned for the bassist position for Metallica in 1986, after their previous bassist was tragically killed in a tour bus accident. Likely due to stylistic differences, Claypool didn't get the gig.
Fan Experience
Les Claypool is the mastermind behind Primus, and he has taken his creativity to also including film making and writing as well. The oddball musician with a unique playing style is now kicking off another concert tour, and you will definitely want to check out his concert. Whether you're a fan of Primus or you enjoy his experimental bands, all fans of Les Claypool will be able to enjoy his shows during this concert season. To get your tickets to see Les Claypool in concert, visit StubHub today.
Back to Top