We didn't find anything nearby, but here's what's happening in other cities.
There aren't any events on the horizon right now.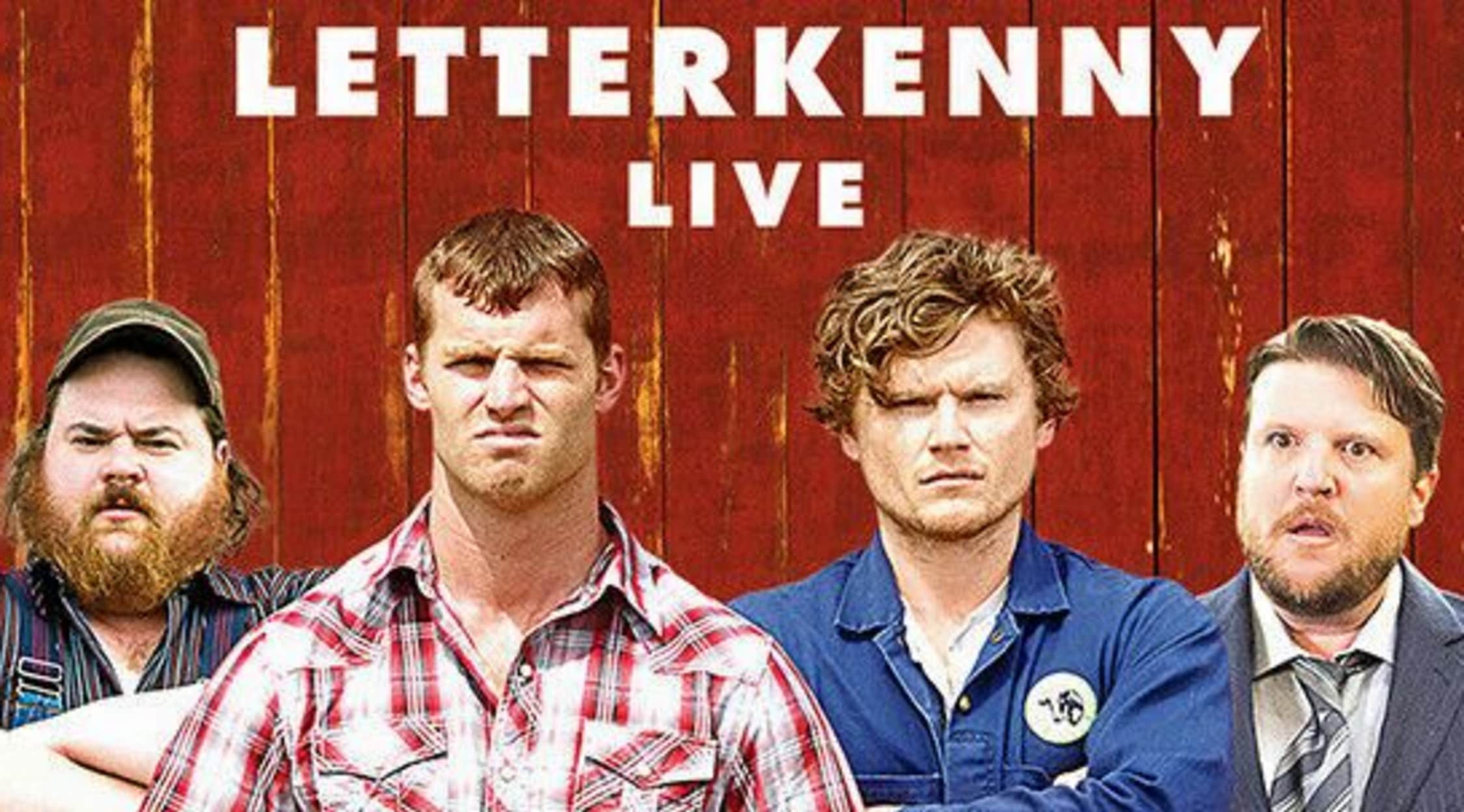 Letterkenny Live
Letterkenny Live Tickets
Letterkenny Live Tickets
Letterkenny Live is the stage show based around Letterkenny, the hit Canadian television show. The Letterkenny Live show includes a variety of skits, standup performances and more based around the irreverent style and humor of Letterkenny. The tour was originally conceived after the television show, which has completed seven seasons, experienced massive success on Canadian television. The original tour took place in 2018 entirely in Canada. Since then, the show has expanded to include American cities on its tour. The original tour was over one month long from February to March of 2018.
If You Love Letterkenny, You Will Love Letterkenny Live
Fans of Letterkenny will love Letterkenny Live. It features all of the main actors from the show, including Jared Keeso, Nathan Dales, Michelle Mylett, K. Trevor Wilson and Dylan Playfair. Letterkenny is a Canadian sitcom, created and directed by Keeso, that revolves the lives of a small group of friends in a rural Canadian town. Originally, it started as a web series, but its popularity fueled its transition into network television on CraveTV. The series is filmed and produced in Canada and made its first appearance on CraveTV in February of 2016. On top of the seven six-episode seasons of the show, the show made a Halloween and a Christmas special. CraveTV has stated that the show had the most successful debut of any program on the platform.
Where can I buy Letterkenny Live tickets?
Visit StubHub today to gain access to the world's largest online inventory of concert, event and theater tickets. If you are busy and always on the go, download the free mobile app to get tickets from your mobile device.
What can I expect from a Letterkenny Live show?
If you have Letterkenny Live tickets, expect a hilarious comedy variety show based on the character from the Canadian television show. This includes skits, standup comedy and even video segments during the show. If you have seen the show in the past, you will still see new sketches as each tour has new material.
Has Letterkenny won any industry awards?
Yes, Letterkenny has won a variety of awards since it debuted on television in 2017. The show's most notable win is the award for Best Comedy Series at the 2017 Canadian Screen Awards. Letterkenny has also won a variety of other Canadian Screen Awards during its run, including Best Lead Actor in Comedy, Best Writing in Comedy and Best Direction in a Comedy Program or Series.
Can I bring my children to a performance of Letterkenny Live?
During a Letterkenny Live, the material can touch on a variety of adult subjects. It is a good idea to attend this show without any minors because of this.
Will Letterkenny Live tour next year?
In 2020, the Letterkenny Live tour will be making stops around Canada and the United States. This includes stops in America in Buffalo, Denver, Nashville and Atlanta. The 2020 tour runs from late February to late April.
How long is the running time of Letterkenny Live?
On average, the running time for a performance of Letterkenny Live is 90 minutes. It is a one-act performance, so there is no intermission. The performance time can vary slightly from show to show.
Who are the members of the touring performance of Letterkenny Live?
The live tour features a number of cast members from the show, including Jared Keeso (Wayne), Nathan Dales (Daryl), Michelle Mylett (Katy), K. Trevor Wilson (Dan), Dylan Playfair (Reilly), Andrew Herr (Jonesy), Tyler Johnston (Stewart), Evan Stern (Roald) and Mark Forward (Coach).
What are some other shows similar to Letterkenny Live?
If you enjoyed the Letterkenny Live show, you may enjoy other similar comedic experiences like Trailer Park Boys or the standup comedy by Canadian comedian Norm Macdonald.
Back to Top