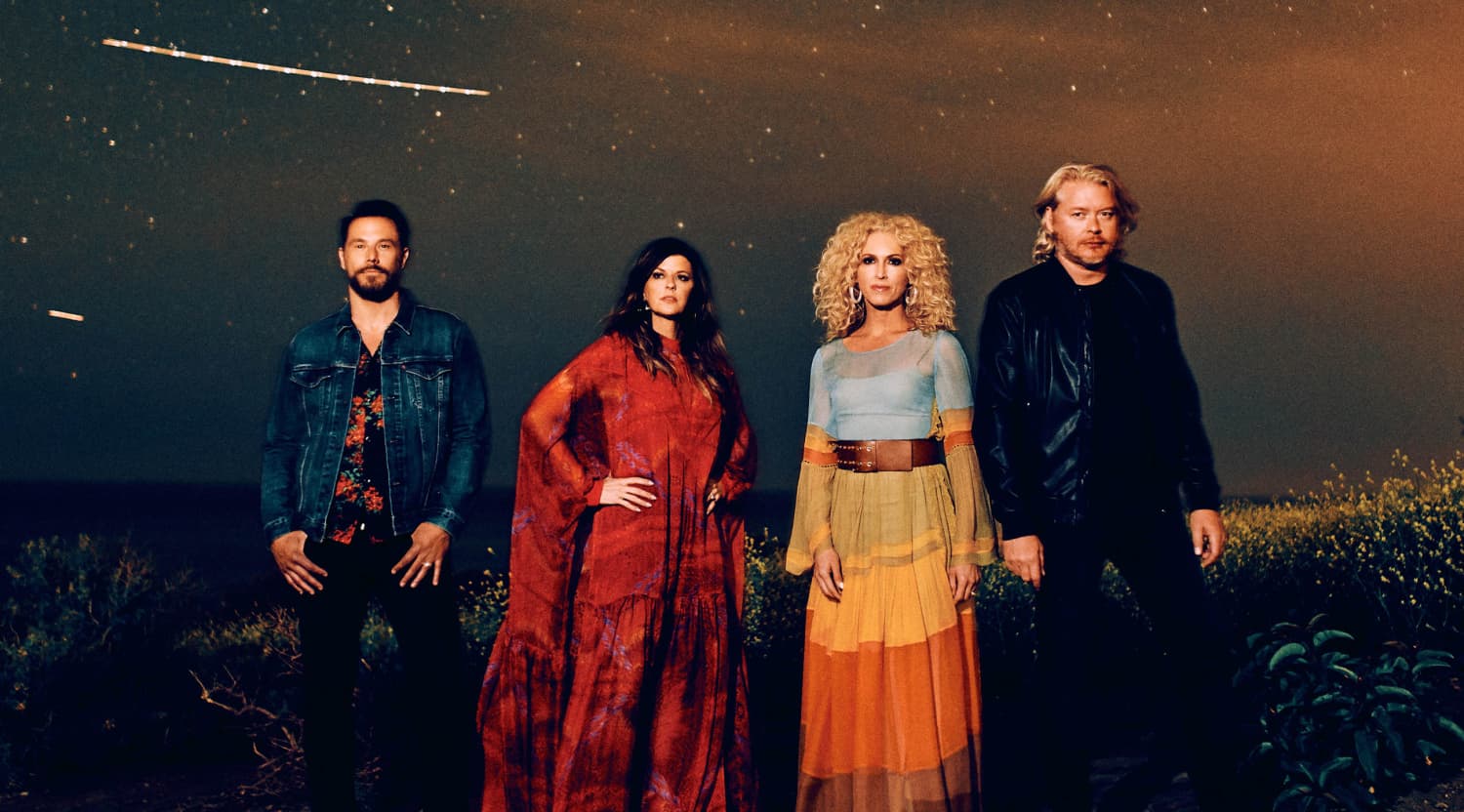 Rovi
Little Big Town Tickets
Little Big Town Tickets
Little Big Town has produced eight studio albums since the band's formation in the late 1990s. Since its inception, the group has consisted of the same four members: Kimberly Schlapman, Jim Westbrook, Karen Fairchild and Phillip Sweet. Little Big Town is known for producing country music featuring four-part vocal harmonies. First famous for hits such as "Little White Church," "Boondocks" and "Pontoon," the band's 2015 single, "Girl Crush," became the best-selling country single of that year. Their 2017 album, The Breaker, debuted at No. 1 and No. 4 on the Billboard Top Country Albums and 200 charts, respectively. Little Big Town released its lead single, "The Daughters," from its ninth studio album that debuted in April 2019.
From Little Beginnings to Big Fame
First meeting at the University of Alabama, Kimberly Schlapman (then Kimberly Roads) and Karen Fairchild reunited in Nashville where Jimi Westbrook and Phillip Sweet joined them to form Little Big Town. After a deal with their first label failed to produce an album, the group contracted with Monument Records, releasing their debut album, Little Big Town, in 2002. Their rough introduction to the country music genre continued when Monument's Nashville branch dissolved. Needing to find a new label, Little Big Town signed with Equity Music Group where the band released its third single, "Boondocks," which peaked at No. 9 on the Billboard Hot Country Songs chart. Leaving Equity to sign with Capitol Nashville in 2008, the group remains with the label to this day. Little Big Town achieved its first No. 1 hit with the release of "Pontoon," the lead single off its fifth studio album, Tornado. The group has gone on to win over 20 awards and release more chart-topping singles, such as "Girl Crush" in 2015 and "Better Man" in 2016.
Where can I buy Little Big Town tickets?
At StubHub, every purchase is backed by a 100% FanProtect guarantee. Securely buy or sell Little Big Town tickets from your computer or mobile device at the world's largest ticket marketplace.
Where can I attend a Little Big Town concert near me?
Little Big Town is heading across the United States in 2019. See the group at venues such as the Heartland Events Center in Nebraska, the Innsbrook Pavilion in Virginia, the Amphitheatre at the Wharf in Alabama or Choctaw Grand Theater in Oklahoma, among several others.
Which songs might I hear at a Little Big Town concert?
While attending a Little Big Town concert, expect to hear many fan-favorite songs, such as "Little White Church," "Pontoon," "Better Man," "Day Drinking," "Rollin'," "Stay All Night," "Summer Fever," "The Daughters," "Girl Crush," "Save Your Sin," "Bring It On Home," "Sober," "When Someone Stops Loving You" and "Boondocks."
Is Little Big Town a member of the Grand Ole Opry?
Yes, Little Big Town was invited to be a member of the Grand Ole Opry by Reba McEntire in 2014. The group accepted the invitation and was inducted by Vince Gill and Little Jimmy Dickens. Members of the Opry perform regularly on the show.
How many awards has Little Big Town won?
Over the course of the group's career, Little Big Town has won over 20 awards. These awards include eight Academy of Country Music Awards and nine Country Music Association Awards. Little Big Town has won four Grammy Awards. Three Grammys are in the Best Country Duo/Group Performance category for "Pontoon," "Girl Crush" and "Better Man." The fourth is the On the Hill Award in 2018 for their 20 years of professional performance. The group also has an Emmy.
Which artists are similar to Little Big Town?
Fans of Little Big Town may also enjoy the music of Miranda Lambert, Keith Urban, Sugarland, Lady Antebellum, Luke Bryan and Blake Shelton.
Back to Top
Epic events and incredible deals straight to your inbox.