We didn't find anything nearby, but here's what's happening in other cities.
5 events in all locations
-

Grant Park, Chicago, IL, US
Only 12 tickets left at lowest price
-

Grant Park, Chicago, IL, US
-

Grant Park, Chicago, IL, US
-

Grant Park, Chicago, IL, US
-

Grant Park, Chicago, IL, US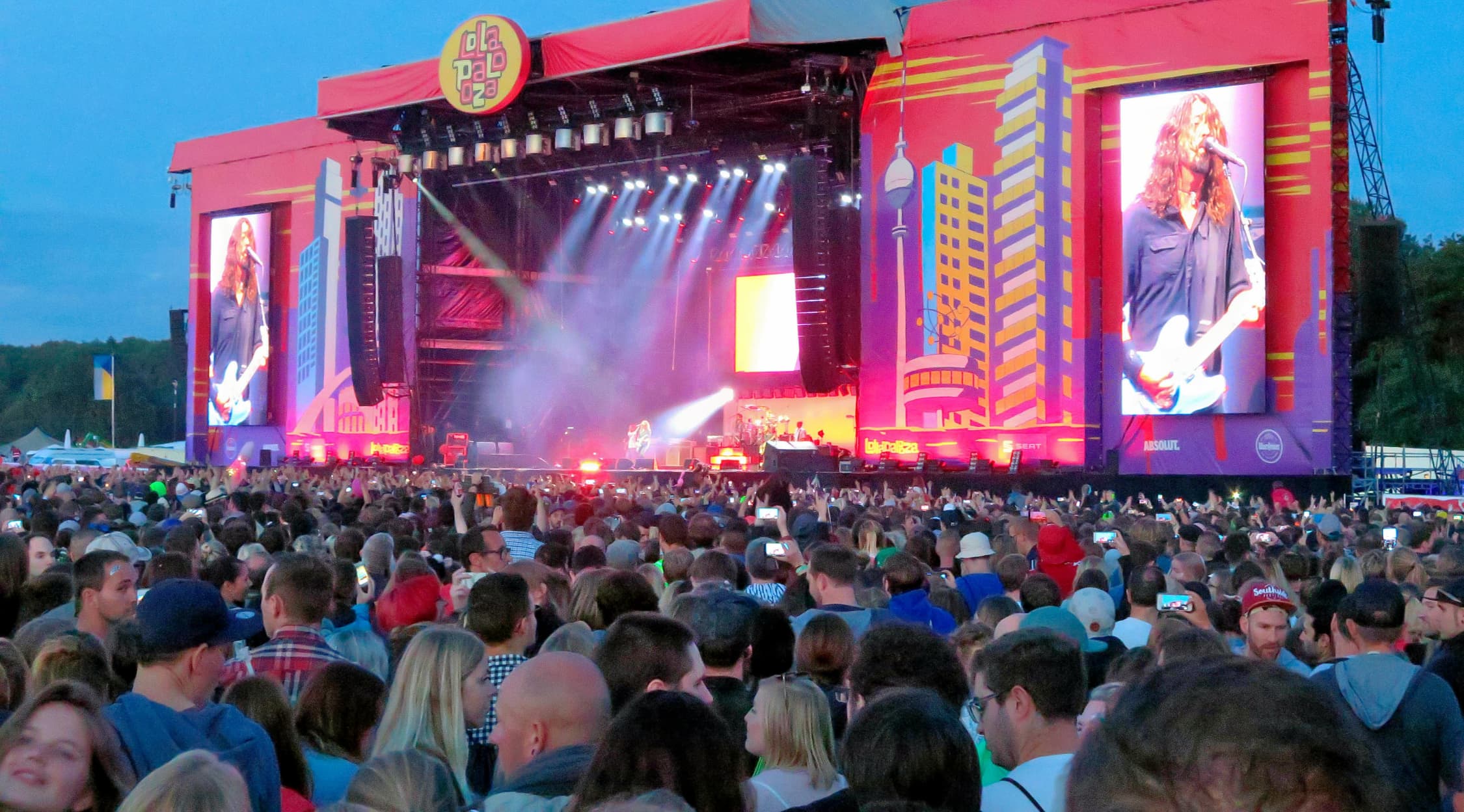 Alamy
Lollapalooza Festival Tickets
For several days each summer, fans flock to Grant Park in the middle of Chicago for Lollapalooza, one of the best-attended music festivals in the United States. What started as a roving farewell tour for Jane's Addiction frontman Perry Farrell in 1991 has transformed into a multi-day, multi-stage festival in the Windy City. Over the years, the brand has expanded globally, with Germany, Sweden, Chile, and Brazil all staging Lollapalooza iterations of their own. The Lollapalooza festival lineup features acts from across the musical spectrum, including alternative rock, punk rock, hip-hop, heavy metal, and electronic music. Notably, Lollapalooza has grown up with its fans and now features Kidzapalooza, a section of the festival grounds dedicated to family-friendly activities and performances. Plus, there's a mile-long stretch of food stalls furnished by local restaurants for folks who need to sit down and fuel up. Oh, and for those curious about the name, Farrell came up with it after hearing the word — which means "an extraordinary or unusual thing" — in a Three Stooges flick. If you're ready to join the festival fun and see some extraordinary and unusual acts, then snag your Lollapalooza tickets at StubHub now!
Lollapalooza FAQs:
What is Lollapalooza's COVID Policy?
Up-to-date information about Lollapalooza's COVID-19 policy is available here.
Where is Lollapalooza?
Lollapalooza is held annually in Grant Park in Chicago, Illinois.
When is Lollapalooza 2022?
Lollapalooza 2022 will take place July 28-31, 2022. Be sure to secure your tickets early!
How Many People Attend Lollapalooza?
Lolla is a massive event, drawing roughly 400,000 live music fans from around the world. Be one of them — snag your tickets at StubHub today!
How Long Is the Lollapalooza Festival?
Depending on the year, Lollapalooza usually lasts between three and four days.
Who Has Performed at Lollapalooza in the Past?
Lollapalooza is a massive event that attracts big-name artists. Past headliners include Lorde, Muse, Wiz Khalifa, Arctic Monkeys, Travis Scott, Billie Eilish, Ariana Grande, and The Strokes. Ready to see some superstars for yourself? Then grab your Lolla tickets at StubHub now!
Are There Hotel and Pass Packages for Lollapalooza?
If you want to stay near Lollapalooza, it'd be a good idea to secure a pass package at StubHub. Passes are a financially smart option and will put you in the middle of the action.
Is There Food Available at Lollapalooza?
You bet! You can find amazing food at Lollapalooza from some of the windy city's best restaurants. The options focus on fresh and reasonably priced items, so no matter what you're craving, you're bound to find something that hits the spot.
How Can I Find Affordable Lollapalooza Tickets?
StubHub makes it easy to find the Lollapalooza tickets you want at a price you'll love. Simply set a price alert, and we'll notify you the moment tickets in your budget are available.
Where Can I Purchase Lollapalooza Tickets?
You can buy Lollapalooza tickets right here at StubHub! We make it easy for you to get the best seats in the house. Set a price alert to find tickets in your budget, check out the view from each seat before you buy, and score the best tickets the moment they're available.
What Happens If My Event Is Rescheduled?
If Lollapalooza is rescheduled or postponed, your ticket will be good for the new date. If you can no longer attend the event, you can relist your tickets, and we'll waive the selling fee.
What Else Can I Do at Lollapalooza?
Lollapalooza isn't just about awesome live music. There are usually stalls set up by local vendors to sell merchandise, food stands to nosh at, and lounges to rest in or catch up with friends.
What Kinds of Music Can I Expect at Lollapalooza?
You'll primarily hear rock, alt-rock, punk rock, or heavy metal. However, some hip-hop acts and electronic dance artists are often part of the lineup.
What Stages Does the Lollapalooza Venue Have?
Lollapalooza's schedule has expanded over the years to include more bands, more stages, and more of everything that fans of the classic festival love. Nowadays, you can view a variety of acts from several main stages. Some of these include the Grant Park Stage where the headliners play, Perry's Stage for most of the EDM music and artists, and the Grove Stage, which features many indie rock artists.
How Do I Sell Lollapalooza Tickets?
Can't make the event? We've got you covered. Just click right here, upload your tickets to StubHub, select a price with the help of our Pricing Assistant™, and then kick back and relax as buyers come to you. It's quick, easy, and secure, and you'll receive payment directly from StubHub.
What Happens If My Event Is Canceled?
If Lollapalooza is canceled, we'll give you a StubHub credit for 120% of the amount you paid. You can use it for any live event on our site in the same currency.
Prefer a cash refund instead? No problem. Simply go to your StubHub Wallet and click the 'Request cash refund' button on the appropriate credit. We'll process the refund to your original payment method within 30 days. Read more about our event cancelation policy.
Back to Top