We didn't find anything nearby, but here's what's happening in other cities.
There aren't any events on the horizon right now.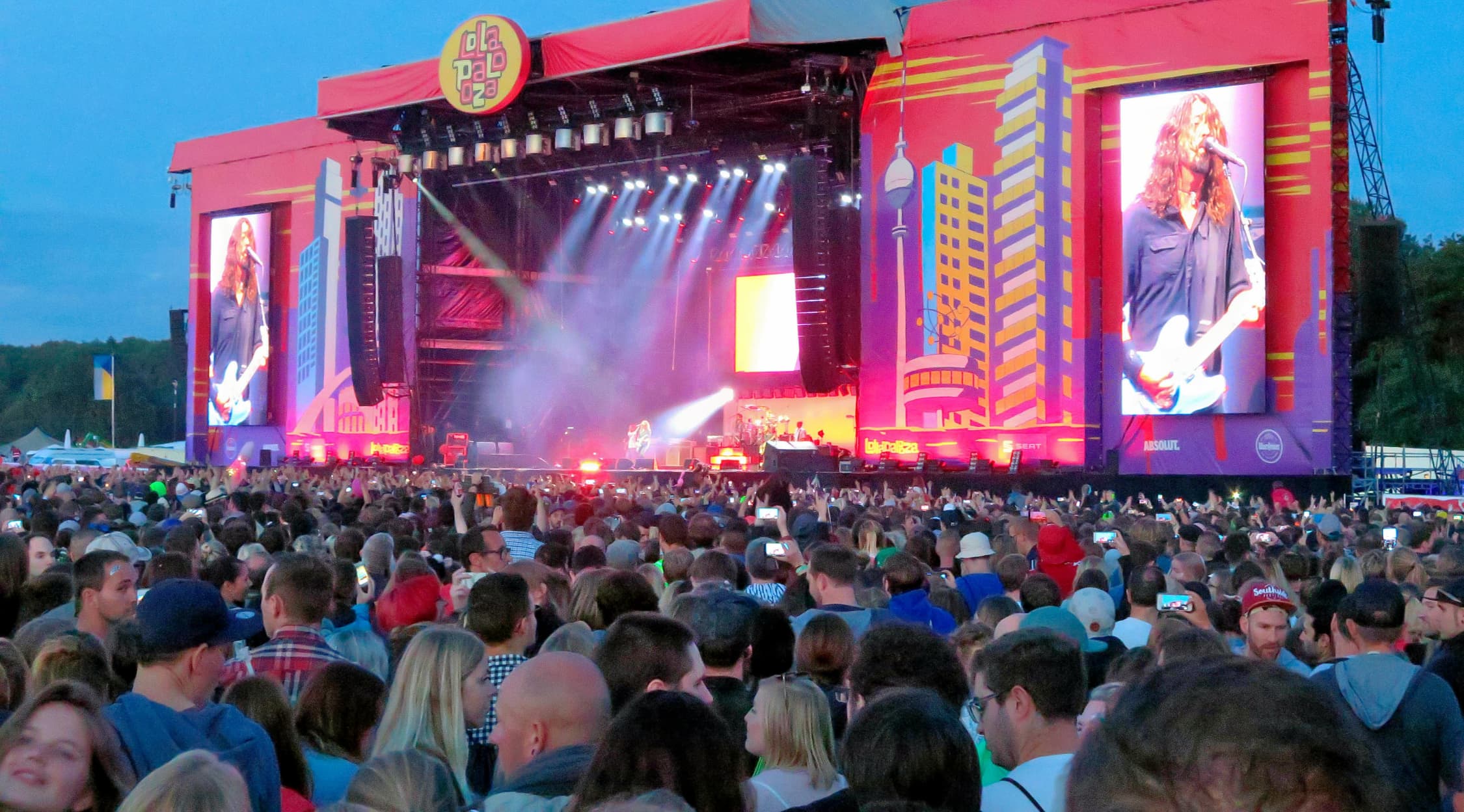 Alamy
Lollapalooza Festival Tickets
Lollapalooza Tickets
For almost 30 years, Lollapalooza has been the festival of choice for those who enjoy the alternative music scene. The event is based in Chicago's Grant Park and draws an average of at least 150,000 enthusiasts each year over its 4-day span. Lollapalooza's schedule has something for just about everyone, featuring artists from genres such as hip hop, punk, hard rock and metal. You can expect a nice mix of rap and hip hop from Childish Gambino or enjoy the hard sounds of Bring Me the Horizon if metalcore is more your thing.
Etymology and History
The name of the event comes from an antiquated word meant to describe "a singular or unusual thing," and co-founder Perry Farrell warmed to the name after hearing the word in a short starring The Three Stooges. However, a double meaning also refers to a large lollipop, and the original logs for the event incorporated these into the design. It's thanks to the success of the alternative rock scene at the time that Lollapalooza was able to move forward with such speed and popularity. Over the first few years of Lollapalooza, it expanded to include other events for patrons such as open-microphone readings of poetry or lyrics, tattoo parlors and special mosh pits where concertgoers could smash old television sets. While the popularity of Lollapalooza waned as the new millennium approached, Farrell revived it in 2003. Not only was the comeback successful, but it has since been a popular enough event to expand to other countries.
Where can I buy Lollapalooza tickets?
As the world's largest provider of tickets for events such as Lollapalooza, StubHub makes it easy to get what you need to attend the festival. You can make a secure purchase at stubhub.com via the regular desktop site or the mobile app.
What else can I do at Lollapalooza in-between listening to great music?
Lollapalooza isn't just about awesome live music. There are usually stalls set up by local vendors to sell merchandise, food stands, lounges to rest in or catch up with friends and more.
What bands were part of the inaugural lineup of Lollapalooza?
The first Lollapalooza concert saw live performances from many bands or artists that would go on to become big names in their respective genres. Groups such as Nine Inch Nails, the Violent Femmes and Lords of Acid all took the stage to entertain the crowd at Lollapalooza. Famous rapper Ice-T made good use of the Lollapalooza festival to launch into the heavy metal genre with his own band Body Count.
What kinds of music can I expect at Lollapalooza?
Lollapalooza concerts include those from groups or artists that stretch across several genres and seek to be as inclusive as possible with regard to musical tastes. You'll primarily hear from bands that play rock, alt-rock, punk rock or heavy metal. However, some hip-hop acts and electronic dance artists are often part of the festival lineup as well.
What stages does the Lollapalooza venue have?
Lollapalooza's schedule has expanded over the years to include more bands, more stages and more of everything that fans of the classic festival love. You can view a variety of acts from several main stages. Some of these include the Grant Park stage where the headliners play, Perry's Stage for most of the EDM music and artists at the event and the Grove Stage that features many of the indie rock artists.
When does Lollapalooza start and end?
The next Lollapalooza takes place August 1-4 in Grant Park. Festival staff will open the gates each day at 11 in the morning and close things up around 10 at night.
Are there any Lollapalooza aftershows?
Yes. Various groups and artists will be performing aftershows for guests that hold valid tickets. A complete lineup of aftershows is available, and you can choose the ones for which you'd like to purchase tickets. Aftershow performers include Hozier, Sigrid and Gary Clark Jr.
Back to Top