-

Merriweather Post Pavilion, Columbia, MD, US
Only 8 tickets left at lowest price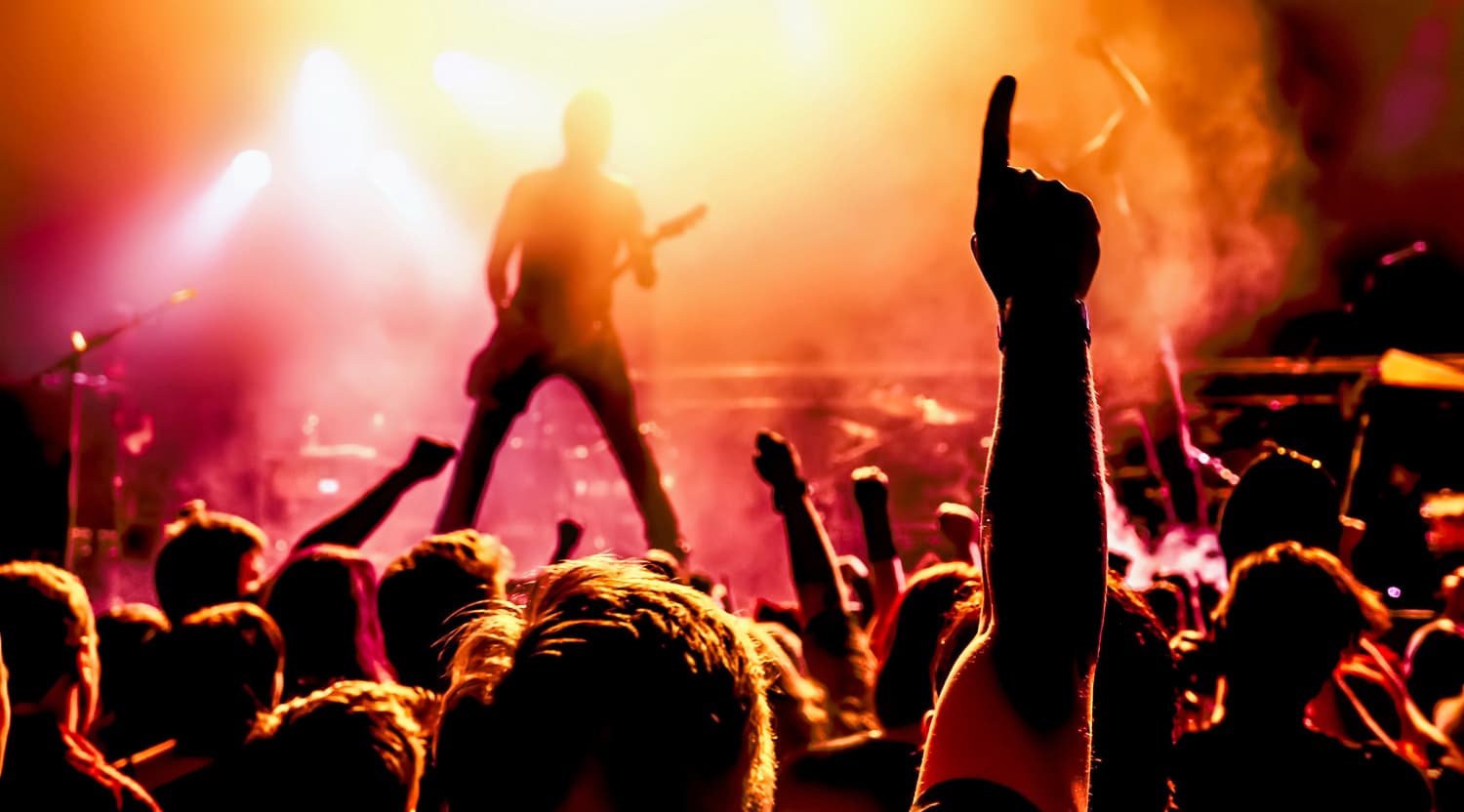 Adobe Stock RF
M3 Rock Festival Tickets
M3 Rock Festival Tickets
For more than a decade, the M3 Rock Festival has been a central celebration of all things related to '80s rock music. People descend on Columbia, Md., for this three-day rock extravaganza. They come from more than 20 countries and every state of the country to enjoy the live music and the classic rock focus. This three-day festival gives classic rock fans the chance to take a nostalgic trip back into rock's glam metal era.
Rock Arena Show
People who love music from the '80s, and more specifically, the grand scope of these performances, love this festival. It brings together some of the most popular musicians and performers from the glam rock era. This concert venue includes a sculpture garden, a mosh pit and video screens, which make even the most distant seats feel like front-row spots. It is these venue elements combined with the best of '80s-era music that has made this concert one of the destination festivals for music lovers worldwide.
Where can I buy M3 Rock Festival tickets?
If you need to find a front-row spot at the best outdoor concert in glam rock, then buy your tickets at StubHub. The world's largest online ticket marketplace gives ticket buyers a secure way to purchase M3 Rock Festival tickets on the internet.
What is the M3 Rock Festival experience like?
Each year, the M3 Rock Festival is held at the Merriweather Post Pavilion in Columbia, Md. It's an outdoor arena located in the Symphony Woods, a 40-acre patch of land right in the heart of a planned community in the city. Billboard magazine named the arena, a frequent tour stop for many bands, the second-best amphitheater in the US. This amphitheater was ranked 29th out of 100 by Consequence of Sound, meaning that music lovers can enjoy excellent audio quality.
What is the setlist like for the M3 Rock Festival?
Because this is a festival, the lineup of musicians and, therefore, the setlist of the festival changes from year to year. However, knowing what kinds of songs are played at the festival gives concert fans a general idea of what to expect. With that in mind, a sample setlist follows. Black 'n Blue played "Stop the Lightning," "Does She or Doesn't She," "Chains Around Heaven," "Nasty Nasty," "Without Love," " Miss Mystery" and "Hold on to 18." FireHouse performed "Overnight Sensation," "Crash," "Shake & Tumble," "Oughta Be a Law," "All She Wrote," "Don't Walk Away," "Love of a Lifetime," "Reach for the Sky" and "Don't Treat Me Bad." Quiet Riot also sang a set "Run for Cover," "Slick Black Cadillac," "Mama Weer All Crazee Now," "Love's a Bitch," "Put Up or Shut Up," "Party All Night," "Sign of the Times," "The Wild and the Young" and "Let's Get Crazy" in 2019.
Who were some of the performers at the M3 Rock Festival?
Rock acts like Enuff Z'Nuff, Kix, Autograph, Danger Danger, Kingdom Come, L.A. Guns, Tora Tora, Whitesnake, Skid Row, Vince Neil, Bang Tango, Faster Pussycat, Y & T, Ace Frehley, Great White, Night Ranger, Queensrÿche, Stryper, Michael Sweet, Adler, Slaughter and Steelheart are some of the bands that have performed at M3 Rock Festival.
What can I expect at a M3 Rock Festival performance?
Classic rock fans who love the rocking vibe of arena rock concerts can relive their musical glory days. Sitting out under the Maryland skies, concert fans mingle with other '80s music fans, show off their glam rock duds and buy T-shirts and other swag for their favorite bands. The atmosphere is jovial, and large video screens make it easy to see the performances, no matter where you sit.
What other concert events might fans of the M3 Rock Festival like?
If you enjoy the music played at the festival, you might also enjoy watching performers like Whitesnake, FireHouse or Skid Row in concert.
Back to Top
Epic events and incredible deals straight to your inbox.