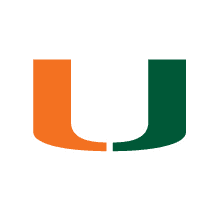 Miami Hurricanes Basketball
Miami Hurricanes Basketball Tickets
Official Fan to Fan Ticket Marketplace of the Miami Hurricanes
There aren't any events on the horizon right now.
Miami Hurricanes Basketball Tickets
Team: Miami Hurricanes
Sport: NCAA Division I Men's Basketball
Conference: Atlantic Coast Conference
Head Coach: Jim Larrañaga
Arena: Watsco Center
Miami Hurricanes Basketball Tickets
The University of Miami in Coral Gables, Fla., began its basketball operations for the 1926-1927 season. However, Miami did not have a basketball team from 1971 to 1985. The team has made up for those lost years in the last two decades. The program has won more than 1,030 games as of 2019. Their last NCAA Tournament appearance came in 2018. However, the Miami Hurricanes were not able to make it past the first round. The last NIT appearance was in 2015 with a runner-up finish. The team has yet to bring home a national championship in men's basketball. In 2013, current head coach Jim Larrañaga won the coach of the year award by the National Association of Basketball Coaches. Overall, he has led Miami to more than 180 wins in his going on nine seasons with the team. This year, the Hurricanes have been livened up by six young players, including Harlond Beverly, Nysier Brooks, Filippos Gkogkos, Keith Stone, Anthony Walker and Isaiah Wong. Ready to cheer for the Canes? Get your Miami Hurricanes' basketball tickets at StubHub.
How big is the Watsco Center?
The Watsco Center is home to Miami's men's and women's basketball teams. This arena can comfortably seat 7,972 patrons within 200,000 square footage of space. Miami opened the Watsco Center opened on Jan. 4, 2003, with an overtime win over North Carolina. Since that time, the Watsco Center has hosted presidential political rallies, religious figures, the Latin Music Awards, concerts and more.
Who is the head coach for the Miami Hurricanes?
Larrañaga, age 69, has been the head coach for the Miami Hurricanes for nine years. He is married to his wife Liz. They have two sons, Jay and Jon, and four grandchildren, Tia, Jon, Henry and James. Larrañaga graduated from Providence College in 1971 with a bachelor's degree in economics. Since his tenure at Miami, Larrañaga has led the team to four appearances in the NCAA Tournament. His squads have made it to the tourney's round of 16 twice. He is No. 9 on the NCAA winningest active coaches and No. 40 for all-time winningest coaches. Larrañaga previously coached at George Mason University, University of Virginia and American International College. Fan interest in the Miami Hurricanes basketball schedule has been unprecedented since Larrañaga's tenure. SArena seating is almost always near capacity for every game.
Do the Miami Hurricanes have any historical rivalries?
The Miami Hurricanes' basketball team has an ongoing rivalry with fellow ACC powerhouse Duke. Duke has dropped five out of the last eight games to Miami. Other rivals in the ACC include Florida State, Virginia Tech and Notre Dame. Maimi also has an interstate rivalry with the SEC's University of Florida.
What are the biggest games for the Miami Hurricanes this season?
The ACC conference matchups tend to be the biggest games for Miami. This conference is usually led by the programs at North Carolina and Duke. However, the ACC is usually strong from top to bottom In January, the Hurricanes will meet Duke and Pittsburgh. Some significant away games include Clemson for the month of December and North Carolina and Duke for the month of January.
How much are the Miami Hurricanes' basketball tickets?
Prices for Miami Hurricanes' basketball games will depend on several factors. For starters, upper-level seating will be more affordable than lower-level seats. Also, postseason games tend to be more expensive. If you want to save in bulk, consider getting season tickets. Check at StubHub to find the best deals on Miami Hurricanes' basketball tickets.
Back to Top
Epic events and incredible deals straight to your inbox.