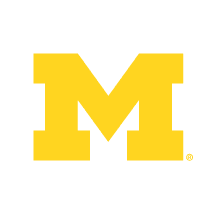 Michigan Wolverines Football Tickets
Official Ticketing Partner of Michigan Wolverines
-

Hard Rock Stadium, Miami Gardens, FL, US
Only 1 ticket left at lowest price
Michigan Wolverines Football venues
Michigan Wolverines Football Tickets, Schedules, and More
Team: Michigan Wolverines
Conference: Big Ten
First Season: 1879
Home Games: Michigan Stadium
The University of Michigan's football program kicked off in 1879, and they've been making history ever since. Michigan has recorded more all-time wins than any other team in college football, have claimed eleven national titles, and have the third highest winning percentage in college football history. In the early 20th century, the team won multiple national championships under the guidance of head coach Fielding Yost, who set a mark of fifty-six straight wins. Head coach and Hall of Fame inductee Bo Schembechler then led the team to its greatest sustained success between 1969 and 1989, with 194 regular season wins. And every season, dedicated fans have been there, packing Michigan Stadium and singing "The Victors" as loudly as they can.
Ready to sing along and catch a Michigan Wolverines game in person? Purchase your tickets on StubHub today!

Michigan Wolverines Football FAQs:
Where Can I Learn About Michigan Stadium's Current COVID Policy?
More information on the Michigan Wolverines' COVID policy can be found here.
How Much Are Michigan Wolverines Football Tickets?
Ticket prices vary depending on the matchup, but typically, you can expect to find Michigan Wolverines tickets starting around $25.
How Can I Find Affordable Michigan Wolverines Football Tickets?
StubHub makes it easy to find the Michigan Wolverines tickets you want at a price you'll love. Simply set a price alert and we'll notify you the moment tickets in your budget are available.
What Conference are the Michigan Wolverines in?
The Michigan Wolverines compete in the NCAA's Division I as a member of the Big Ten Conference.
Where Do the Michigan Wolverines Play?
The Michigan Wolverines play in Michigan Stadium, affectionately known as "The Big House," located in Ann Arbor, Michigan. The stadium opened its doors in 1927 and boasts a seating capacity of 107,601. This makes The Big House the largest stadium in the United States, and the third largest stadium in the world.
Who Are the Michigan Wolverines Playing?
You can check out every regular season Michigan Wolverines matchup on StubHub. Feel like traveling to cheer for your team? Filter by away games and plan an entire out-of-town adventure. Rather stay local? No problem. Just filter tickets by home games.
What Time Can I Show Up For a Michigan Wolverines Game?
Michigan Stadium's gates open two hours prior to kickoff and close one hour postgame. If you're sitting in any club level seats, you get two and a half hours to hang out and enjoy the atmosphere before kickoff.
Can I Tailgate at a Michigan Wolverines Game?
You can, and you should! There are plenty of areas to tailgate around The Big House, but you'll find most folks at either the University of Michigan Golf Course (which is across the street from the stadium) or the parking lot of Ann Arbor Pioneer High School. If these areas are packed, don't worry! Fans set up camp wherever they can, so you're sure to find a good spot to tailgate.
Can I Bring a Bag to a Michigan Wolverines Game?
All bags and purses are prohibited (yup, even fanny packs). If you happen to forget and bring a bag with you, there's a bag check located inside the south entrance of Crisler Center off of Stadium Way. Alternatively, if you drive to the game, you can drop your bag back in your car.
Do I Need a Parking Pass for a Michigan Wolverines Game?
If you want to park near Michigan Stadium, it'd be a good idea to secure a parking pass on StubHub. Parking passes start as low as $15 and will put you within easy walking distance of the stadium.
Where Can I Purchase Michigan Wolverines Football Tickets?
You can buy Michigan Wolverines tickets right here on StubHub! We make it easy for you to get the best seats in the house. Set a price alert to find tickets in your budget, check out the view from each seat before you buy, and score the best tickets the moment they're available.
How Do I Sell Michigan Wolverines Football Tickets?
Can't make the game? We've got you covered. Just click right here, upload your tickets to StubHub, select a price with the help of our Pricing Assistant™, then kick back and relax as buyers come to you. It's quick, easy, secure, and you'll receive payment directly from StubHub.
What Happens If My Event is Canceled?
If an event is canceled, we'll give you a StubHub credit for 120% of the amount you paid. You can use it for any live event on our site in the same currency.
Prefer a cash refund instead? No problem. Simply go to your StubHub Wallet and click the 'Request cash refund' button on the appropriate credit. We'll process the refund to your original payment method within 30 days.
Read more about our event cancelation policy.
What Happens If My Event is Rescheduled?
If an event is rescheduled or postponed, your ticket will be good for the new date. If you can no longer attend the event, you can relist your tickets and we'll waive the sell fee.
Back to Top