MILLION DOLLAR QUARTET DENVER
Million Dollar Quartet Denver
Million Dollar Quartet Denver Tickets
We didn't find anything nearby, but here's what's happening in other cities.
-

Buell Theatre, Denver, CO, US
Only 8 tickets left at lowest price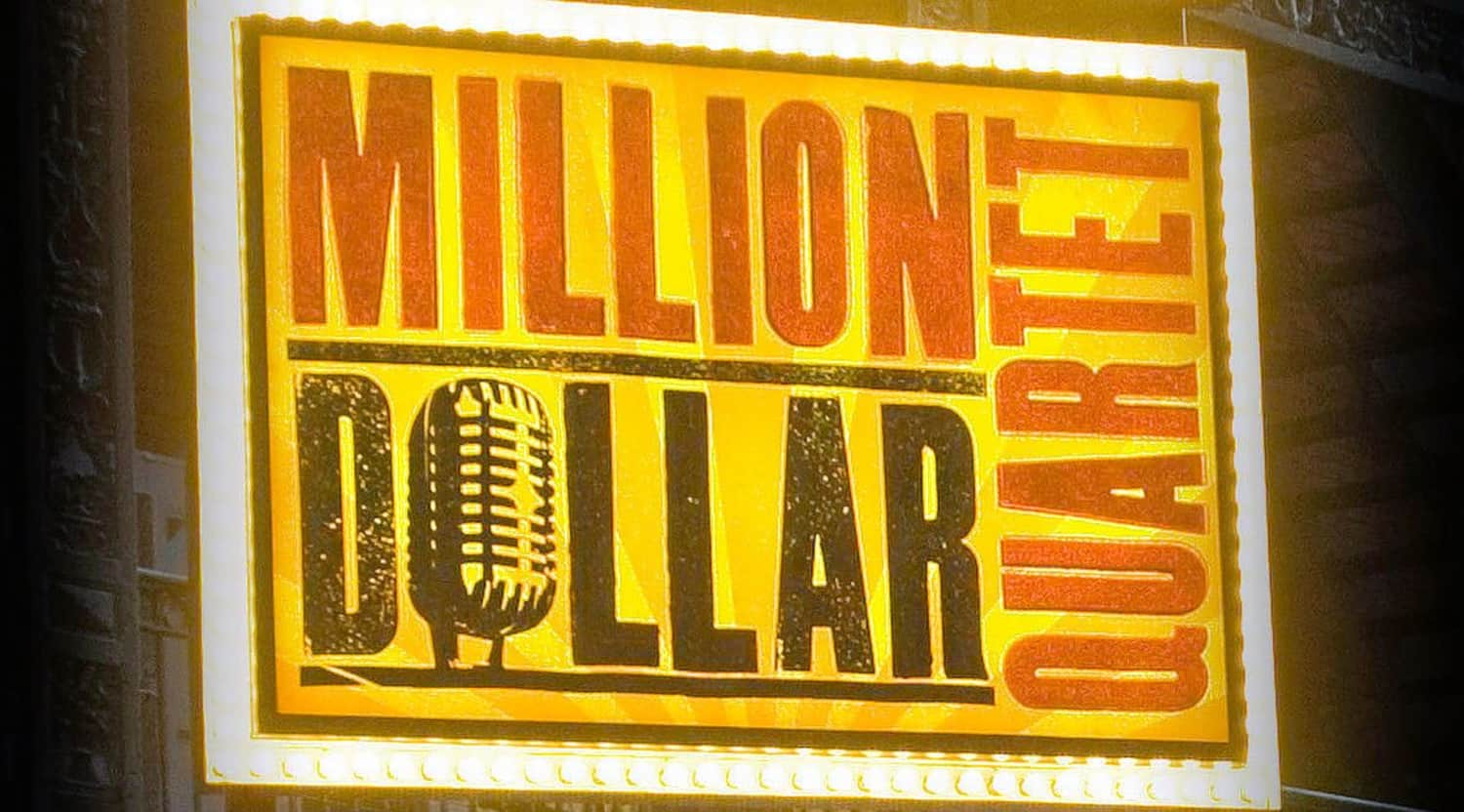 Alamy
Million Dollar Quartet Denver Tickets
Million Dollar Quartet Denver Plot
Are you a fan of musicals written for the stage? Are you a fan of popular music? Well why not go to the place where those two interests intersect and get your tickets to see a play like the Million Dollar Quartet? Music fans will be raving when they see this production for the stage that includes some of their favorite musical performers. How can you miss out on the opportunity to see what it looked like on that fateful day in December of 1956 when Elvis Presley, Johnny Cash, Carl Perkins, and Jerry Lee Lewis got together for one of the greatest jam sessions of all time! Music fans can get a grasp of how important that jam session was to music to have those legendary icons come together for a simple exchange of musical ideas. Elvis Presley and Johnny Cash were among the most famous of those stars, and yet, even with Jerry Lee Lewis as the "newcomer", all would go on to secure their place in the pantheon of important figures in the history of Rock 'n Roll. So what are you waiting for? Don't sit around any longer twiddling your thumbs, go ahead and get your laptop so you can log on to StubHub and get your tickets today! This is one show you aren't going to want to miss out on, so don't spend any longer here! Go secure your tickets on the main page now! Be the first of your friends to brag about seeing this show, go secure your tickets today with StubHub, where access to your seats is just a few clicks away.
Million Dollar Quartet Denver Schedule
Have some time to kill in Denver before the curtain raises for Million Dollar Quartet to begin? Well you're in luck, because this mountain-city has plenty to offer its visitors and residents all year long! Even if you're not getting ready for the curtain to go up at the Temple Buell Theatre, there's plenty to see and do in Denver. If you're in the mood to get some exercise in and take in some of Denver's natural surroundings, why not head to Mount Evans and see some of that fresh powder at the top of the mountain that makes Denver the tourist destination that it is today. Or if you're looking for a more cultured, indoor experience, why not head to the Denver Museum of Nature and Science? There you can learn all about the local flora and fauna that surrounds this mountain city. Or maybe you just want to catch a game and see The Rockies take on their foes at Coors Fields? The options are truly limitless when it comes to the city that's the shining star of Colorado. But don't forget that you picked up some tickets to see Million Dollar Quartet, so be back in time and in your seat for the curtain to go up! If you don't have any tickets to see the show yet, you're in luck! StubHub stays up to date with available seats, so go ahead and take a look now and secure your tickets before they're all sold out! Don't miss out on this exciting opportunity to catch some culture on the stage in Denver!
Million Dollar Quartet Denver Cast
It's hard to cast for such monumental greats as Elvis, Jerry Lee Lewis, Carl Perkins, and Johnny Cash. Not many actors can muster the kind of "cool" necessary to take the stage as their presence. Thankfully, the director has gone out of his way to find people who perfectly match the performance they're after. The original Broadway run of Million Dollar Quartet includes such esteemed actors of the stage as Eddie Clending, Levi Kreis, Hunter Foster, and Robert Britton Lyons. The West End show, however, varied in pulling from some of Europe's finest stage actors such as Bill Ward, Ben Goddard, Derek Hagan, with Robert Britton Lyons reprising his role. This is a great show that you're not going to want to be absent for, so go ahead and secure your tickets today for the whole family so you can introduce your kids to a special time in music when rock 'n roll was about more than just image. Teach your kids about the music by getting your tickets to see Million Dollar Quartet off of StubHub! Don't miss out!
Million Dollar Quartet Denver Author
The book detailing the famed event where these great musicians came together was written by Floyd Mutrux and Colin Escott. This musical is similar to their book in the sense that it stays true to the events of how the musicians were approaching the music and not focusing entirely on their egos or struggles with early stardom. Get your tickets through StubHub today!
Million Dollar Quartet Denver Trivia
Q: When did Million Dollar Quartet open on Broadway?A: 2010.
Back to Top
Epic events and incredible deals straight to your inbox.