We didn't find anything nearby, but here's what's happening in other cities.
There aren't any events on the horizon right now.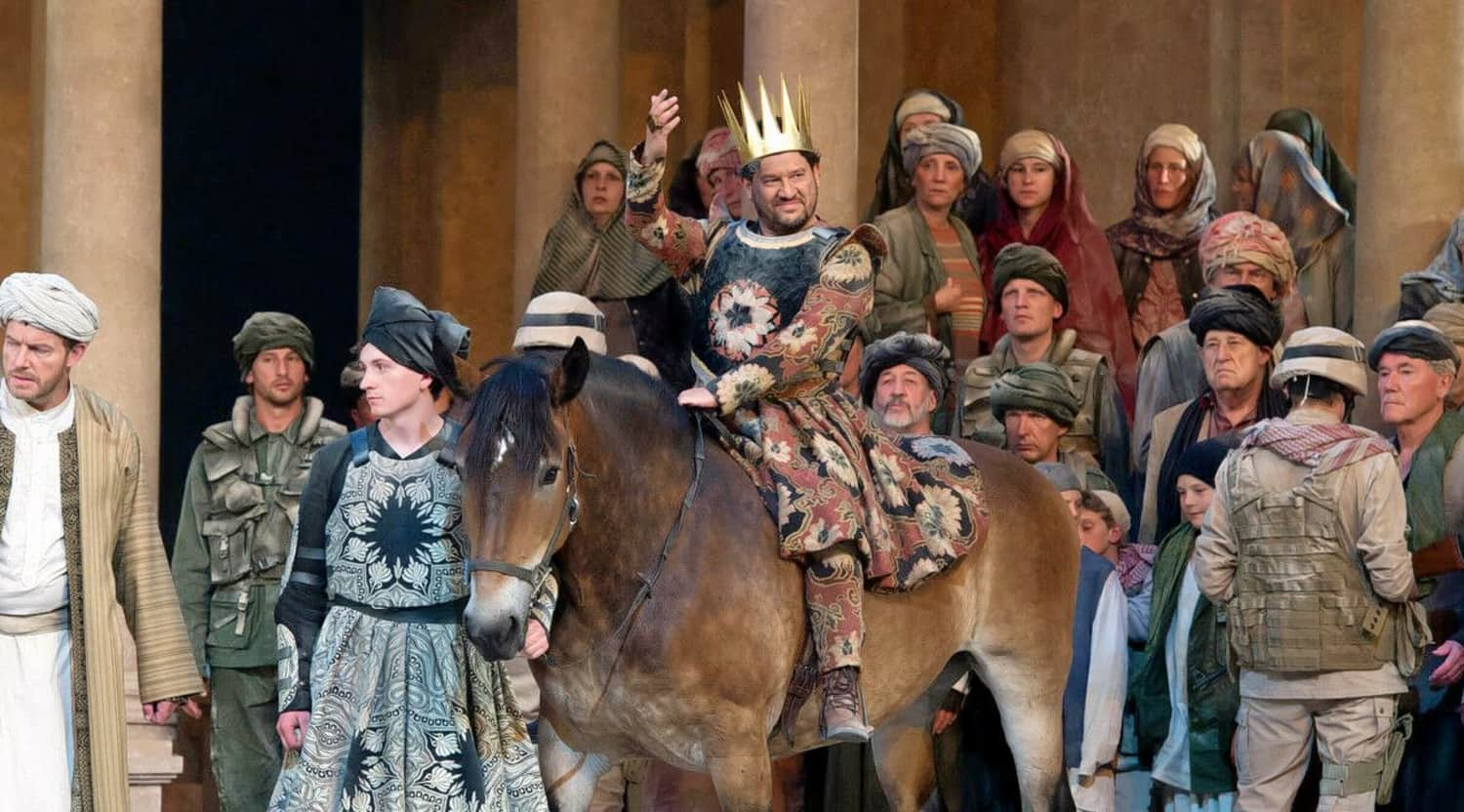 Alamy
Nabucco New York Tickets
Nabucco New York Tickets
Nabucco is the opera composed by Giuseppe Verdi in 1841. Verdi's third opera, it was first performed in Milan in 1842 and its success brought him international fame. The libretto, written by Temistocle Solera, is inspired by events in Jewish Scripture surrounding Nebuchadnezzar's conquest of Jerusalem. Parts of the tale, specifically "Va, Pensiero," portray the Hebrews longing for their homeland. This story resonated with the budding patriotic fervor of the Italians for a united Italy and the end to Austrian rule in the north and helped propel the popularity of the opera.
The Story
In 586 BC, Nabucco (Nebuchadnezzar), king of Babylon, conquers Jerusalem, destroys the temple and enslaves the Hebrews, bringing some of them back to Babylon. Upon his return, his adopted daughter attempts to steal his throne. The Israelites, including his true daughter who has converted to Judaism, become entangled in the struggle. The coup drives Nabucco mad. He begs God to heal him and he will save the Hebrews, restore the Temple and convert to Judaism. He regains his senses, stops his adopted daughter's plans and fulfills his promises.
The Creators
Giuseppe Verdi (1813-1901) was an Italian composer. His upbringing was modest and he required the help of a patron to complete his music education. He became one of the pre-eminent opera composers in the world, dominating the form in the mid-to-late 19th century. He composed many masterpieces, such as Rigoletto, Il Trovatore, La Traviata, Aida, Otello and Falstaff.
Temistocle Solera (1815-1878) was a composer and librettist best known for his work as the librettist for several of Verdi's operas. He was also active in the anti-Austrian resistance before Italy's unification, even serving a stint in jail for his activities.
The Metropolitan Opera in New York Tickets
The Metropolitan Opera (affectionately known as The Met) was founded in 1883; its first opera house was built at Broadway and 39th Street in New York City. Many of the world's great performers graced the stage there. The original opera house eventually proved inadequate for The Met's needs. In the 1960s, it joined a number of other New York institutions to form and build the Lincoln Center for the Performing Arts. Lincoln Center is now home to The Metropolitan Opera.
Purchase your tickets for Nabucco in New York at StubHub.
Nabucco Trivia
The libretto written by Temistocle Solera took liberties with the story of the Jewish capture by the Babylonians in Nabucco but stays mainly true to the Old Testament books of Jeremiah, 2 Kings, 2 Chronicles, Daniel, and the Psalms.
Back to Top
Epic events and incredible deals straight to your inbox.