We didn't find any Events nearby, but here's what's happening in other cities.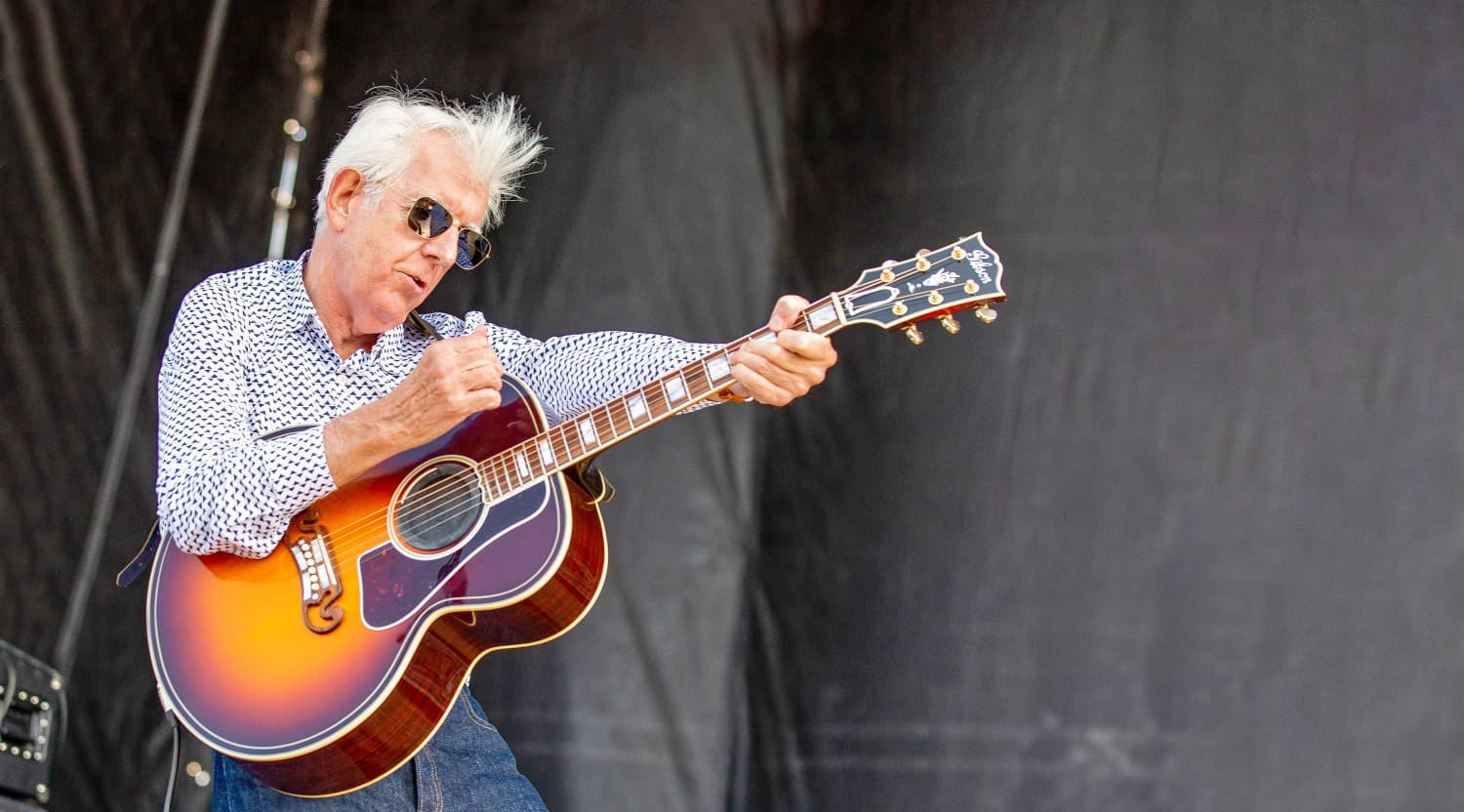 Zuma
Nick Lowe Tickets
Nick Lowe – The 2015 Tour
Whether he is playing at the Reynolds Industries Theater in Durham, NC, the El Ray Theatre in Los Angeles, CA, or any other iconic and state-of-the-art venue in North America and the United Kingdom, Nick Lowe delivers one of the most unforgettable live shows in the industry. Most in his element when performing for fans of all stripes, Nick Lowe delivers a concert experience that you will never forget. Don't miss out on your chance to see this legendary and multi-talented songwriter and musician live and in the flesh! Get your tickets today.
About Nick Lowe
Nick Lowe was the son of an officer of the British Royal Air Force and spent part of his childhood in the Middle East before his family moved to Kent. He played in several bands as a teen with his guitarist friend Brinsley Schwarz. In 1965, they formed Kippington Lodge, which got them a deal with Parlophone Records in 1966. They released five singles to little attention. In 1969, they re-emerged as a country-rock outfit Brinsley Schwarz, getting a contract in 1970 with United Artists. The group slowly built a following in the pub rock scene.
With its unpretentious style, pub rock set the scene for late '70s punk rock. Lowe was the most influential in this regard. By the time Brinsley Schwarz disbanded in 1975, Lowe had developed an excellent reputation as a quirky songwriter and had started to produce musicians like the Kursaal Flyers and Dr. Feelgood. Lowe's songwriting became more poppy. He wanted to leave United Artists, but they refused. In response, he tried to write unmarketable songs so they would drop him. This first of these, "Bay City Rollers We Love You", inexplicably became a hit in Japan, and UA kept him on. After "Let's Go to the Disco", however, the label finally let him go.
Lowe then signed to budding indie label Stiff Records, helmed by Dave Robinson and Jake Riviera, as an artist and an in-house producer. He released the first late '70s proto-punk single, So It Goes"/"Heart of the City", to poor sales and glowing reviews. He started producing records for the Damned and Costello, and singles for the Rumor, Wreckless Eric, and others. That summer, he joined Dave Edmunds' Rockpile touring band, which soon became Lowe's own backing band. In 1977, he released the EP Bowi and left Stiff Records for Riviera's new project, Radar Records.
Lowe's album debut Jesus of Cool appeared in 1978 and included the U.K. hit "(I Love the Sound of) Breaking Glass". His 1978 single "American Squirm" found little success. His second full-length, Labour of Lust, contained his lone major American hit "Cruel to Be Kind". In 1979, Lowe married Johnny Cash's stepdaughter Carlene, and produced her records Musical Shapes and Blue Nun.
Edmunds and Lowe toured with Rockpile in support of their respective 1979 releases, and were featured in the BBC documentary film Born Fighters. Rockpile's live shows became notorious for their intoxicated musicians and spirited sets of obscure covers and originals. In 1989, the grounds decided to record together, but tension between Edmunds and Lowe plagued the sessions. Their only album, Seconds of Pleasure, appeared to mixed reviews in 1980 and generated the hit single "Teacher Teacher". Rockpile split up afterwards, with the remaining musicians supporting Edmunds for his solo album.
Lowe's album Nick the Knife arrived in February of 1982. Keyboardist Paul Carrack and guitarist Martin Belmont helped support the album, and the trio became the Chaps, later renamed Noise to Go. Nick the Knife found moderate success, but the 1983 album The Abominable Showman flopped. In response, Lowe shifted to roots rock for 1984's And His Cowboy Outfit, which earned positive reviews and better sales, as did 1985's Rose of England. The former contained his last British hit single, "Half a Boy Half a Man", and Rose of England included his last American hit, a new version of "I Knew the Bride (When She Used to Rock & Roll)". He and Costello reunited for 1986's Blood & Chocolate.
He then concentrated on roots rock and country-rock. 1988's Pinker and Prouder than Previous indicated this stylistic shift, but the record found little attention. 1990's Party of One with Edmunds' production was his first to chart since 1985. Also that year, Carter and Lowe divorced. In 1991, he established the supergroup Little Village with Jim Keltner, Ry Cooder, and John Hiatt. Fraught with tension, Little Village's self-titled 1992 release and support tour suffered. The band broke up after the tour. Lowe's composition "(What's So Funny 'Bout) Peace, Love and Understanding" was covered by Curtis Stigers and appeared in the movie The Bodyguard. The film's soundtrack album was the biggest-selling in this category, and Lowe was suddenly a millionaire via the royalties.
In 1994, Lowe came back with the country record The Impossible Bird. Celebrated as his best work in years, it was a hit in the growing Americana community in the States, and he supported that release with a solo tour. His touring band included Bill Kirchen on guitar. In 1998, he released Dig My Mood, followed by three records on Yep Roc: The Convincer (2001), Untouched Takeaway (2004), and At My Age (2007). His fourth Yep Roc effort, The Old Magic, appeared in 2011 to good sales and universal critical praise. Two years later, he issued a Christmas album entitled Quality Street.
Previous Hits
Nick Lowe has landed three singles on the Billboard charts: "Cruel to Be Kind", "Stick It Where the Sun Don't Shine", and "I Knew the Bride". His most successful albums include Labour of Lust, Nick the Knife, and The Old Magic.
Trivia
Nick Lowe struggled with alcohol abuse in the mid'-80s, but recovered with the help of friends Jake Riviera and Costello.
The Nick Lowe Concert Experience
Best enjoyed in the company of fellow music lovers, grab a seat and sit back as Nick Lowe takes the stage. Nick Lowe is a natural born musician who has been composing and performing since he was in his teens. With a catalog of songs that captures the best and most unique moments of 20th and 21st century pop music, Nick Lowe delivers an unforgettable live music experience.
Back to Top
Epic events and incredible deals straight to your inbox.