We didn't find any Events nearby, but here's what's happening in other cities.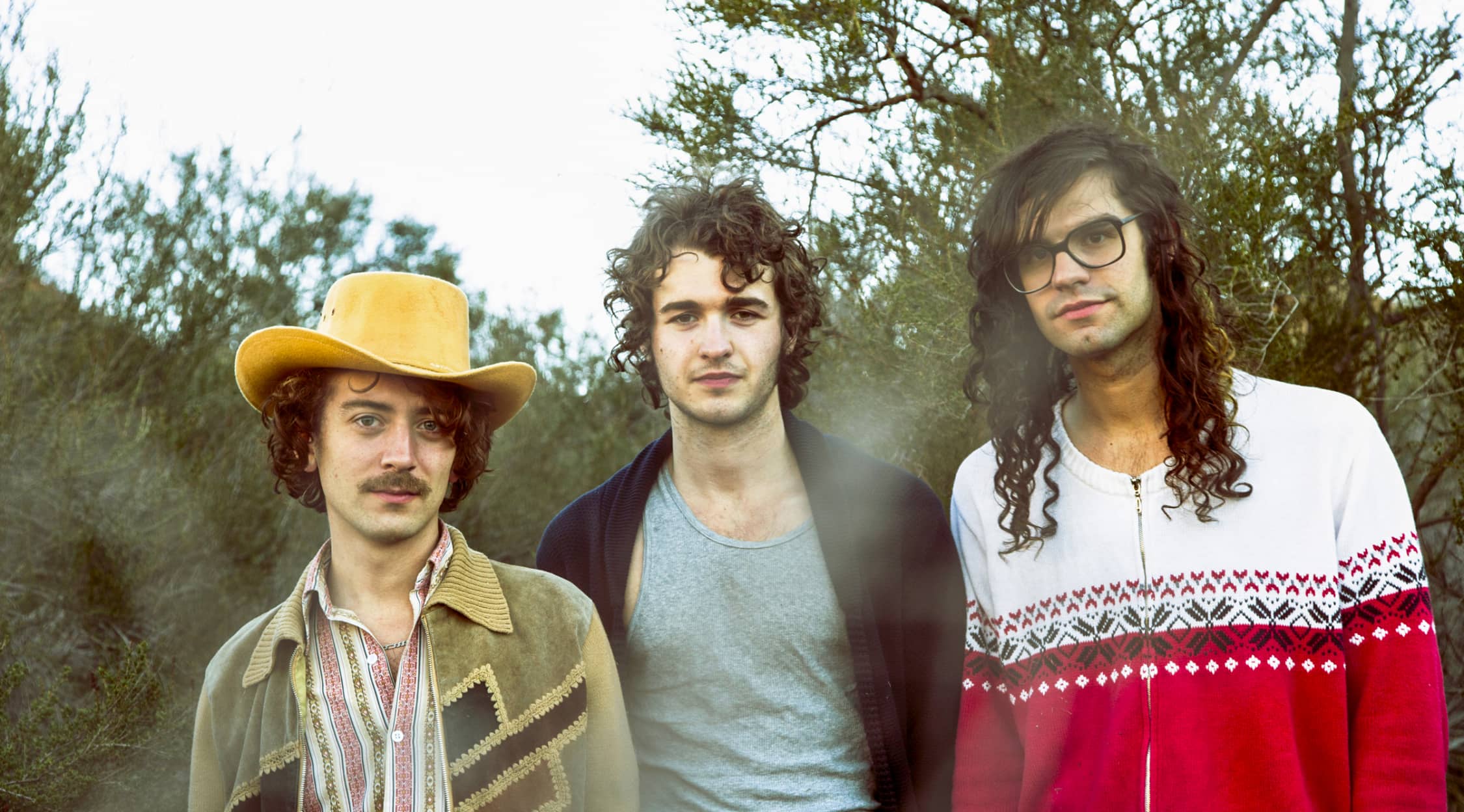 Rovi
Night Moves Tickets
Night Moves – The 2016 Tour
Night Moves will be performing at iconic locations all over North America, such as Rickshaw Stop in San Francisco, the Drake in Toronto, Great Scott in Boston, and more! Don't miss your chance to see these rising indie rock stars in concert! Get your tickets today.
About Night Moves
Twin Cities Minneapolis and St. Paul are patently American locales, but for some time they lacked a standout musical act that could evoke the canon of American rock in a timeless manner. Night Moves filled that gap. Established in 2009 with Jon Pelant (guitars and vocals), Micky Alfano (bass), and Mark Ritsema (multiple instruments), Night Moves are a decidedly original confection. Their sweet sounds seethe with a sort of everyday tenderness and their arrangements are colossal. Night Moves' debut album Colored Emotions is a powerful first play.
The three musicians at the heart of the band first met in a Minneapolitan high school. After some desultory first moves typical of first musical efforts (including brief stints in college), the group started to crystallize in the form of Night Moves. This band is the touchstone project for Mark Ritsema and John Pelant, who have been collaborating since their freshman year.
Pelant's affection for Blind Lemon Jefferson, Bob Dylan, and the like would be an encouraging sign for their work together as Night Moves. On the other hand, Ritsema is a fan of electronic music, and was deep into Daft Punk when he and folknik Pelant first met. All through high school, Pelant composed songs by himself, but he was loath to share them. As Ritsema and Pelant continued playing together, however, their musical differences started to fade and their musical bond strengthened.
In 2009, Night Moves finally solidified with Micky Alfano as their longterm bassist. At last, Night Moves were ready to start the long, amazing journey that was the making of their carefully crafted album debut, Colored Emotions. It took almost two years to make, and it evokes the professionalism and craft of a veteran group. The meticulously self-recorded songs, prepared by Night Moves themselves, caught the ear of the Domino label, who booked the band and legendary producer Thom Monahan in the studio together.
Monahan's laid-back character was a relieving complement to this fastidious outfit, who had developed their precious music entirely in private. The producer's awe-inspiring pedigree, which included dates with freak-folk and psychedelic acts such as Beachwood Sparks and Devendra Barnhart, immediately put them at ease. Night Moves knew they were in rarefied company, and they schlepped down to L.A. to add the finishing touches to Colored Emotions.
Pelant's bell-clear tone on the album serves as the lyrical core and glittering adornment of Night Moves. With his impressive vocal range, Pelant's voice goes where guitar solos alone cannot. Night Moves, then, eschews any melodramatic guitar heroics. Rather, they thoughtfully develop their music around strong rhythms and acoustics, lucid and crystalline production, and the deft howl of Pelant. With reverberating hollow-body guitar, bright washes of crash cymbal, trembling organs, and hazy harmonicas, the album shines.
In the manner of Odyssey and Oracle, the classic Zombies album, Colored Emotion has mutable choruses and surprising melodic turns that don't try too hard to drive home their originality. Colored Emotion's epic arrangements are complex but not domineering. Highlights "Country Queen" and "Headlights" both provide perfect examples of this; their hooky bridges and seamless segues are unconventional, yet completely unforgettable.
Night Moves' songs call forth a spiritual force only 20-somethings shaken by isolation and adversity could dream up. Colored Emotions is intent on turning inward to mine a joyous seam. The band's musical chops are inborn without seeming overly self-conscious. It is as though Colored Emotions was an effortless extension of their core, and that its popularity surprised them.
Previous Hits
Night Moves' full-length debut, 2012's Colored Emotions, was a critical favorite. In a number of ways, these Minneapolitan rock dreamers achieved the ultimate goal that drove their first years of existence. Instead of honing their music through live gigs or building up a local following, the band concentrated on laying down a fastidiously assembled version of what would be Colored Emotions. They used the studio to filter their panoramic, '70s-style indie rock. Colored Emotions is the revamped and remixed version of their rough draft from the summer of 2011, and marks Night Moves' official debut. The end product is a set of glimmering tracks based in pop radio sensibilities a la Todd Rundgren or Fleetwood Mac, but it is also indebted to the cowboy indie acid work of Beachwood Sparks. Their rock backbone arrived courtesy of Marc Bolan. The album starts off strong with "Headlights", followed by "Country Queen", one-two punchers both. These tracks introduce Night Moves' cosmic rock sound with lead vocalist John Pelant's voice searching and soaring through resonant space and tender soft rock harmony. A lot of the set has the hazy atmosphere of a campfire, with wide open organ flourishes and twangy guitars meeting Laurel Canyon-esque moments of subtle restraint. "Old Friends", the album's highlight, is among the most opulent selections from Colored Emotions, with melancholic orchestral pop building to a fiery crescendo and bubbling over into a short postscript, "Put Out Your Shoulder". This album consists of a sustained feeling with a coherent statement, in the manner of standard rock classics like Tusk by Fleetwood Mac or Goats Head Soup by the Rolling Stones. The production is detailed and attentive, tucking subtle flashes into the tracks and making the set grow with each repeated listen. Pelant's awe-inspiring vocal range could be compared to MGMT, with its similarities lying more in the dense layers of diverse sounds than in the leader's singing. Colored Emotions closes with a nighttime desert soundscape and a heavenly autoharp in the title cut, concluding this promising debut. Colored Emotions is more realized, nuanced, and considered than many releases from veteran bands.
Trivia
Mark Ritsema, Micky Alfano, and John Pelant had all been in other Twin Cities groups, including Mouthful of Bees and the Battle Royale.
The Night Moves Concert Experience
The Night Moves concert experience enlightens listeners to the subtle, psychedelic beauty of the dark. Seeing a show by these astounding Minneapolis-based artists is an opportunity you should not pass up. Whether they are starting off with their orchestral "Old Friends" or playing material from their freshly-released sophomore album, Night Moves put on a concert that is warm and whimsical. Don't miss out on your chance to see these rising indie rock stars in the flesh!
Back to Top
Epic events and incredible deals straight to your inbox.