There aren't any Events on the horizon right now.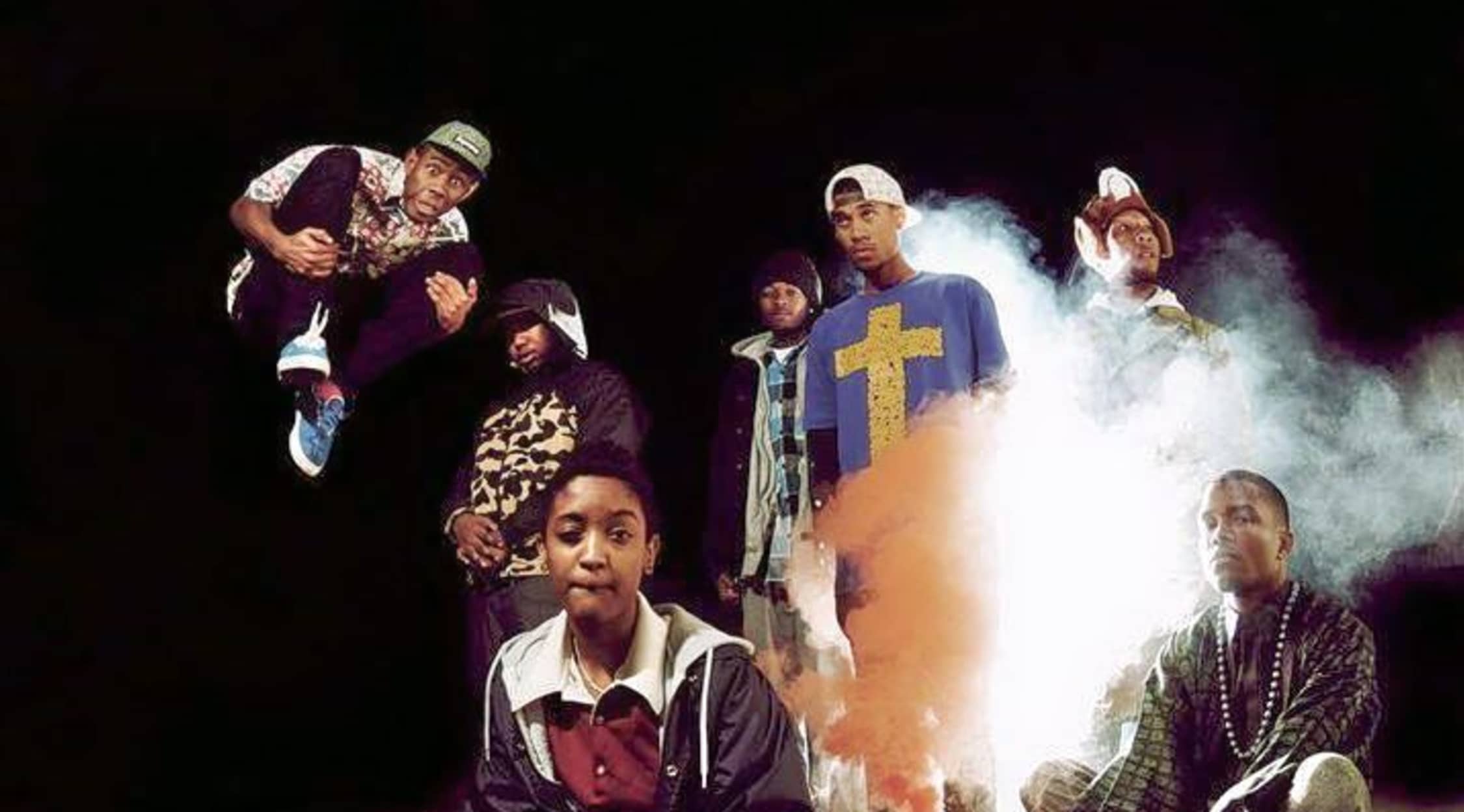 Rovi
OFWGKTA (Odd Future) Tickets
OFWGKTA (Odd Future) Tickets
Alternative hip-hop has discovered its strongest voice in a very long time. This sensation has tumbled through the Web's many music blogs with concert footage of some young hip hoppers who undoubtedly take the genre all the way in a punk direction. Music fans might not know what the moniker means for this phenomenal hip-hop collective, but OFWGKTA is synonymous with success. The band, whose acronym stands for Odd Future Wolf Gang Kill Them All, is just as funky as their name sounds, and the alternative hip-hop group sells tons of concert tickets to any and all live shows!
OFWGKTA (Odd Future)
Originated in 2007 in L.A., OFWGKTA is led by rapper/producer Tyler, The Creator and comprised of other rappers like Earl Sweatshirt, Hodgy Bets, Domo Genesis and Mike G., singer Frank Ocean, producers Left Brain, Syd tha Kyd and Matt Martians, and other non-musical members, notably Jasper Dolphin, Taco and L-Boy. Additionally, there are multiple groups inside the collective, featuring MellowHype, The Internet, The Jet Age of Tomorrow and EarlWolf. The crew's crude sense of humor and challenging subject matter garnered them a tremendous underground following and landed them on the "top artists to watch" lists. They have evolved from underground sensations to one of the most talked about acts on the planet with Tyler, The Creator's Best New Artist victory at the 2011 Video Music Awards and his Yonkers video being viewed more than 30 million times.
OFWGKTA (Odd Future) Concert Tickets
Odd Future Wolf Gang Kill Them All, best known as simply OFWGKTA, has been a force on the hip-hop scene ever since 2007, when the band first emerged on the scene from the music mecca of Los Angeles. The Southern California group has rhymed its way to the top of the industry since then, and they only continue gaining fame with each and every release. To learn more about OFWGKTA and tickets, stick right here on StubHub. With StubHub, you don't have to second-guess when it comes to finding the information you need for ticket availability, concert schedules and venue details. So what are you waiting for? Check out StubHub today for OFWGKTA tickets!
OFWGKTA (Odd Future) Tour Schedule
OFWGKTA boasts a collective of hip-hop artists and rappers whose music comes together to form one of the most eclectic alternative hip-hop acts of the day. OFWGKTA has punched out hits like The Odd Future Tape and Radical, and the smash singles are never-ending for this Los Angeles-bred crew. To hear these songs live, make sure to pick up some tickets now here on StubHub before they sell out!
OFWGKTA (Odd Future) Concert Tour
If you're ready to witness the latest and greatest in the hip-hop industry, check out OFWGKTA when the talented crew comes to a stage near you! The group's energy, hard-nosed lyrics and raw talent promise a stage performance you won't forget! StubHub has all the best OFWGKTA tickets for upcoming concerts, and fans looking for hip-hop music tickets can find them today to see OFWGKTA perform their biggest hits live in concert! Don't miss out on this musical spectacle; get tickets today from StubHub to see OFWGKTA live!
Back to Top
Epic events and incredible deals straight to your inbox.