OUTSIDE LANDS MUSIC FESTIVAL
We didn't find anything nearby, but here's what's happening in other cities.
There aren't any events on the horizon right now.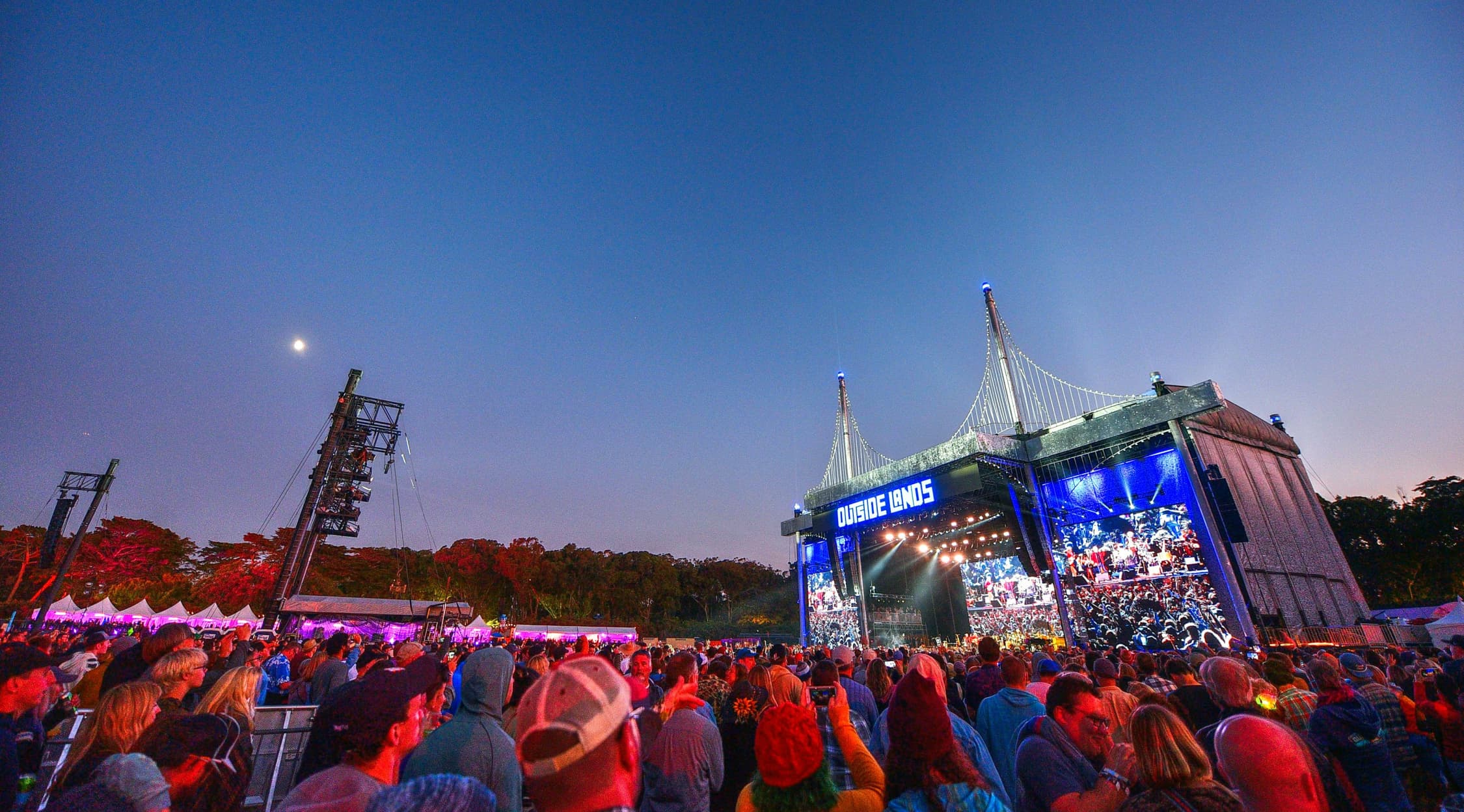 Zuma
Outside Lands Music Festival Tickets
In 2008, the first Outside Lands Music Festival was held, revitalizing the festival scene in San Francisco. The festival took place from August 22-24 and featured over 60 musical acts and art installations. Radiohead headlined the hugely successful inaugural event, and between 40,000 and 60,000 live music fans attended each day. The festival's second year was just as huge, featuring big name artists like Pearl Jam, the Dave Matthews Band, Incubus, and the Black Eyed Peas. Ever since, the Outside Lands Music Festival has become one of the most popular outdoor events in North America. San Francisco's Golden Gate Park has hosted the festival for over a decade, while Superfly Presents, Another Planet Entertainment, and Starr Hill Presents share producing duties. In addition to several stages of all-day music, guests enjoy food and drink kiosks, large-scale artworks, and a crafts shopping pavilion. Ready to experience the festival scene in San Francisco? Then snag your Outside Lands Music Festival tickets at StubHub today!
Outside Lands FAQs:
Is the Outside Lands Music Festival Happening This Year?
You bet! The 2022 Outside Lands dates haven't been announced but if you want to start planning early, your best bet is to block off some time in mid-August, as that's when the festival has typically been held in the past.
How Long Is the Outside Lands Music Festival?
Outside Lands is typically three days long, with performances starting in the late morning and lasting through the night.
Who Are the Headliners Performing at the Outside Lands This Year?
The 2022 headliners haven't been announced, but if you want an idea of the star caliber you'll see, then check out the 2021 lineup, which featured Tame Impala, Lizzo, and The Strokes.
Is There Food at Outside Lands?
Absolutely! Outside Lands features food and drink from some of the best and most innovative culinary minds in all of Northern California. You'll typically find upwards of seventy Bay Area restaurants and food vendors selling everything from award-winning Asian cuisine to mouthwatering burritos and tacos. Plus, there are plenty of vegetarian, vegan, and gluten-free options.
Is There an Age Restriction for Outside Lands?
Nope! All ages are welcome to attend the festival. But be sure to check the performance lineup to make sure all content is appropriate for younger ears.
Can I See Art at Outside Lands?
You can and you should. Outside Lands is brimming with artistic talent, and not just the musical acts on stage. We're talking about some of the best street artists in the entire Bay Area. Their work is bold, colorful, and will make a perfect Instagram post to make all of your followers jealous. Plus, Outside Lands has live-painting exhibits every day in Hellman Hollow. Pretty cool, right?
How Do I Know When My Favorite Artist Is Performing?
Outside Lands has an app for that! When you download it, it'll show you who's currently playing and who will be playing next. A full schedule can also be found on the app. But if you're old-school, you can always hit up the Info Booth for more (you guessed it) informatiton.
What Kind of Shopping Is Available at the Festival?
Local artists feature their own works, so you can leave Outside Lands with a one-of-a-kind souvenier. However, there are also numerous merchandise vendors that sell more familiar concert merch, like posters, apparel, coffee mugs, and other items.
How Can I Find Affordable Outside Lands Music Festival Tickets?
StubHub makes it easy to find the Outside Lands tickets you want at a price you'll love. Simply set a price alert, and we'll notify you the moment tickets in your budget are available.
Where Can I Purchase Outside Lands Music Festival Tickets?
You can buy Outside Lands tickets right here at StubHub! Set a price alert to find tickets in your budget and score the best tickets the moment they're available.
How Do I Sell Outside Lands Music Festival Tickets?
Can't make the festival? We've got you covered. Just click right here, upload your tickets to StubHub, select a price with the help of our Pricing Assistant™, then kick back and relax as buyers come to you. It's quick, easy, secure, and you'll receive payment directly from StubHub.
What Happens if My Event Is Canceled?
If an event is canceled, we'll give you a StubHub credit for 120% of the amount you paid. You can use it for any live event on our site in the same currency.
Prefer a cash refund instead? No problem. Simply go to your StubHub Wallet and click the 'Request cash refund' button on the appropriate credit. We'll process the refund to your original payment method within 30 days. Read more about our event cancellation policy.
What Happens if My Event Is Rescheduled?
If an event is rescheduled or postponed, your ticket will be good for the new date. If you can no longer attend the event, you can relist your tickets and we'll waive the sell fee. To keep up with the latest outside lands festival information, check out the events website or bookmark this page right here on StubHub.
Back to Top