We didn't find any Events nearby, but here's what's happening in other cities.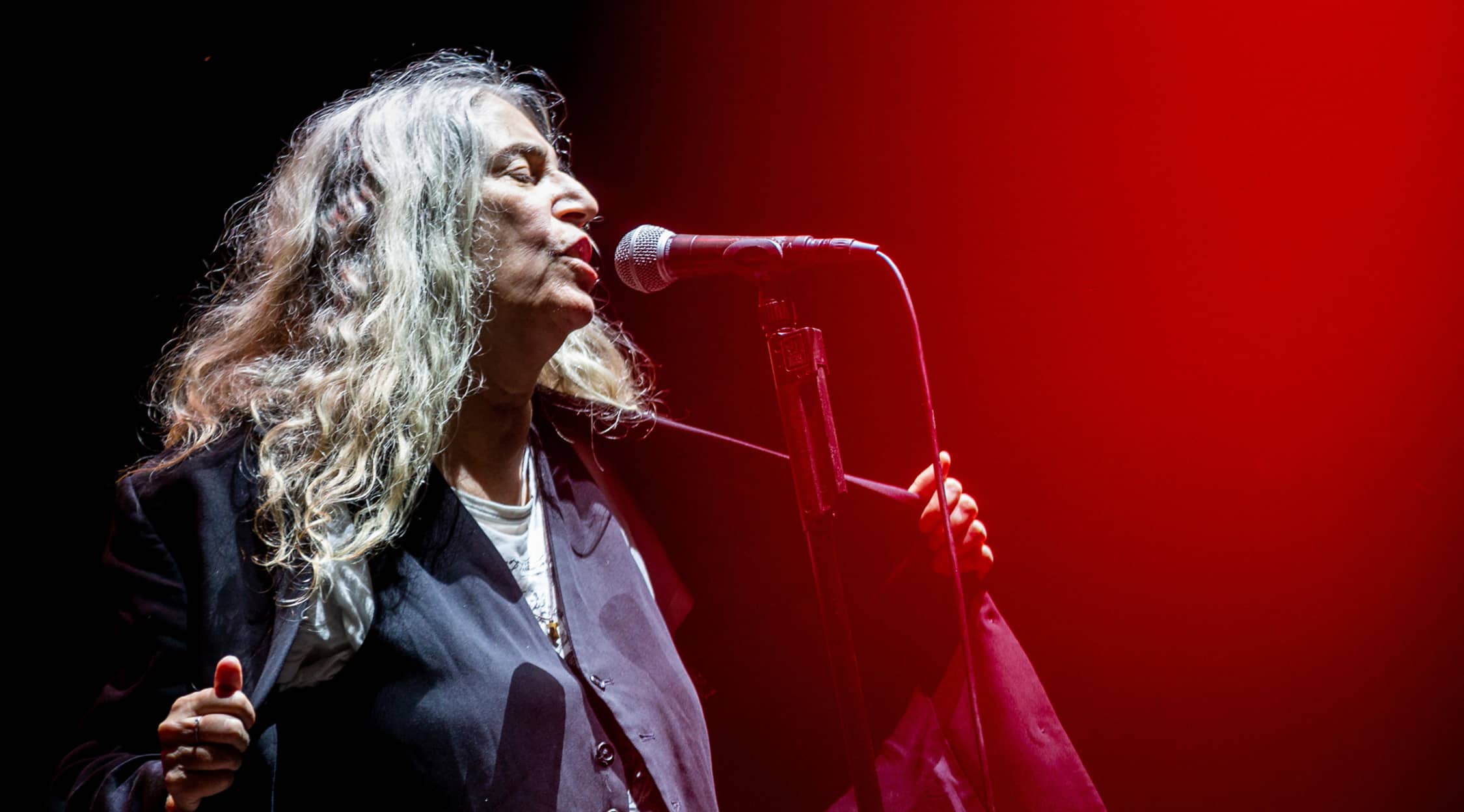 Alamy
Patti Smith Tickets
Patti Smith Tickets
Patti Smith is a multitalented creative visionary who earned fame as a singer-songwriter, musician, visual artist, poet and writer. She first gained critical acclaim with her debut album, Horses (1975). Her version and interpretation of Van Morrison's "Gloria" proved a stand-out hit from the debut recording. For over four decades, Patti Smith has been creating music that is haunting, intelligent and cutting-edge, combining the soul of a poet and the emotional honesty and passion of punk rock. One of her famous collaborations is "Because the Night," which she wrote with Bruce Springsteen, and which reached No. 13 on the Billboard chart in 1973. She has been called the "Punk Poet Laureate." Her live concert performances combine her poetic sensibility with raw punk rock energy.
The Mad, Frenetic, Lyrical Appeal of Patti Smith, Poet and Punk Rock Priestess
Patti Smith is renowned for her collaborative musical ventures and imaginative interpretations. This creativity is demonstrated in striking and haunting covers of songs by other musicians such as "Words of Love" (Buddy Holly), "Smells Like Teen Spirit" (Nirvana) and "When Doves Cry" (Prince). This gift for interpretation infuses her live performances with depth and intrigue. Patti Smith is such a beloved musician on the punk rock scene that she was given the honor of performing on October 15, 2006, on the final night of the legendary NYC music venue CBGB nightclub. Patti Smith played a three-and-a-half-hour set, ending with the powerful tune "Elegie."
Where can I buy Patti Smith tickets?
Procure your Patti Smith tickets at StubHub, which offers a FanProtect guarantee that ensures that your purchase is completely safe and secure. StubHub is the largest ticket marketplace on the earth, and the right spot to pick up your tickets for "Punk Poet Laureate" Patti Smith.
What awards and honors have Patti Smith garnered?
The iconoclastic artistry and energy exhibited by Patti Smith in her live concerts and recordings have earned her many prestigious awards. Smith was named a Commander of the Ordre des Arts et des Lettres by the French Ministry of Culture (2005). Smith is a Rock and Roll Hall of Fame inductee (2007). Rolling Stone named her No. 47 in their 100 Greatest Artists (2010). Her memoir, Just Kids, exploring her time in the New York City of the 1970s and her relationship with Robert Mapplethorpe, won the National Book Award for Nonfiction. She received an honorary doctorate in fine arts from Pratt Institute that same year (2010). She was awarded a Polar Music Prize in 2011.
What are some Patti Smith albums?
Since gaining renown with her first studio release, Horses (1975), Patti Smith has released Radio Ethiopia (1976), Easter (1978), Wave (1979), Dream of Life (1988), Gone Again (1996), Peace and Noise (1997), Gung Ho (2000), Trampin' (2004), Twelve (2007) and Banga (2012).
What musical artists credit Patti Smith as an influence?
Musical artists including Madonna, Courtney Love, Juliette Lewis, Johnny Marr, Ana Matronic, Blue Oyster Cult, The Smiths, Martha Wainwright and Bruce Springsteen pay homage and give credit to Patti Smith as a performer who both inspired and influenced their music.
Which musical artists have a similar musical sound to Patti Smith?
If you enjoy the rock stylings and punk aesthetics of Patti Smith, then consider giving these musicians a try: Tori Amos, Lou Reed, Rickie Lee Jones, Nico, Kate Bush, Blue Oyster Cult and The Pretenders.
Where is Patti Smith playing on tour?
The latest Patti Smith tour is sweeping continents. You can see her perform in a range of venues as she is hitting a number of countries in Europe, and will also be performing in the US, Brazil, and Argentina. You can see Patti Smith perform live in concert in venues such as the Sydney Goldstein Theatre, San Francisco.
Back to Top