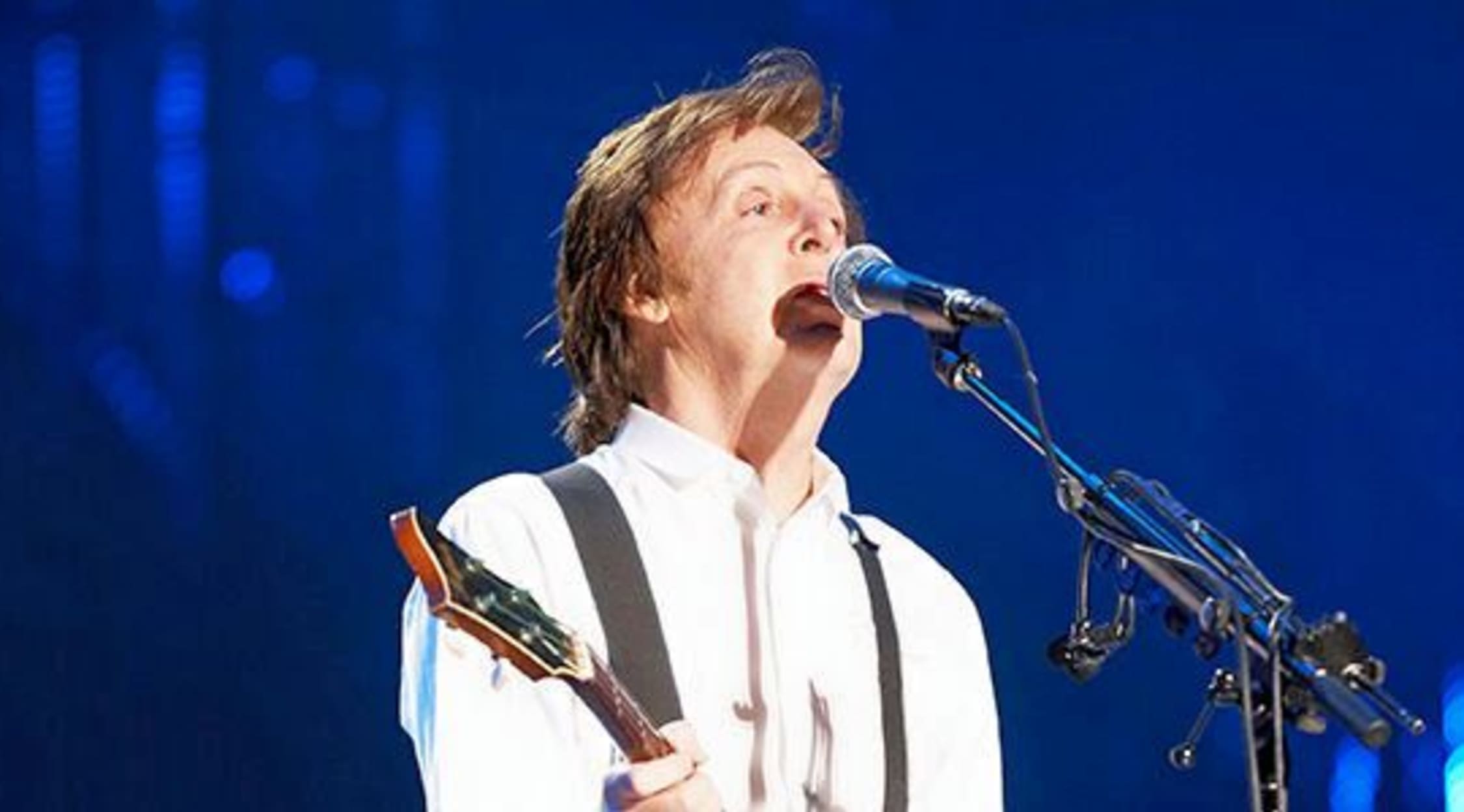 Alamy
Paul McCartney Tickets
Paul McCartney Tickets
Since his early days with the Beatles in the 1960s, the legendary Paul McCartney has performed as an instrumentalist as well as singer and songwriter for decades. As an original member of the Beatles, McCartney, who was self-taught in music, wrote and delivered songs that became classics, such as "I Want to Hold Your Hand," "Hey Jude" and "Blackbird." Later, he founded the group Wings and went on to become a successful solo artist. His music during his time with Wings included "Maybe I'm Amazed" and other memorable hits. Paul McCartney was knighted by the Queen of England and is known as Sir Paul.
Forever a Beatles Icon
Born in Liverpool, England, McCartney began his musical career at the age of 15. Joining the Quarrymen, he met John Lennon with whom he formed a strong and long-lasting musical relationship. George Harrison joined the group in 1958; this group became the Beatles in 1960. To complete the Fab Four, Ringo Star joined the band in 1962. In 1964, their first major hit, "Love Me Do," topped the charts at No. 1 in the US, and their legend began. Soon, America and Europe were overcome with Beatlemania. Meanwhile, McCartney's range on instruments included guitar, bass and keyboard; his fame also grew from his memorable vocals and songwriting. After leaving the Beatles, in 1971, McCartney and his wife Linda founded the group Wings as a band for touring and recording. Wings' album Band on the Run, recorded in 1973, was McCartney's best-reviewed album and contained songs that were destined to be hits. He has said of his music that he likes to think of it more like cave paintings as the primitives drew without any training. Influenced by Motown and Brian Wilson, he has been called a hero for his style of melody in playing the guitar.
Where can I buy Paul McCartney tickets?
StubHub is backed by the FanProtect guarantee and is the world's largest ticket marketplace. Grab Paul McCartney concert tickets safely and securely via its mobile and desktop platforms.
Are there Paul McCartney concerts near me?
If you live in California, you might find Paul McCartney tour dates at the SAP Center in San Jose or at Dodger Stadium in Los Angeles in summer 2019.
Can you name some popular Paul McCartney songs?
Some of his popular songs from the Beatles period include "Hey Jude," "Yesterday," "Blackbird" and "Penny Lane." After founding Wings, McCartney penned and recorded such classics as "Letting Go," "Get on the Right Thing," Arrow Through Me," "My Love," "Maybe I'm Amazed," "Venus and Mars" and others.
What awards has Paul McCartney won?
As a winner of many honors, the former Beatles singer is in the Guinness Book of World Records for most records sold. McCartney has been inducted into the Rock and Roll Hall of Fame as a member of The Beatles (1988) and later as a solo artist (1999). McCartney has received more than 20 Grammy Awards, and more than 30 of his singles have reached the No.1 spot on the Billboard 200.
What movies has Paul McCartney been in?
He has appeared in Pirates of the Caribbean: Dead Men Tell No Tales, Rockshow, Paul McCartney Really is Dead, A Hard Day's Night, Yellow Submarine, Magical Mystery Tour, Give My Regards to Broad Street, Paul McCartney in Red Square and other films.
Who are artists with a style similar to Paul McCartney?
Other performers in concert from the same period include Elton John and fellow Beatle Ringo Starr. He has collaborated with fellow pianist Stevie Wonder as well. Fans might also enjoy a concert by The Rolling Stones.
Back to Top