We didn't find anything nearby, but here's what's happening in other cities.
There aren't any events on the horizon right now.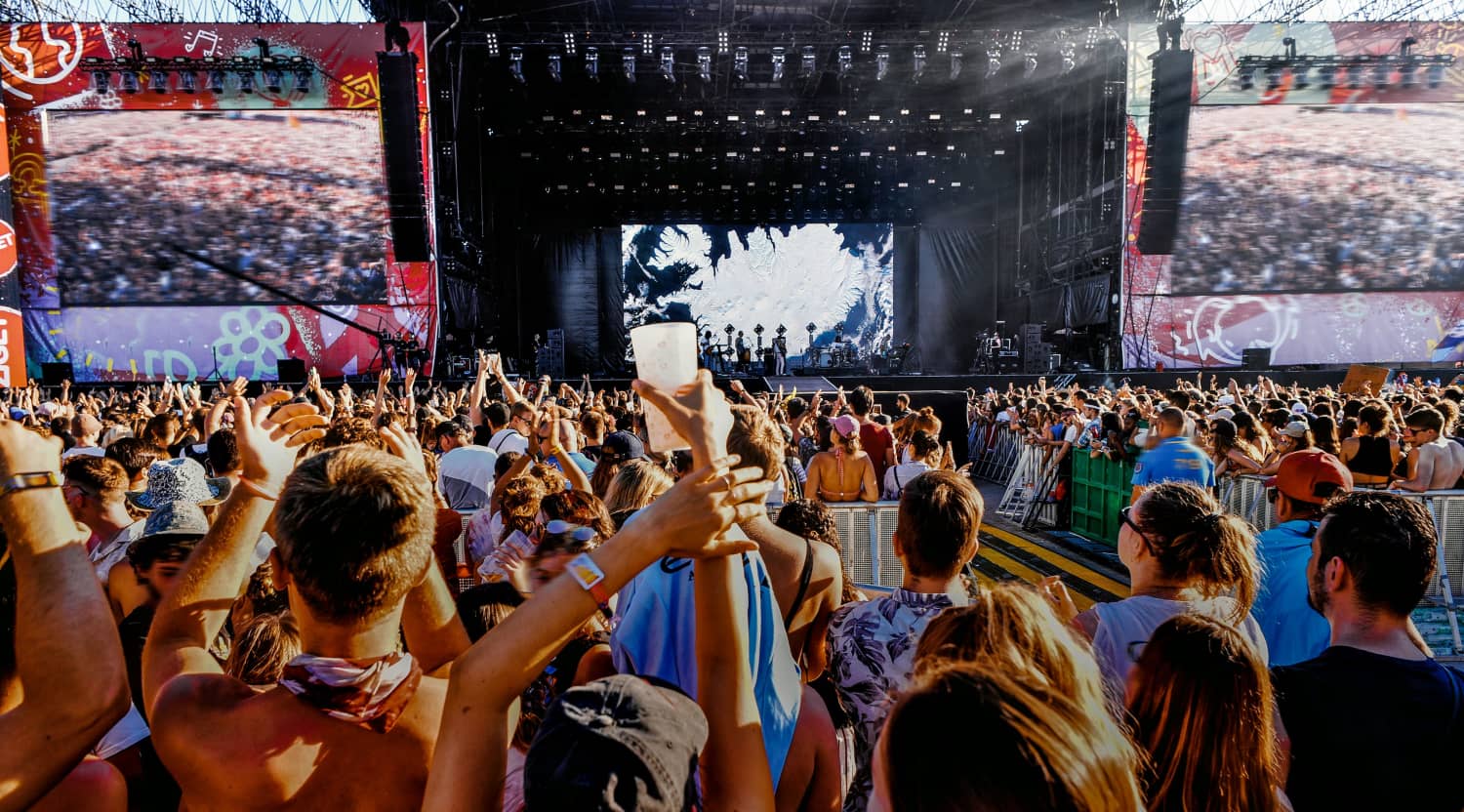 Adobe Stock RF
Pitchfork Music Festival Tickets
Pitchfork Music Festival Tickets
The Pitchfork Music Festival is a summertime event that brings together several genres of music to excite an eclectic group of fans and admirers over the course of one awesome weekend. Rock fans love it, but many of the bands or artists that make appearances at the event have musical sounds across so many genres that there is something for everyone at Pitchfork. A variety of additional activities combine with the music and summer weather to create a unique experience.
Merging Old and New at Pitchfork
One of the more notable things about the Pitchfork Music Festival is the inclusion of a records fair hosted by a local radio station in Chicago. The fair allows fans of all genres to stop by and take a look at various forms of recorded music that they can purchase, sell or trade with one another. The preferred medium here is classic vinyl, but you'll find a variety of other types as well. It's a great way to keep the past alive. It also gives fans a chance to expand their collections or broaden their horizons while enjoying the live performances that are characteristic of Pitchfork.
Where can I buy Pitchfork Music Festival tickets?
There's no reason to look for tickets to the Pitchfork Music Festival anywhere other than at StubHub. As a leader in online ticket sales, stubhub.com can provide you with your choice of passes to Pitchfork backed by the special FanProtect guarantee; if you can't visit the site on your desktop, you can still get tickets at a moment's notice thanks to StubHub's convenient mobile app right on your phone.
What kinds of music can I expect at the Pitchfork Music Festival?
The Pitchfork Music Festival usually focuses on artists or groups from the dance, hip-hop and rock genres. However, you might hear some songs from cool punk or jazz groups as well.
When does Pitchfork Festival begin?
The Pitchfork Music Festival is an annual event that is billed as a summer festival. The current version is happening July 19-July 21, 2019.
Are there multiple stages to view live events at Pitchfork?
Yes, the venue features three stages from which audiences can view the live events of their choice. Note that some acts may be appearing simultaneously, so you can plan your whole weekend and figure out who you want to see at Pitchfork. Union Park has set up a Red Stage, a Green Stage and a Blue Stage to host various acts throughout the festival.
Who has headlined at past Pitchfork Music Festivals?
The 2018 version of the Pitchfork Festival saw headliner performances from Tame Impala, Ms. Lauryn Hill and Fleet Foxes. Tame Impala hail from Australia and is a psychedelic rock group. This style of rock incorporates a lot of electronic music, improvisation and sound effects to create a unique subtype within the main genre. Fleet Foxes lean toward a more independent, folk-style sound. However, many fans of pop music trends have warmed to this band as well. Finally, Ms. Lauryn Hill is a well-known figure in the R&B and soul music scenes.
What attractions are there at the Pitchfork Music Festival?
In addition to cool live acts and a unique records fair event, you'll find a few other things to do at Pitchfork. Management at the festival sets up or sells various posters from the gig. In addition, local food vendors are there to give fans something to munch on while they enjoy music. Up-and-coming artists also have the option to display some of their work at the venue and give everything a more atmospheric feel that jives with the spirit of the festival. Fans can promote their favorite bands and local businesses at the same time.
Back to Top
Epic events and incredible deals straight to your inbox.