There aren't any Events on the horizon right now.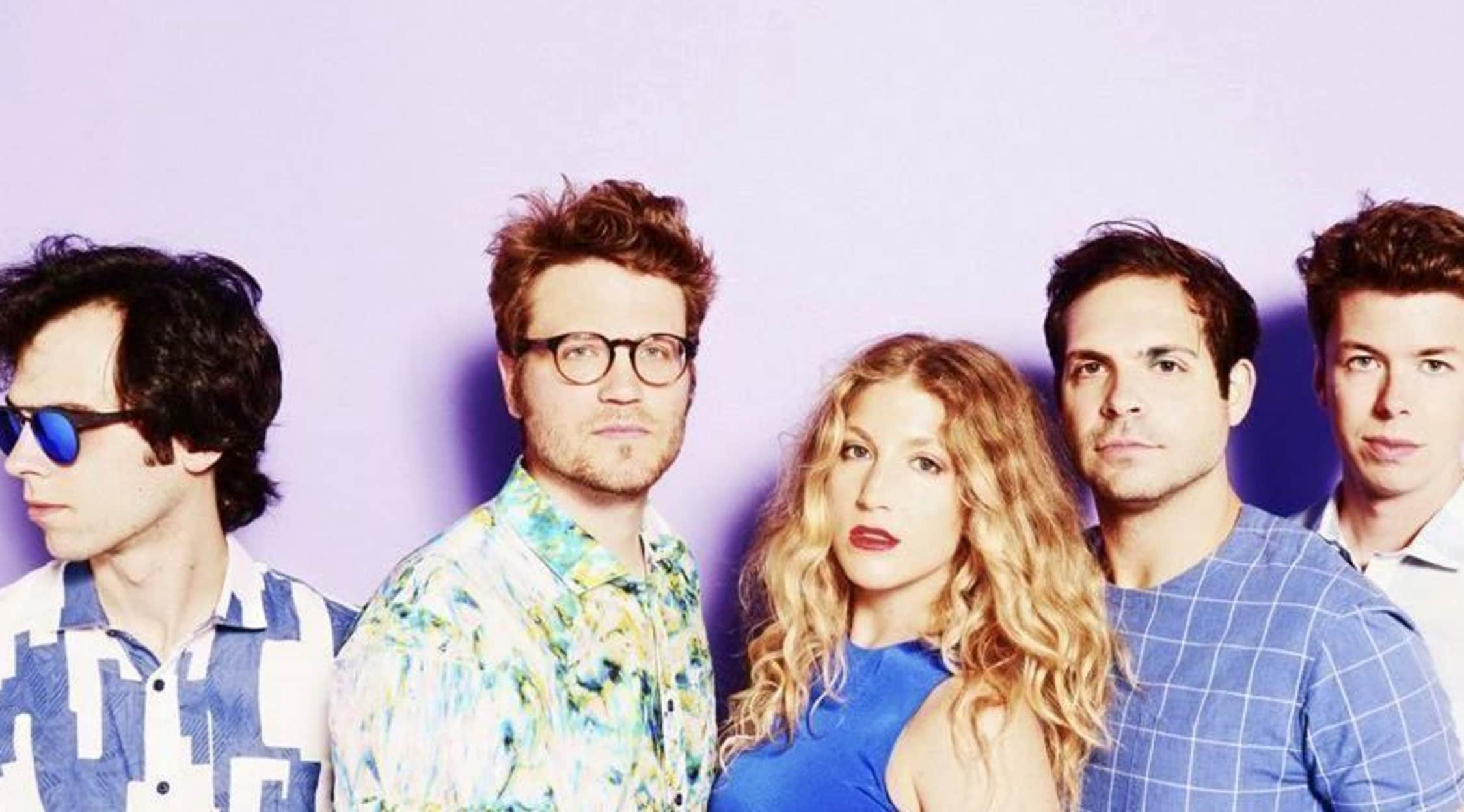 Rovi
Ra Ra Riot Tickets
Ra Ra Riot – The 2016 Tour
Ra Ra Riot, one of the most unique indie pop groups today, will be filling venues across the United States and Canada. They will be drawing crowds at the Commodore Ballroom in Vancouver, the Greek Theatre in Los Angeles, House of Blues in New Orleans, the Field Trip festival in Toronto, and more. Don't miss your opportunity to experience all of Ra Ra Riot's diverse and dance-ready material in a live setting.
About Ra Ra Riot
Ra Ra Riot enhance their chic indie rock with flourishes of chamber pop from a small string ensemble. They were established while the six bandmates were college students in Syracuse, NY. Guitarist Milo Bonacci, cellist Alexandra Lawn, keyboardist and vocalist Wes Miles, drummer John Pike, bassist Mathieu Santos, and violinist Rebecca Zeller first played together in early 2006, concocting an eclectic style that would lead them to share stages with Someone Still Loves You Boris Yeltsin, Bow Wow Wow, and the Horrors within a year of their formation. Next, they pulled up their stakes and moved to New York City, where they cut an eponymous EP and started preparing it for a summer 2007 release. In June, however, Pike passed away. After several weeks of deliberation, the members announced that they would continue as band.
By year's end, Ra Ra Riot had landed a record deal with the V2 label, but they soon switched to Barsuk in May of 2008. Through Barsuk, they issued their album debut, The Rhumb Line, that August. It earned strong reviews, and the band spent most of the following year on tour, sharing stages with such acts as Death Cab for Cutie and headlining their own shows.
During a quiet period in their busy schedule, the members trekked to upstate New York, where they spent a number of weeks recording demos and writing songs in a peach orchard. The material eventually resulted in their sophomore album, The Orchard, which they released in August of 2010.
Two years later, Lawn took her leave. The members did not seek a new cellist, and they released their third full-length album in 2013, titled Beta Love. Inspired by the sci-fi writings of William Gibson and the theories and inventions of Ray Kurzweil, the LP found Ra Ra Riot debuting a more synthpop-based sound.
In 2016, the band were back with their fourth LP, Need Your Light, which featured the contributions of Rostam Batmanglij, former guitarist of Vampire Weekend. The album contained the singles "Absolutely" and "Water."
Previous Hits
Ra Ra Riot's most successful releases are 2010's The Orchard and 2013's Beta Love, both of which cracked the top half of the Billboard 200.
On The Orchard, their sophomore album, Ra Ra Riot play like an erudite pop band: melodic, charmingly quirky, and unconventionally stylish, with a string section that lends a sophisticated feeling to their upbeat tunes. They write well-crafted songs and perform them with intricate arrangements, each player leaving space for the guitar, violin, and cello lines to blossom. The Orchard has a pop-oriented punch; it's classy and well-read, and it will inspire the audience to think as well as to dance. The individual members all sound more accomplished than ever before. Mathieu Santos plays the bass like a member of the string section, flying up and down the scales while remaining rooted in his chords. Wes Miles' vocals have the ethereality of a choir boy and the indie qualities of the Smiths. As all of these diverse elements come together, the result is a complex and fascinating album in which the standout tracks ("Shadowcasting" and "Too Dramatic") are interspersed with mellower numbers. The Orchard also draws on the work of Ra Ra Riot's contemporaries, with "Massachusetts" sounds like Vampire Weekend combined with a Columbia education. The band have created a delicious, thoughtful, and incredibly ambitious album. It is as enjoyable as any of their best work, and it boasts some particularly satisfying cuts.
Beta Love, the third studio set from Ra Ra Riot, finds this Syracuse-based band offering keyboard-driven, electronic material that is based as much on tuneful songcraft as it is on orchestral arrangements. Miles (vocals), Santos (bass), Milo Bonacci (guitar), and Rebecca Zeller (violin) decamped for the warmth of the Missouri climate to collaborate with engineer and producer Dennis Herring (who has also produced for Modest Mouse and Elvis Costello) and a few guest artists to create this experimental, synth-based album. With songs and lyrics inspired by a number of futurists, such as William Gibson and Ray Kurzweil, the band deployed a range of synthesizers to support their already pioneering combination of classical and rock instrumentation. Beta Love, as a result, is a clear departure from their baroque chamber pop, but it is still instantly addictive and harmonically fascinating. The album uses the classical violin of Zeller with sophistication to create a sound that is more unified than ever. In fact, her polished violin lines are so expertly deployed, often in combination with the synthesizer lines, that the listener ends up focusing more on the overarching sound than on any single element of a song's composition. Another highlight on Beta Love is Miles' resonating, transcendent tenor croon that, combined with lyrics that explore futuristic themes like robot love and whether androids dream, provides the emotional heart of the set. His strongest moment is on the soft closing number, "I Shut Off." The album is certainly thoughtful, atmospheric, and experimental, especially on the lyrical, yearning song "When I Dream", and these qualities are perfectly balanced with its irresistible dance structures. Songs like the undeniably euphoric title cut and the bouncing lead single "Dance with Me" are starry-eyed, neon-lit anthems that perfectly balance the best of "Call Your Girlfriend" by Robyn, "All Around the World" by ELO, and "Rock with You" by Michael Jackson.
Trivia
Even before they had released an album, Ra Ra Riot were so popular that they completed two U.K. tours as headliners.
The Ra Ra Riot Concert Experience
Get your friends and fellow indie pop fans, and get ready to dance and groove along to some of the most unique and stylish tunes in the industry today. With four acclaimed albums on the charts and a distinctive flair for performance, Ra Ra Riot create a live performance that will leave you buzzing for days afterwards. Don't miss your opportunity to fall in love with Ra Ra Riot's one-of-a-kind catalog in a live setting.
Back to Top
Epic events and incredible deals straight to your inbox.