There aren't any Events on the horizon right now.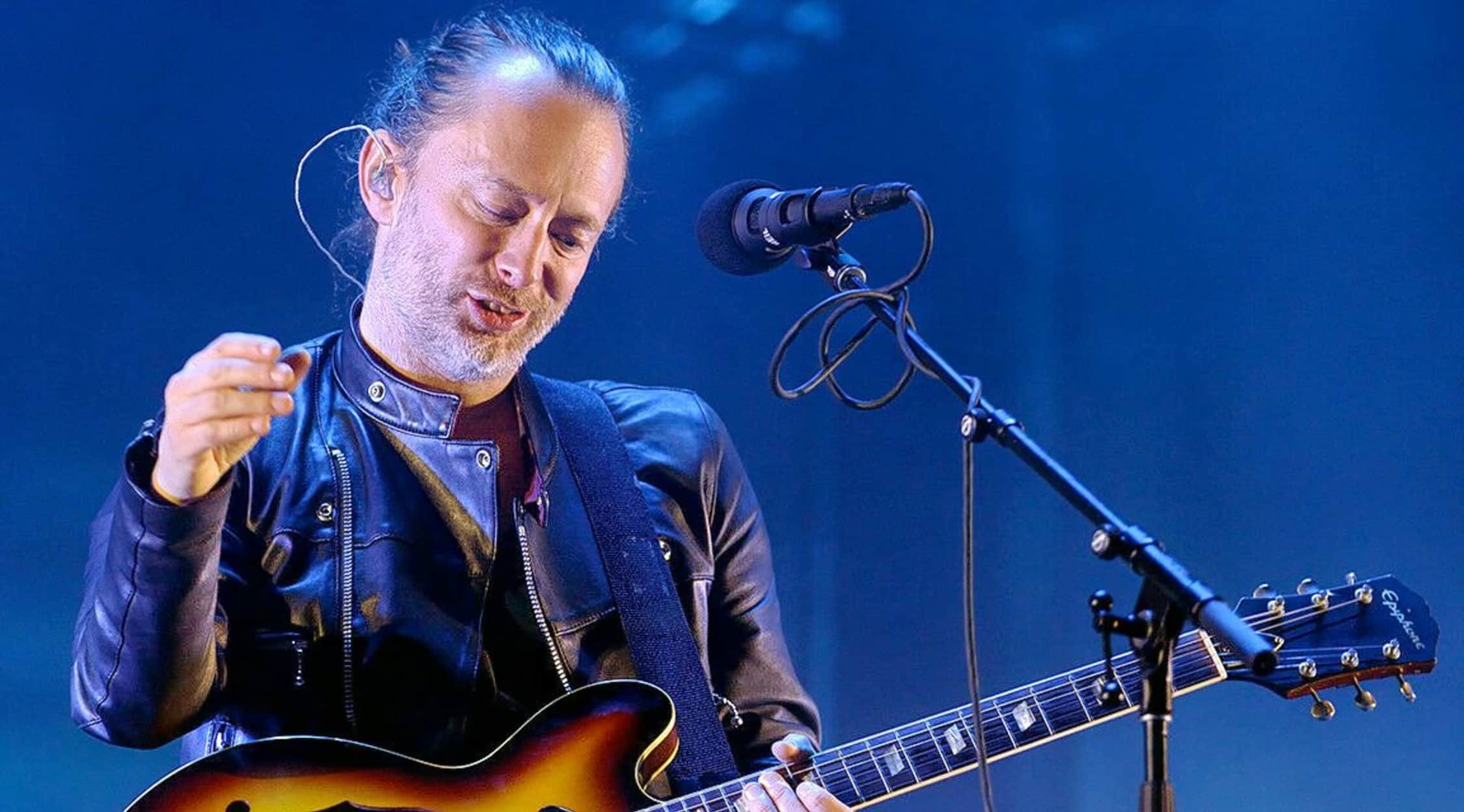 Alamy
Radiohead Tickets
Radiohead Tickets
Offering a rare and exotic blend of musical styles and influences and a theatrical flair for staging and production values, every Radiohead tour is more than a rock concert. It's a once-in-a-lifetime experience, in part thanks to its longtime producer since 1994, Nigel Godrich. Over its lifespan, Radiohead has released nine hit albums with a live tour promoting each. In all, Radiohead has produced over 160 songs, composing the vast majority of them collectively as a group. Radiohead also released a large spate of other productions, including live albums, extended plays and video albums.
Hail to Radiohead
Radiohead formed in 1985 in Abingdon-on-Thames. It wasn't until 1992, however, that they released their debut single "Creep" that launched them into fame. When their debut album Pablo Honey released one year later, "Creep" achieved global acclaim. It was the band's third album OK Computer in 1997 that brought Radiohead itself to worldwide fame. Multiple major media outlets including Rolling Stone Magazine cited Radiohead's 2000 album Kid A as the decade's best album. By 2011 alone, Radiohead had sold over 30 million albums globally. In 2019, Radiohead was inducted into the Rock and Roll Hall of Fame.
Where can I buy Radiohead tickets?
Get all your Radiohead ticket needs met at StubHub, where you enjoy the FanProtect guarantee making your purchase as safe and secure as can be.
Who are the members of Radiohead?
Radiohead is comprised of Thom Yorke on vocals, keyboards, piano and guitar; Ed O'Brien on guitar and backing vocals; Philip Selway on drums and percussion; and two brothers, Colin Greenwood on bass and Jonny Greenwood on lead guitar and keyboards among other instruments.
What can I expect from Radiohead?
Radiohead's music is notable and distinct for its lush, multilayered production and its themes of social alienation in modern society. It is often likened to the work of Pink Floyd, except Radiohead's music has an almost futuristic quality to it as well. It is rich in both digital and acoustic instrumentation, and the songs can be almost cinematic in their scope. As Radiohead progressed from album to album, so too did the musical influences apparent in the songs, expanding to incorporate the likes of classical music, jazz, electronica and krautrock. Experiments in looping and sampling and increasingly complex orchestral arrangements evolved from there. All in all, a Radiohead concert is eclectic in its tone and theatrical in its presentation.
What are some popular Radiohead songs?
Besides "Creep," other Radiohead hits include "Exit Music," "High and Dry," "Pyramid Song," "Karma Police," "Paranoid Android" and "No Surprises."
How many Grammy Awards has Radiohead won?
Radiohead has been nominated for 20 awards and won three of them, all for Best Alternative Music Album: in 1999 for Airbag / How Am I Driving?, in 2001 for Kid A and in 2012 for The King of Limbs.
How has Radiohead changed music as people know it?
At Radiohead's 2019 induction into the Rock and Roll Hall of Fame, one of the band's own early influences, David Byrne, said Radiohead had impacted the whole music industry. One way it did this is by pioneering online streaming and music promotion with its album Kid A. Radiohead also innovated the pay-what-you-want method of music distribution with its release of In Rainbows. Even before the likes of Drake and Beyoncé, Radiohead was innovating the unconventional album launch. British music site NME (New Media Express) called Radiohead the Beatles of this generation.
Who are some of Radiohead's musical influences?
Radiohead cites an appropriately broad spectrum of artists and bands as leading influences, including Bob Dylan, Elvis Presley, Queen, Siouxsie and the Banshees, Joy Division, U2, REM, Pixies, Sonic Youth, the Smiths and - yes - Pink Floyd. As Radiohead's style expanded, so too did later influences arise, such as DJ Shadow, Miles Davis, Alice Coltrane, Charles Mingus, Ennio Morricone, Beach Boys and the Beatles.
Back to Top