There aren't any Events on the horizon right now.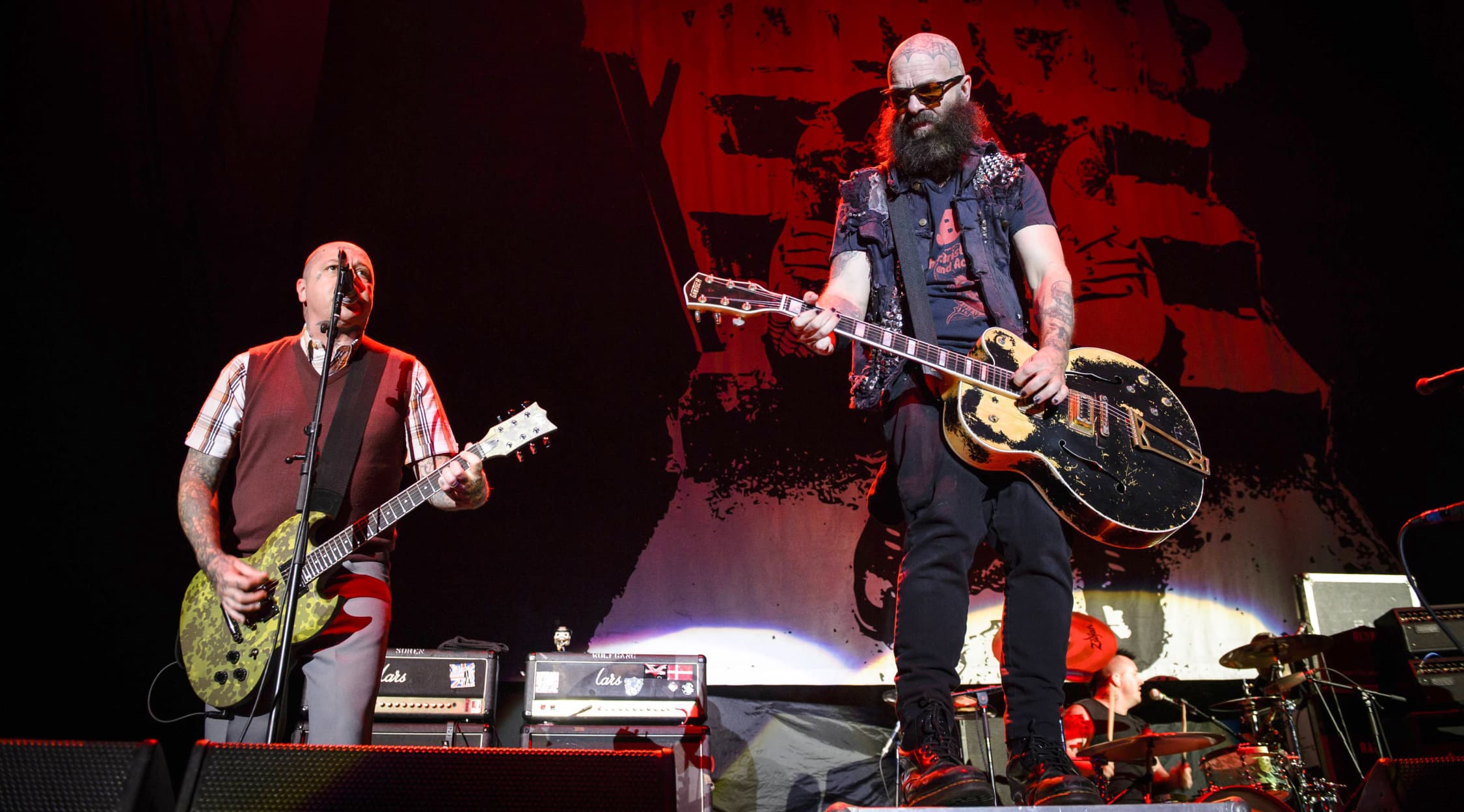 Zuma Press
Rancid Tickets
Rancid Tickets
Rancid is a punk rock band from Berkely, Calif., that is often recognized for playing a role in reviving America's interest in punk rock throughout the '90s. It has numerous albums with gold and platinum certification by the RIAA (Recording Industry Association of America). Attending one of its concerts is a worthwhile experience. Rancid concerts have a fun, energetic atmosphere where you can rock out to your favorite songs.
The Founding Members Fell Numerous Times Before Achieving Long-Lasting Success
Two former members of Operation Ivy, a ska punk band, created Rancid with Brett Reed, but before they established Rancid, Tim Armstrong and Matt Freeman started three other bands. Rancid was the fourth band they put together and the one they have stayed with for the long haul. Downfall and Generator, the names of their previous bands, were disbanded. Dance Hall Crashers, however, continued without them until 2004. Around the time of forming Rancid, Tim was struggling with depression and alcoholism. Matt thought playing music in a band again would help lighten his spirits. They formed Rancid in 1991 and added a second guitarist, Lars Frederiksen, in 1993. Brett left the band in 2006, and Branden Steineckert took his place. Rancid achieved breakthrough success in 1994 with Let's Go. The studio album ranked No. 97 on the Billboard 200 and was certified gold by the RIAA. "Salvation," the lead single from Let's Go hit No. 21 on Billboard Modern Rock Tracks. ...And Out Come the Wolves, a studio album released in 1995, was another success. It ranked on the major music charts of eight different countries, including the US, the UK, Sweden, Germany, France, Canada, Australia and Finland. The album was certified gold and platinum in the US, gold in Australia and Canada and silver in the UK. Subsequent albums have also been successful, charting in many different countries.
Where can I buy Rancid tickets?
You can buy tickets for Rancid concerts at StubHub. StubHub also backs tickets with a FanProtect guarantee.
Where is Rancid performing?
Rancid has gone on tour in Japan, the United States and the UK, giving fans around the world a chance to see them live. Other countries that they have held concerts in include Canada, Australia, New Zealand and Scotland. In May and June 2019, Rancid was the headlining act for The Bash, a craft and beer festival that travels. The band will go on tour across North America in September 2019. Japanese fans will have a chance to see them again too before the year is over. Rancid is performing at Summersonic Festival Tokyo, Summersonic Osaka and Toyosu Pit in August 2019.
What can I expect from Rancid concerts?
Rancid is known for putting on energizing performances and engaging the audience. There is usually a pit at concerts if you enjoy moshing.
How long is a Rancid concert?
A Rancid concert lasts around an hour to 90 minutes.
What is Rancid's tour setlist like?
As a band that's been around for more than two decades, Rancid has performed a lot of songs on tour. Songs you can expect to hear live are "Roots Radicals," "Salvation," "Ruby Soho," "Time Bomb" and "Radio." Others songs that may be included in their setlist include "The Way I Feel," "Last One to Die," "Nihilism," "Red Hot Moon," "Fall Back Down" and "I Wanna Riot."
Who are similar bands?
Other punk rock bands you may like include Pennywise, Bad Religion and Social Distortion. Pennywise will be supporting Rancid during its 2019 tour. Bad Religion is known for its songs about serious issues like mental health, equal rights, humanitarianism and religion. Another punk rock band from California, Social Distortion has a member who overcame addiction. Social Distortion managed to pull through the difficult times and has been playing music for more than 40 years now.
Back to Top