1 Event within 150 miles from you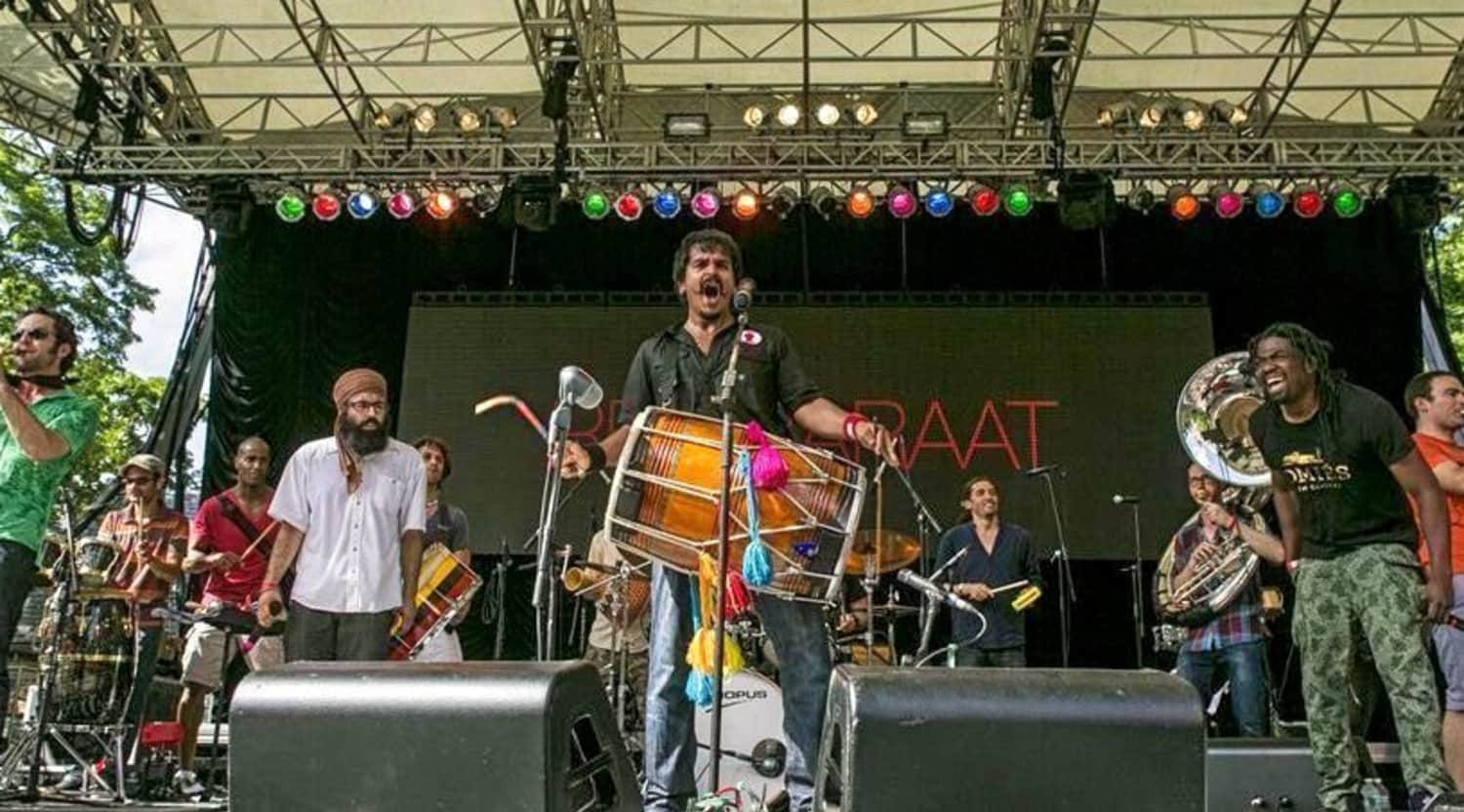 Rovi
Red Baraat Tickets
Red Baraat – The 2014 Concert Experience
The collective that has become the hottest new bhangra party band is back, bringing their energetic and groovy repertoire of feel-good songs on the road one more time. Don't miss Red Baraat when they arrive at a venue near you, including: Louisville, KY; Arlington and Richmond, VA; Millersville, Philadelphia, and Bethlehem, PA; Minneapolis, MN; Monterey, Northridge, and San Francisco, CA; Washington, DC; Princeton, NJ; New York, NY; and New Orleans, LA. Red Baraat is always updating and adding new locations for this latest tour. Keep yourself up to date on all of their latest performances right here on StubHub.com!
Red Baraat will be bringing their high-energy jams to some of the coolest music venues (Poisson Rouge, Underground Arts, The Dakota Jazz Club), the most happening music festivals across the country (Monterey Jazz Festival, Hardly Strictly Bluegrass Festival, Voodoo Festival), and some of the most distinguished universities in America (University of Richmond, Princeton University). Don't miss your chance to see one of the most thrilling fusion bands on the scene live and in person. Tickets go fast – get yours today!
About Red Baraat
This eight-piece "dhol and brass" band from Brooklyn, NY skillfully draws from a number of boisterous genres, including Indian and Balkan wedding music, bhangra funk, big band, and New Orleans funk. The band was founded in 2007 by Sunny Jain, a master of the Indian dohl drum from whence the band derives its logo. Apart from the dohl, the collective includes soprano and baritone saxophones, a trombone, a trumpet, a bass trumpet, and a sousaphone. Today, Red Baraat sends out one of the most unique and irresistible sounds around.
Sunny Jain had previously established the Sunny Jain Collective, which included the avant-garde talents of Rez Abbasi, Rudresh Mahanthappa, and Vijay Iyer. The Sunny Jain Collective had focused almost exclusively on jazzing up the classical carnatic music of South India. Jain was ready to expand his horizons, and Red Baraat was born.
Red Baraat's first album was titled Chaal Baby, and would be released in 2008. From there, the collective built up their fan base with tireless touring around the country. They played countless small clubs, but would also make their way to the Bonnaroo Festival and the White House.
In 2011, the band released Bootleg Bhangra, a live recording of their incredible performance at Brooklyn's Southpaw. Determined to capture the transcendent grooves of the live experience, the release drags the listener into the small club jammed with ecstatic dancers and unforgettable talent. Red Baraat's second album, Shruggy Ji, would be released in 2013. Their sophomore release only confirmed their status as the premier world fusion band, with genre-defying tracks like the klezmer-and-New-Orleans inspired "Halla Bol" and the title track's haunting intro.
Previous Hits
The success of Red Baraat draws heavily on its unparalleled live performances. While sweaty clubs and raucous festivals are the backbone of the band's viability, their legendary shows have taken them to the highest peaks of live performance. In addition to the White House, Red Baraat has been honored with gigs at the 2012 flagship TED Conference, where they performed for national heavyweights like Al Gore and Matt Groening. They also rocked Trafalgar Square at the 2012 Paralympic Games in London. As well, they were smuggled into Google's Mountain View Campus – an event that went viral within seconds. Indeed, the band's collection of once-in-a-lifetime shows and heavily-worked touring schedule is what has made this band a nationwide hit.
The band's electric performances have earned them other commendations as well. Just two years after their inception, Red Baraat would be featured on the NPR affiliated John Schafer's Sound Check and would be voted as 2009's best live radio performance. Their debut album, Chaal Baby, would be chosen as The Boston Globe's top world music album of 2010. In 2011, following their show at globalFEST, NPR recognized Red Baraat as one of their "Favorite Live Shows" of that year. They would also be featured in Village Voice, Mother Jones, the New York Times, and PRI's The World.
Trivia
The drum adopted as Red Baraat's logo is the Punjabi dohl. This dance drum is featured in almost all Bollywood music. Its sound is fatter and heavier than the Indian tabla, but lighter and tighter than the African conga. It has two heads and is designed to be played both on the bottom and the top.
The Red Baraat Concert Experience
The Red Baraat concert experience will open your eyes to the possibilities of South Asian fusion, and is guaranteed to bring out the dancer in everyone. Seeing a performance by these bhangra-jazz-funk pioneers is a once in a lifetime opportunity that you will remember forever. Whether they're happily banging out the viral Indian classic "Tunak Tunak Tun" or blowing you away with their sophisticated new tracks from Shruggy Ji, Red Baraat puts on a show that is as diverse as it is danceable. Don't miss the party band performance of the year that everyone will be raving about!
Back to Top
Epic events and incredible deals straight to your inbox.