There aren't any Events on the horizon right now.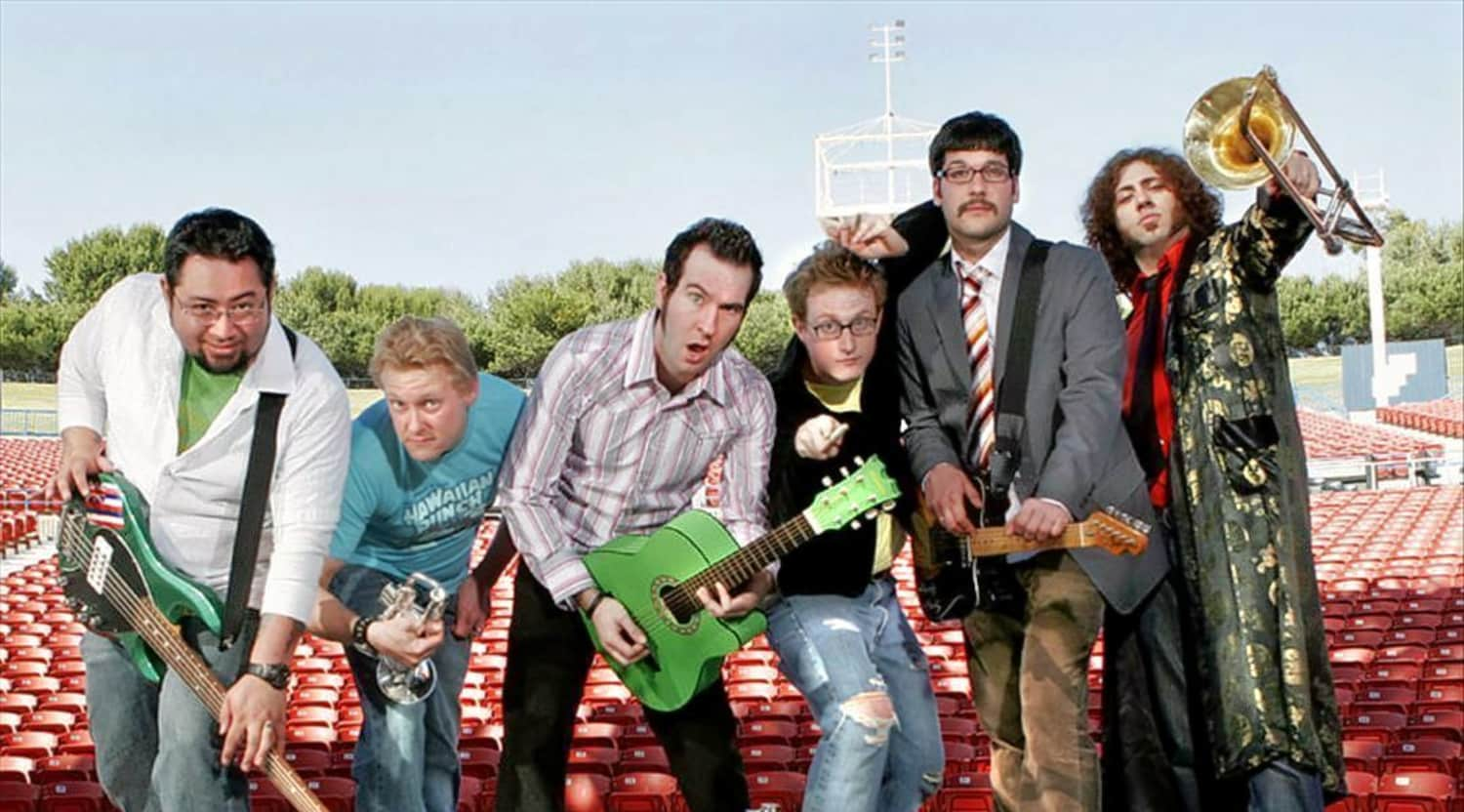 Rovi
Reel Big Fish Tickets
Reel Big Fish Tickets
In the mid-1990s, Reel Big Fish was part of the movement that brought ska back to the mainstream of music. Reel Big Fish began as a high school band with a bunch of guys playing cover songs at local dives. After they recorded an original song in 1992 called "In The Good Old Days," the lead singer, Ben Guzman, left the band, and Aaron Barrett took over; this is when the band decided to perform ska music. Of the nine studio albums they have created, seven of Reel Big Fish's albums have made it to the Billboard Hot 200, and their 1997 song "Sell Out" reach No. 10 on the US Modern Rock chart and No. 69 on the US Radio Songs chart. Reel Big Fish appeared in the 1998 movie BASEketball as the band performing in the stands; they also were featured on the soundtrack for the movie with a cover of A-ha's "Take On Me."
Reel Big Fish: Old and Jaded
When it came time to begin writing and recording music for Reel Big Fish's fifth album, We're Not Happy 'til You're Not Happy, Aaron Barrett was in a huge rut, to the point where he was considering leaving the band. He was not having fun playing music, and he found that living in a mobile home with his bandmates was starting to grate on him. At the suggestion of his manager, Barrett began writing songs about how he hated being in a band, such as "One Hit Wonderful," "Don't Start a Band" and "Your Guts (I Hate 'Em)." He says that the album We're Not Happy 'til You're Not Happy is about being old and jaded about being in a band.
Where can I buy Reel Big Fish tickets?
When you get your Reel Big Fish concert tickets at StubHub, the world's leading ticketing marketplace, you can be sure that your purchase will be secure and valid! StubHub's FanProtect guarantee comes with each purchase and ensures a refund if an event is cancelled without being rescheduled.
How long is a normal Reel Big Fish concert?
Reel Big Fish usually plays for about an hour and a half at each concert.
Where are Reel Big Fish playing?
Upcoming Reel Big Fish concert dates include stops in in Salt Lake City, Utah, Crystal Bay, Nevada, and San Diego, California. You can check StubHub to find out when they will be playing at a venue near you.
What does a Reel Big Fish setlist look like?
You can expect Reel Big Fish to play songs such as "I Want Your Girlfriend to Be My Girlfriend Too," "The Kids Don't Like It," "I Know You Too Well To Like You Anymore," "She Has a Girlfriend Now," "You Can't Have All of Me" and "Life Sucks...Let's Dance!" They also typically like to throw in a cover of Van Morrison's "Brown Eyed Girl."
Who are the members of Reel Big Fish?
Over the years, Reel Big Fish has had 23 different members, with the only remaining original member being Aaron Barrett. The current lineup includes Aaron Barrett on lead vocals and guitar, John Christianson, also known as Johnny Christmas, on trumpet, Derek Gibbs on bass guitar, Matt Appleton, also known as Saxl Rose, on saxophone and Edward Larsen on drums.
Where did the name Reel Big Fish come from?
There are many theories as to where the name Reel Big Fish came from. Some have suggested that it came from the band's love of sushi, and others say it is because they want to try to be a real big fish in a sea of little fishes. The most likely explanation is that they got the name from a fishing shop they had seen.
What other bands are similar to Reel Big Fish?
For bands similar to Reel Big Fish, check out The Mighty Mighty Bosstones, Bandits of the Acoustic Revolution and Suburban Legends.
Back to Top
Epic events and incredible deals straight to your inbox.