We didn't find anything nearby, but here's what's happening in other cities.
There aren't any events on the horizon right now.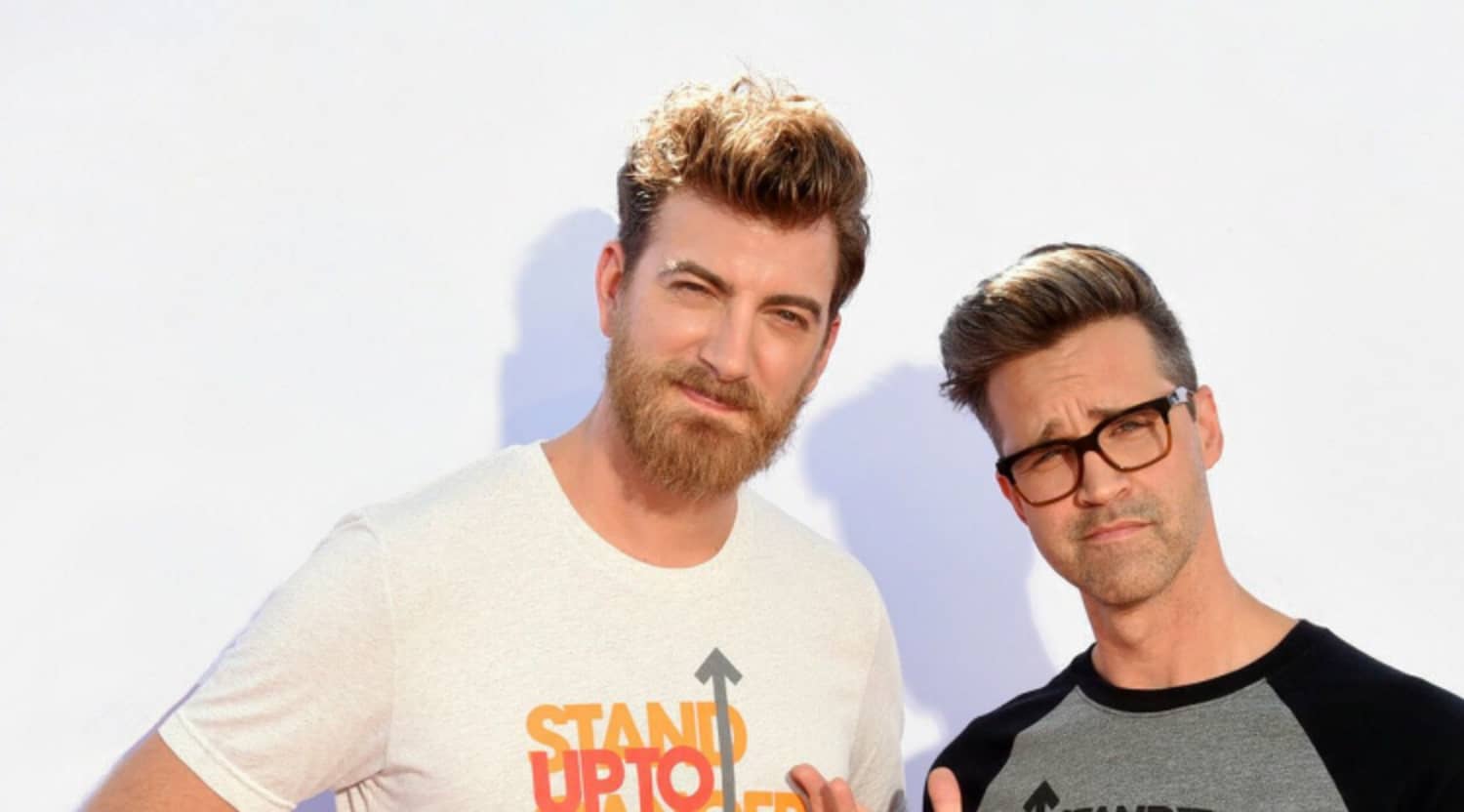 Zuma
Rhett and Link Tickets
Rhett and Link Tickets
Well-known for their morning YouTube show Good Mythical Morning, long-time friends Rhett McLaughlin and Link Neal have grown to become internet sensations. The Good Mythical Morning YouTube channel has amassed over 15 million subscribers and 6 billion views. Mythical, the company founded by the duo, has a total of 70 million subscribers across all its channels. Their podcast Ear Biscuits, comedy series Buddy System and book Rhett & Link's Book of Mythicality are just a few of the many ventures the best friends have undertaken over the years. Rhett and Link's fans, known as Mythical Beasts, can catch this mythical duo live across the country during their Rhett and Link Live in Concert tour this year.
Becoming Their Mythical Best
Long before Rhett and Link rose to YouTube fame, the two became friends on the first day of first grade. When both boys were kept inside during recess after writing swear words on their desks, a long-time friendship began. The idea of "mythicality" originated that same day as the two colored pictures of mythical creatures during the missed recess period. Getting their start in musical comedy, the North Carolina natives joined YouTube in 2006[. It didn't take long for their audience to grow. In 2012, the duo launched Good Mythical Morning. The weekday comedy talk show resonated with viewers, amassing a large following and supercharging Rhett and Link's career. Through diverse offerings such as taste tests, quiz games, physical challenges and comedic songs, their show continues to stand the test of time on a fast-growing, ever-changing internet platform. It has attracted many well-known guests, including Daniel Radcliffe and Jack Black.
Where can I buy Rhett and Link tickets?
At StubHub, the world's largest ticket marketplace, all your transactions are protected by a 100% FanProtect guarantee. Buy Rhett and Link tickets using the website or mobile app today.
Where will Rhett and Link tour?
Rhett and Link are traveling throughout the U.S. for their tour. You can catch one of their shows at Wilbur Theatre in Massachusetts, Kiva Auditorium in New Mexico and Memorial Auditorium in California, among other venues.
What can I expect during a Rhett and Link show?
The content of Rhett and Link's shows varies tour to tour. With the release of their first book, Rhett & Link's Book of Mythicality, McLaughlin and Neal's Tour of Mythicality featured songs, life advice, comedic stories and a fan Q&A. A Rhett & Link Live in Concert show featured the duo's old and new hit comedy songs. Bleak Creek Conversations, a special tour series in 2019, supported their book The Lost Causes of Bleak Creek.
What is Rhett and Link's setlist like?
During a Rhett and Link concert, you'll hear live performances of some of their comedy songs. Their setlist may include "So Dang Dark," "Nilla Wafer Top Hat Time," "Epic Rap Battle of Manliness," "Robot Girlfriend," "The Dog Park Song," "It's My Belly Button," "Papa Smurf Lotion," "Friends 'til the End," "First Comment Song" and "My OCD."
How long is a typical Rhett and Link live show?
A set by Rhett and Link and link will typically run an hour and a half. If you want to get a taste of the pacing of their performances, you can watch the Tour of Mythicality live special. Lasting about 90 minutes, the special brings Rhett & Link's Book of Mythicality to life.
What awards have Rhett and Link won?
Rhett and Link are the recipients of several Webby Awards. Good Mythical Morning has been honored in the Best Web Personality/Host and Variety categories, earning several Webby People's Voice Awards as well. Their work has also earned them a few Streamys, taking home the win in the Comedy and Non-Fiction categories. Good Mythical Morning has also received nominations in the Show of the Year category.
Back to Top
Epic events and incredible deals straight to your inbox.