We didn't find any Events nearby, but here's what's happening in other cities.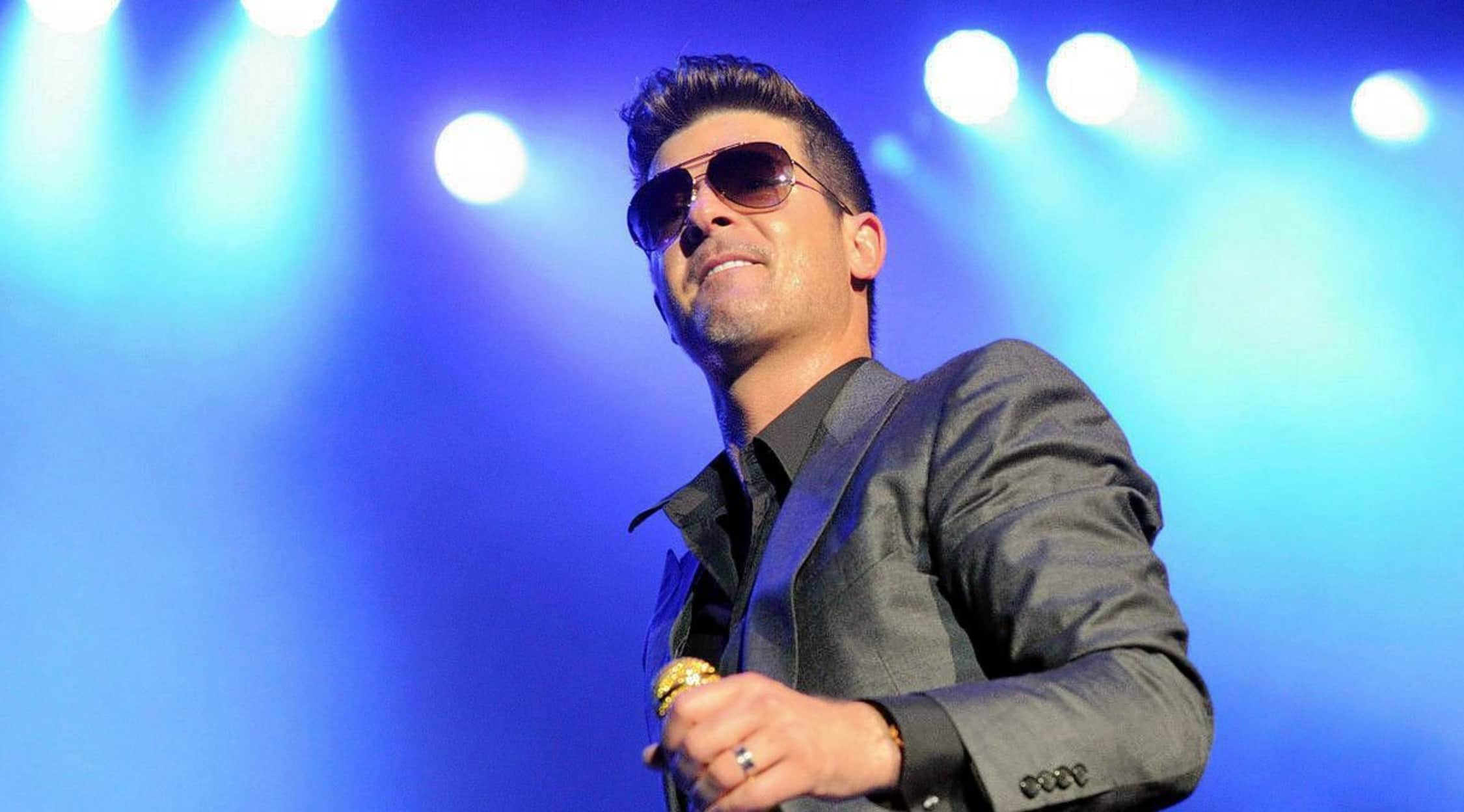 Alamy
Robin Thicke Tickets
Robin Thicke – The 2015 Tour
Robin Thicke is back on the road and better than ever. Whether he is performing at the SECU Arena in Towson, The Fillmore in Charlotte, or TPC in Scottsdale, Robin Thicke always delivers a high-energy and highly-polished performance that is as unique as it is timeless. Don't miss out on your chance to see Robin Thicke perform live and in the flesh! Get your tickets today.
About Robin Thicke
Robin Thicke was one of the most commercially successful, flashy, and charismatic R&B artists of the 2000s and 2010s. He worked relatively hard to attain stardom, and he was able to attain a surprising amount of street credibility. Thicke worked for more than ten years as a moderately successful fledgling solo act and songwriter before catching a break – with the help of the Neptunes – in 2006 with The Evolution of Robin Thicke. On this album, his influences, ranging from classic Brazilian music to Philly soul to '70s Marvin Gaye, came brightly together with his remarkable vocal skill and somewhat brash personality. The album was the first of several Top Ten R&B records in a career that incorporated symbiotic collaborations with Polow da Don, Mark Ronson, Chad Hugo, Pharrell Williams, Pro-Jay, and other long-term associates. He also exchanged guest credits with cred-enhancing artists like T.I., Rick Ross, Jay-Z, Faith Evans, and Lil Wayne.
Entertainment is in Thicke's American-Canadian genes. The son of actor and theme song composer Alan Thicke and actor and singer Gloria Loring, Robin grew up in a suburb of Los Angeles, surrounded by show biz. At the age of 14, he recorded a demo that found its way to Brian McKnight, who helped Thicke get a recording contract with Interscope. His earliest success, however, was through his songwriting. Before the end of 2000, Thicke had either written or co-written songs such as Brandy's "Love Is on My Side", McKnight's "Anyway", Color Me Badd's "Sexual Capacity", Brownstone's "Around You", Marc Anthony's "When I Dream at Night", and Christina Aguilera's "When You Put Your Hands on Me". He also contributed to a number of songs on Mya's album Fear of Flying, and he was involved with most of Jordan Knight's eponymous 1999 record, including the Top Ten hit "Give It All to You".
Despite all his work as a songwriter, Thicke was still having trouble establishing a solo career. In 2002, advances of his album debut, Cherry Blue Skies, surfaced. The album was shelved and adjusted, however, and given a new title. The reworked version, named A Beautiful World, arrived in April of 2003. It did not make much of an impression, peaking at number 152 on the charts, but its single "When I Get You Alone" – which sampled the 1976 disco smash "A Fifth of Beethoven" by Walter Murphy – made the Top Ten in New Zealand, the Netherlands, and Belgium. The Evolution of Robin Thicke, his follow-up, was not released until October of 2006, but its popularity was boosted through its collaboration with the Neptunes. Though technically still on Interscope's roster, Thicke joined the Neptunes' label Star Trak and released the chart-topping R&B single "Lost Without U". Ultimately, The Evolution of Robin Thicke went platinum.
The artist then settled into a long career as a widely esteemed artist – with occasional excursions into self-aware, goofy showboating – who stayed true to his root inspirations while occasionally breaking from his '70s-derived stylistic sweet spot. The refined and focused Something Else, released in September of 2008, rose to number three on the R&B/Hip-Hop Albums and Billboard 200 charts, driven by the soul-disco throwback cut "Magic". Led by its title track, 2009's Sex Therapy just missed the top of the hip-hop/R&B chart. 2011's Love After War, Thicke's fifth studio album, was his most swaggering record to date. In March of 2013, he released a surprising crossover track: the off-the-cuff, lighthearted "Blurred Lines". This Pharrell production took its instrumental cues from "Got to Give It Up" by Marvin Gaye. Boosted by its raunchy video, this R&B single accomplished the rare feat of topping Billboard's Hot 100. At the same time, it sparked enormous controversy when feminists denounced its lyrics as offensive and derogatory, instigating a public debate over matters of censorship and sexual consent. Thicke and Miley Cyrus gained additional notoriety for their explicit performance at the 2013 MTV Video Music Awards. Still, the publicity only increased sales of the attendant EP, also called Blurred Lines, which topped the charts and sold more than 700,000 copies in America alone.
In February of 2014, Thicke and Paula Patton separated after being married for eight years, allegedly due to Thicke's misbehavior. He then launched a very public crusade to win her back, proclaiming his love for her at shows and even titling his next album Paula. The album appeared in July of 2014, preceded by the single "Get Her Back".
Previous Hits
Robin Thicke's biggest singles are "Lost Without U", "Magic Touch", "Magic", "Sex Therapy", "Give It 2 U", and "Blurred Lines". His most successful album is his 2013 EP and chart topper Blurred Lines. A summer release, it was hardly another blockbuster of the season. Although its title track and racy video had made huge waves at the time, and the single dominated the number one Billboard spot for eight weeks, the album itself is basically an old-school set. Its no-frills track list contains two singles with resounding radio appeal, five tracks that are high-quality yet less boisterous, and four songs that would be soon forgotten. Here, Thicke turns away from his habitual Marvin Gaye-isms and experiments with his poppier sensibilities. Soul-searching gives ways to floor-quaking dance grooves, and the lover-man crooning is swapped for a libidinous strut.
Trivia
The cover of Robin Thicke's debut album, 2003's A Beautiful World, featured his future wife Paula Patton.
The Robin Thicke Concert Experience
Prepare to experience one of the most sophisticated and suave R&B shows in the industry today. Robin Thicke lays down one of the most hypnotic and swaggering concerts as he rolls through his laid-back, confident catalog of hit songs. His distinctive flair for performance and his mastery of '70s soul and disco styles make the Robin Thicke concert experience both groovy and cutting-edge. Don't miss out on your chance to see the one and only Robin Thicke in action!
Back to Top