There aren't any Events on the horizon right now.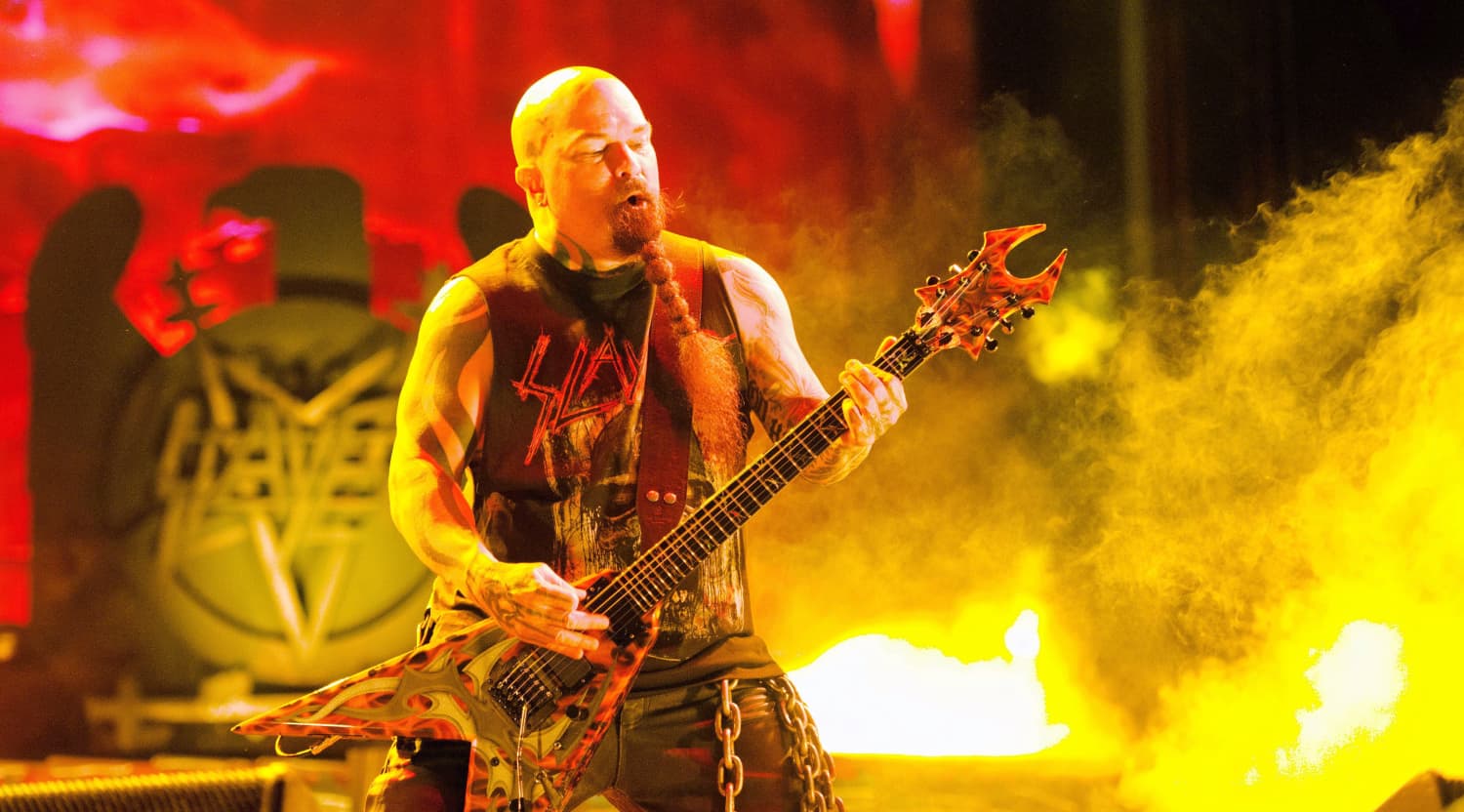 Zuma
Slayer Tickets
Slayer Tickets
Since Slayer first crept up on the music scene in the early 1980s, the band has been become one of the biggest names in thrash metal. This wildly popular musical group won back-to-back Grammy Awards, in 2007 and 2008, for the songs "Eyes of the Insane" and "Final Six." Its ear-blasting tunes on topics as controversial as Satanism, torture, serial killers and assorted hate crimes have sparked lawsuits, album bans and denunciations from the church pulpits across the nation. Its current lineup consists of Tom Arraya (bass and vocals), Kerry King (guitar), Gary Holt (guitar) and Dave Lombardo (drums.)
The Birth of Slayer
In 1981, 20-year-old Tom Arraya, 16-year-old Dave Lombardo, along with Kerry King and Jeff Hanneman, both 17, began playing Iron Maiden covers at bars and parties around Huntington Beach, California, near where all four had grown up. Their reputation grew on the underground metal circuit, and soon they were offered a recording contract-with a hitch: They would have to self-finance their debut album. Show No Mercy sold 40,000 copies. They promoted it with a nationwide tour, after which they went back to the recording studio to do Hell Awaits. Def Jam was so impressed by that album's sales numbers that the newly founded hip-hop label offered Slayer a contract. The result was Slayer's breakthrough album Reign in Blood, which debuted at No. 94 on the Billboard 200 despite the fact that most radio stations refused to play it. Reign in Blood became Slayer's first gold record.
Where can I buy Slayer tickets?
Purchasing Slayer tickets is as easy as opening up the StubHub app on your smartphone, laptop or computer. StubHub, the world's premier ticket marketplace, offers 24/7 customer support and a 100 percent FanProtect guarantee.
Is Slayer coming to a venue near me?
Slayer's Final World Tour, which began in May 2018 and is scheduled to end in November 2019, includes more than 100 dates in U.S. and international venues. You won't want to lose out on this opportunity to see the this legendary, genre-defining thrash/metal/punk band in action or to hear hits like "Raining Blood," "Angel of Death" and "Mandatory Suicide" played live. StubHub is the place to snag Slayer tickets to the band's Final World Tour.
What can I expect from a Slayer concert?
You can expect a Slayer concert to be very, very loud. Those gnarly thrash tones rely upon top-of-the-line amp systems. It is a psychoactive experience that doesn't require any drugs. Slayer fans are very enthusiastic, flailing fists and limbs at every opportunity as a sign of respect for the band they love. Don't hold back. At most shows, a mosh pit of sorts will open up close to the stage where true devotees surrender to the music that blasts through the auditorium. As one of metal music's most seminal groups, Slayer attracts fans of all ages from Gen X through Boomers. Though its music pounds with testosterone, Slayer attracts a large number of female fans, too.
How long is a Slayer concert?
A typical Slayer concert lasts five hours. Slayer has three opening acts who each play for 40 minutes to an hour. Slayer plays for approximately one hour and 40 minutes.
What are some of Slayer's bestselling albums?
Seasons in the Abyss, released in 1990, remains Slayer's most popular album with sales of more than 850,000 units in North America alone. Seasons in the Abyss was the last album drummer Dave Lombardo played on till he rejoined the band in 2006. Next most popular is Slayer's third album Reign in Blood, released in 1986, which eventually went on to sell more than 766,000 units in the US. South of Heaven, a big seller both in the US and in the UK, showed that thrash can be just as lethal when it's played slowly as when it's played fast.
Which artists are similar to Slayer?
Slayer is widely considered to be one point in thrash music's four-pointed star. The other three bands are Anthrax, Megadeth and Metallica.
Back to Top
Epic events and incredible deals straight to your inbox.