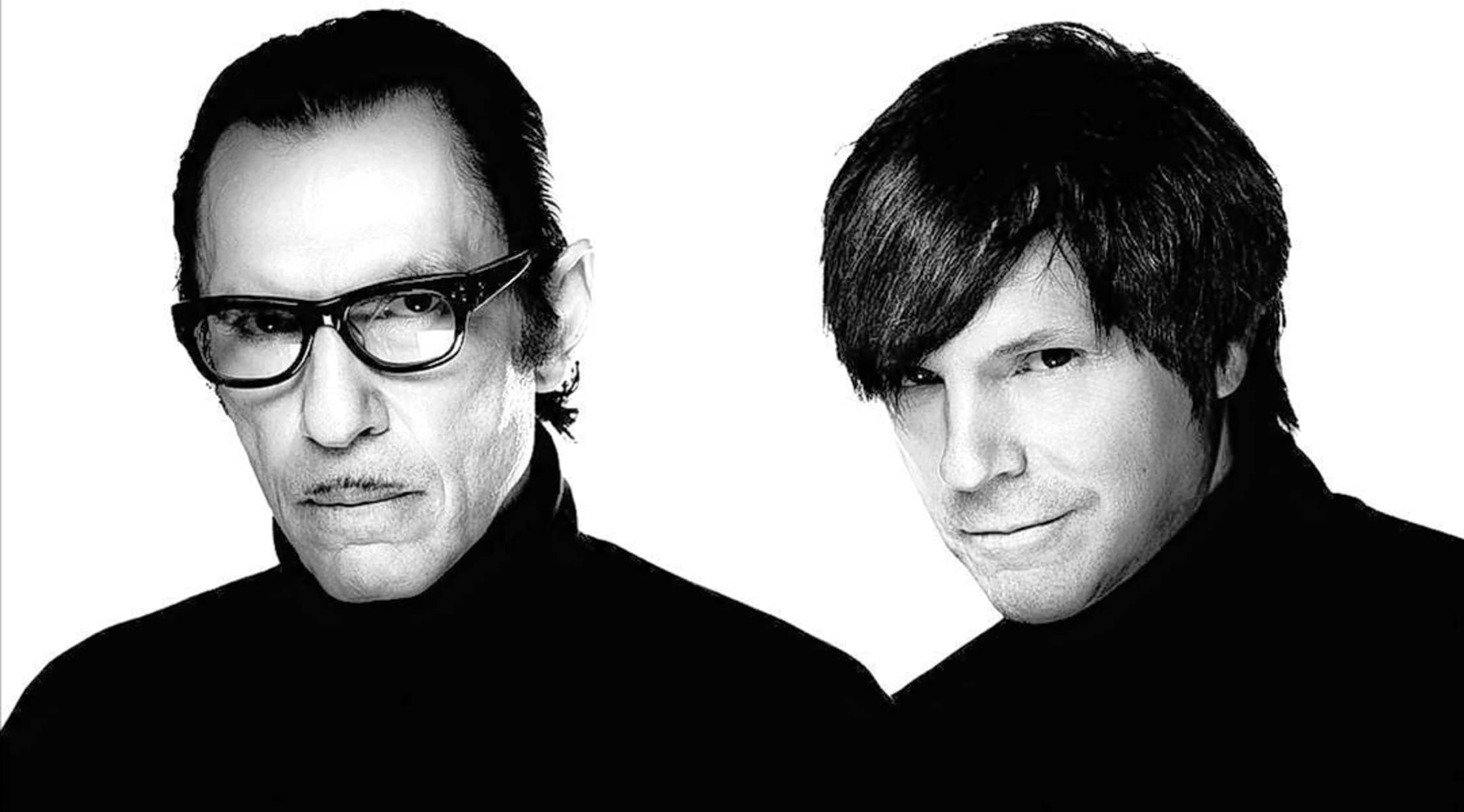 Rovi
Sparks Tickets
Sparks – The 2015 Tour
The incredibly unique brotherly duo known as Sparks are back on tour and quirky as ever, bringing more than four decades of creative musical vision to an all-new, inspiring show. The Los Angelean pair Russell and Ron Mael will be performing their entire 1974 release Kimono My House for a stunning Valentine's Day show at the Los Angeles Theatre at Ace. These unparalleled performers will be backed up by thirty-eight piece orchestra led by Suzie Katayama. The sweeping orchestral arrangements of these classic, danceable songs will guarantee a show unlike any you've seen. Apart from the Kimono My Heart album, a selection of prime tunes from other Sparks releases will be performed. If it is within your power, you simply must make it to see this amazing duo for this amazing show. However, if you can't make it to Los Angeles in February, have no fear. The inimitable Sparks will doubtlessly be touring again soon, and when they do, you can be sure that StubHub will have all of the necessary venue and ticket information. So keep checking back with StubHub – your number one source for concert tickets and information on the web.
Sparks are always coming up with some new method of musical expression, bringing their brilliant collection of hit tracks to world class venues all over the United States. They have been known to play at such iconic stages as the Barbican Center in the United Kingdom, the Sodra Teatern in Sweden, the Sala Copernico in Madrid, and the Sala Razzmatazz in Barcelona. Whether Sparks is performing for sold out, adoring audiences in amphitheatres or in the classiest concert halls, Ron and Russell Mael are a musical force to be reckoned with. Their Valentine's Day show is something that you simply cannot afford to miss, so get your concert tickets today!
About Sparks
The art pop duo Sparks would get its start when brothers Ron and Russell Mael would start a rock group called Halfnelson during their studies at UCLA in the 'seventies. Russell would be on vocals and Ron on keyboard. Brothers Earle and Jim Mankey would add guitar and bass, respectively.
Todd Rundgren would help Halfnelson land their first contract in 1971, but their ironic, weird pop failed to take hold. Their manager convinced the group to change their name to Sparks, and the following year they would release the brilliantly strange A Woofer in Tweeter's Clothing that earned them a cult following.
The British took a liking to Sparks, and the Maels would move to London without the rest of their band. After placing an ad for musicians in Melody Maker, Sparks recruited Norman Diamond, Martin Gordon, and Adrian Fisher. In 1974 they would release their bubblegum glam masterwork, Kimono My House.
Trevor White and Ian Hampton would contribute to Propaganda. After 1975's Indiscreet, produced by Tony Visconti, the Maels would come back to the United States and would team up with Hilly Michaels, Sal Maida, and Jeff Salen for Big Beat in 1976.
In 1977 they would release Introducing Sparks with some session players from Los Angeles. For 1979's No. 1 in Heaven, they would get production help from Giorgio Moroder to create the smashing dance-pop synth concoction. Moroder's compatriot Harold Faltermeyer would then take over production for Terminal Jive.
1981 would see the post-disco release Whomp That Sucker, which would be recorded Munich with David Kendrick, Leslie Bohem, and Bob Haag. Angst in My Pants would come out in 1982, and Sparks in Outer Space would follow it in 1983. The latter featured "Cool Places", a duet with Jane Wiedlin.
Since then, the prodigious Sparks have released ten more studio albums, each as delightfully odd and smart as the last. Their recent The Seduction of Ingmar Bergman would premiere at the Los Angeles Film Festival. Other Mael projects of late include a remix of "Give Me Something" by Yoko Ono and the theme song for the public radio show Bookworm.
Previous Hits
After changing their stage name from Halfnelson to Sparks, the group would start gaining cult status with a couple of singles that fell just short of the Hot 100: 1971's "Wonder Girl" and 1972's "Girl from Germany". Their U.K.-based 1974 release, Kimono My House, would finally give Sparks the recognition they deserved – the album would land in the U.K. Top Five and would include the hit singles "Amateur Hour" and "This Town Ain't Big Enough for the Both of Us". Within the same year Sparks would come out with another U.K. smash hit, Propaganda, which yielded hit singles "Something for the Girl with Everything" and "Never Turn Your Back on Mother Earth".
Sparks would be back and better than ever with 1979's No. 1 in Heaven, which spawned the three hits "Tryouts for the Human Race", "Beat the Clock", and "The Number One Song in Heaven". They would follow up their success immediately with Terminal Jive, which contained a smash hit in France entitled "When I'm with You". Sparks' biggest hit would be the single "Cool Places", which would almost make it into the American Top 40.
Trivia
During their invasion of Britain, Sparks would snag a killer opening act during their 1972 tour. None other than Queen would get the audience hot and bothered in preparation for the Mael brothers at the Marquee Club in London.
The Sparks Concert Experience
Not content with just any old witty 'seventies experimental dance show? Look no further, because the brothers of Sparks deliver one of the most brilliant synth-based dance experiences in the industry today, just as they did in the twentieth century. With close to forty-five years of recording, performing, costuming, and dancing experience, Russell and Ron Mael execute their delicious array of hit songs with panache and deft precision. Their showmanship, hypnotic appeal, and rapport with their audience give their shows an otherworldly and addictive feel that only truly talented and visionary artists can deliver. Make sure you catch this exclusive Valentine's Day show in Los Angeles. Seeing these living legends live and in person is something you will remember 'til the end of you days, so grab your best concert buddies and start planning your Sparks concert experience today!
Back to Top