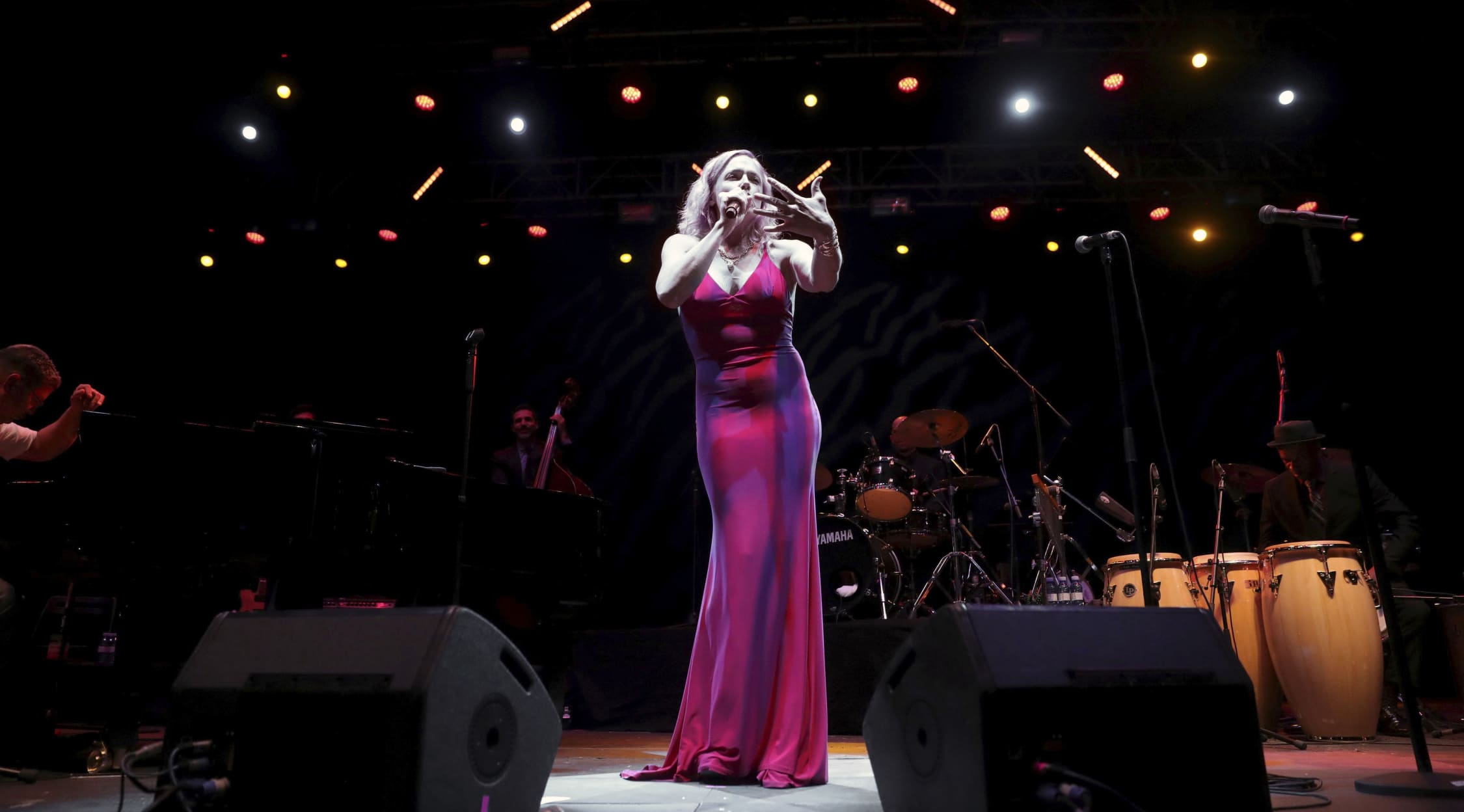 Zuma Press
Storm Large Tickets
Storm Large - The 2014 Tour
Hard rocker, actor, author, and cabaret performer extraordinaire is back, bringing her decades spanning discography to two exclusive venues across North America. Whether Storm Large is jamming at the world's biggest concert halls or dropping ballads at the most intimate of music lounges, Storm Large always deliver an outstanding and passionate performance that is testament to her career as a dedicated performer. Storm Large is always adding new and exciting tour stops all around North America - don't miss your opportunity to see her live and in the flesh. Keep up to date on all her tour dates, secret shows, and upcoming performances right here on StubHub, the internet's number one source for concert ticket needs.
Storm will be playing two exclusive shows on both great coasts of the United States. First, catch her at Carolina Theatre Durham's Fletcher Hall, where she'll be playing a soon to be sold out show in the heart of Durham, North Carolina. Durham is one of the cultural centers of beautiful North Carolina, and there's no better place to enjoy a Storm Large concert than Durham's thriving downtown district. Next up, catch Storm on the Best Coast as she entertains the masses at Palm Desert's McCallum Theatre. Storm Large will be the hottest commodity passing through the desert this year, so don't miss your opportunity to see her live and in the flesh. Don't see a performance in an area near you? Keep up to date on all of your concert needs right here at StubHub, your number one source for all things music.
About Storm Large
Hailing from New England's Southborough, Massachusetts, Susan Storm Large demonstrated a passion for music from a very young age. Before the age of ten she was already an accomplished singer who was dabbling in songwriting, and would find it in her heart that a life as a performing artist would make her happiest. Susan's educational career would culminate at the American Academy of Dramatic Arts, where she would dabble in all mediums of performing arts including acting, writing, and singing. Susan's heart would rest most firmly with music, however, and she would soon dawn the moniker of Storm Large and begin performing all across the world, both as a solo act and in various musical groups.
During the early years of her career, Storm decided that the east coast did not hold the promise needed for her career to flourish, and like many other aspiring artists, made the move to beautiful, sunny California. San Francisco would prove to be the ideal location for her to grow as a musician, and she grew both as a person and as an artist for the decade she spent there. Storm became a staple of the San Francisco local rock scene, playing in various bands and also making guest appearances on the albums of multiple groups across the San Francisco scene.
The challenging life of a musician would test Storm, as she moved to Portland in the early 2000s with the intent of quitting music altogether. Loyal friends and fans alike urged her to continue with her musical passion, which she did as she formed a Portland band titled "The Balls" and played frequently at Portland's underground hot spot rock club Dante's. By 2007 Storm Large was releasing music as a solo musician, putting out two major albums and proving that she made the right decision when she decided not to quit her music career.
Previous Hits
After being on the hit TV series Rock Star: Supernova, Storm took the world by inclement weather as she released her first full length in 2007, titled Ladylike Side One (side two still pending). The album built on the success and exposure Storm had experienced while competing on Rock Star: Supernova, and featured a slurry of hit singles and covers including "Ladylike", an original song featuring mega guitarist Dave Navarro. The album would perform well commercially and be Storm Large's first major statement as an individual performer, instead of part of a larger ensemble.
The world would be waiting for Storm Large's followup, which came two years later with Crazy Enough. Released on Big Daddy Large records, the album would be a practice in musical theater and a testing of Storm's writing abilities. She would succeed on both fronts, releasing a masterful album that features such hits as "Call Me Crazy" and the collaborative efforts "Halogen" and "Lullaby Song". The album would be created under the tutelage of famed producers and musicians James Beaton and Jim Brunberg, who helped cultivate Storm's unadulterated musical talents.
Trivia
Storm has been in a plethora of other acts over the years, including but not limited to: The Balls, Pink Martini, Flower SF, the Mermen, and Storm and Her Dirty Mouth.
One of the principal pushers that kept Storm from quitting music was Frank Faillace, who owned the rock club Dante's in Portland and gave her a consistent venue to perform at.
The Storm Large Concert Experience
Get ready to be dazzled by the extraordinary performing retinue of Storm Large, one of the most talented artists of her generation. Experience all the charm, pizzaz and swagger that Storm brought to television sets across the world live and in the flesh. You'll be instantly hooked on Storm's uncanny combination of charisma, musical ability, and raw performance talent. Don't miss this opportunity - buy your tickets today!
Back to Top
Epic events and incredible deals straight to your inbox.