We didn't find any Events nearby, but here's what's happening in other cities.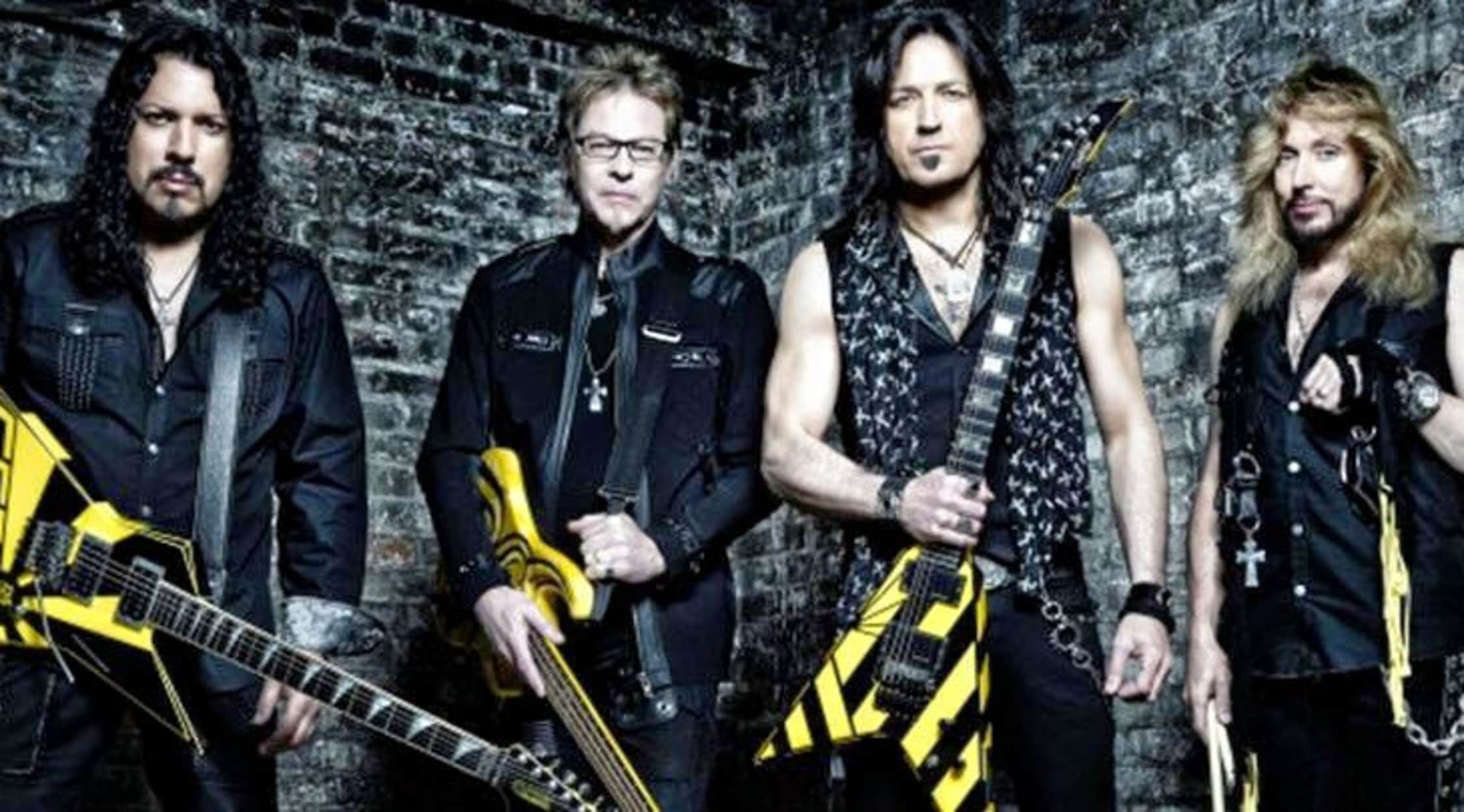 Rovi
Stryper Tickets
Stryper – The 2016 Tour
Stryper will be playing at some of the coolest concert halls in North America, including Exit/In in Nashville, the Beachland Ballroom and Tavern in Cleveland, The Rockpile West in Etobicoke, the Diamond Ballroom in Oklahoma City, the Monsters of Rock Cruise in Tampa, and more! Get your tickets today.
About Stryper
Ol' Scratch has been linked to heavy metal ever since the genre began, but a handful of bands took a novel path in their application of Christian beliefs to hard driving rock tunes. Stryper is the foremost of these. Established in 1983 by natives of Orange County, CA, the band were originally titled Roxx Regime. Their lineup consisted of Michael Sweet (songwriting, guitar, vocals), Robert Sweet (drums), Oz Fox (lead guitar), and Timothy Gaines (bass). The act did not gain much traction until they renamed themselves Stryper (which stands for "Salvation Through Redemption Yielding Peace, Encouragement, and Righteousness"), at which point their career really started to take off. They specialized in the tuneful metal styles of Def Leppard and Van Halen (with anthemic power ballads thrown in for good measure) and dressed entirely in yellow and black, spreading their Christian dispatches even wider by throwing bibles into the audiences of their live shows. In 1984, Stryper landed a record contract with Enigma. Also that year, they released their debut record, a six-song EP named The Yellow & Black Attack.
The mini-album generated quite a lot of hype in the metal community, and the buzz was only intensified with the arrival of Stryper's debut full-length effort in 1985, titled Soldiers Under Command. It would be the group's first recording to make the mainstream charts, and this victory led to a re-issue of their debut EP in 1986 with two bonus songs and new cover art. Later in the year, the band released To Hell with the Devil, their sophomore LP, which many fans regard as their best work to date. To Hell with the Devil would be Stryper's highest chart entry of all time (it fell just shy of being a Top 30 item), and the platinum-selling record enjoyed regular airplay on MTV for its single "Honestly" (a saccharine ballad that became a number 23 hit) and "Calling on You." Despite promoting a very different meaning than their contemporaries, Stryper were perfectly in sync with other successful hair metal and pop metal acts of the time (Dokken, White Lion, Bon Jovi, and so on).
But just when it seemed like Stryper were capable of making a massive mainstream breakthrough, new metal acts were pioneering sub-genres, with Metallica advancing thrash and Guns N' Roses developing a minimalistic rock. These bands started to undermine Stryper's pop-inflected market and, consequently, their 1988 album In God We Trust was their first that did not expand their listener-ship. It did not even match the commercial fortunes of its precursor (through it would manage to reach gold sales). Sensing their decline, the band explored a harder style and image for their 1990 set, Against the Law, even covering the funk standard "Shining Star" by Earth, Wind & Fire. Both maintained their string of Top 40 hits, and the band followed up with a best-of collection titled Can't Stop the Rock in 1991. As Nirvana sounded the death toll of pop metal and hair metal, Michael Sweet opted to strike out on his own. Unexpectedly, the other Stryper members decided to forge ahead as a trio, with Fox taking over lead vocals, and they continued to be a concert draw for some time. Without their original leader, however, they soon disintegrated and officially broke up in 1992.
Following Stryper's disbandment, the members kept themselves busy. Michael Sweet pursued his solo career, which never attained the success of Stryper, though he released albums on a fairly consistent basis with Michael Sweet in 1994, Real in 1995, and Truth in 2001. Robert Sweet released a solo album, titled Love Trash, and spent more time in the studio. Meanwhile, Gaines and Fox teamed up to from Sin Dizzy and released the rock opera album He's Not Dead, which concerned Jesus' crucifixion.
During this time, many fans remained fiercely devoted to the band, leading to re-releases of all of their LPs through Hollywood Records. Sin Dizzy gave a concert in 1999 with lead singer Sweet that resulted in an impromptu jam of Stryper's old songs. Rumors of a reunion began to circulate. The '80s nostalgia trend of the early 2000s prompted Stryper to reform sporadically for the "Stryper Expo," now a regular yearly show. A second best-of compilation, 7: The Best of Stryper, arrived in 2003. It included two new songs specially cut for the release, "For You" and "Something." Encouraged by an upswing in Christian rock audiences, the group decided to re-enter the studio and record their 2005 album, Reborn. They followed up with Murder by Pride in 2009, which celebrated their 25th anniversary. Two years later, The Covering hit the shelves and featured covers of their inspirations' material, such as "Heaven and Hell" by Black Sabbath. Their 2013 album Second Coming found the group delivering a collection of newly recorded renditions of their earlier songs, in addition to a pair of new tracks. No More Hell to Pay, a studio set, was Stryper's first release on Frontiers Records. Two years later, they released their eighth album, Fallen, for Frontiers.
Previous Hits
Stryper's biggest hits include the singles "Honestly" (1987), "I Believe in You" (1988), and "Always There for You" (1988) and the albums Soldiers Under Command (1986), To Hell with the Devil (1987), In God We Trust (1988), Against the Law (1990), No More Hell to Pay (2013), and Fallen (2015).
Trivia
Prior to Oz Fox's joining of Stryper, both C.C. DeVille (Poison) and Doug Aldrich (Dio, Whitesnake) covered guitar duties in the band.
The Stryper Concert Experience
The Stryper concert experience will make you realize the incredible Christian potential of heavy metal. Seeing a performance by these metal and rock pioneers is a once-in-a-lifetime opportunity that you will not soon forget. Whether they're opening with their MTV hit "Honestly" or playing their cover of "Heaven and Hell" by Black Sabbath, Stryper put on a show that is as dynamic as it is timeless. Don't miss the Christian rock concert of the year that everyone will be talking about!
Back to Top