We didn't find any Events nearby, but here's what's happening in other cities.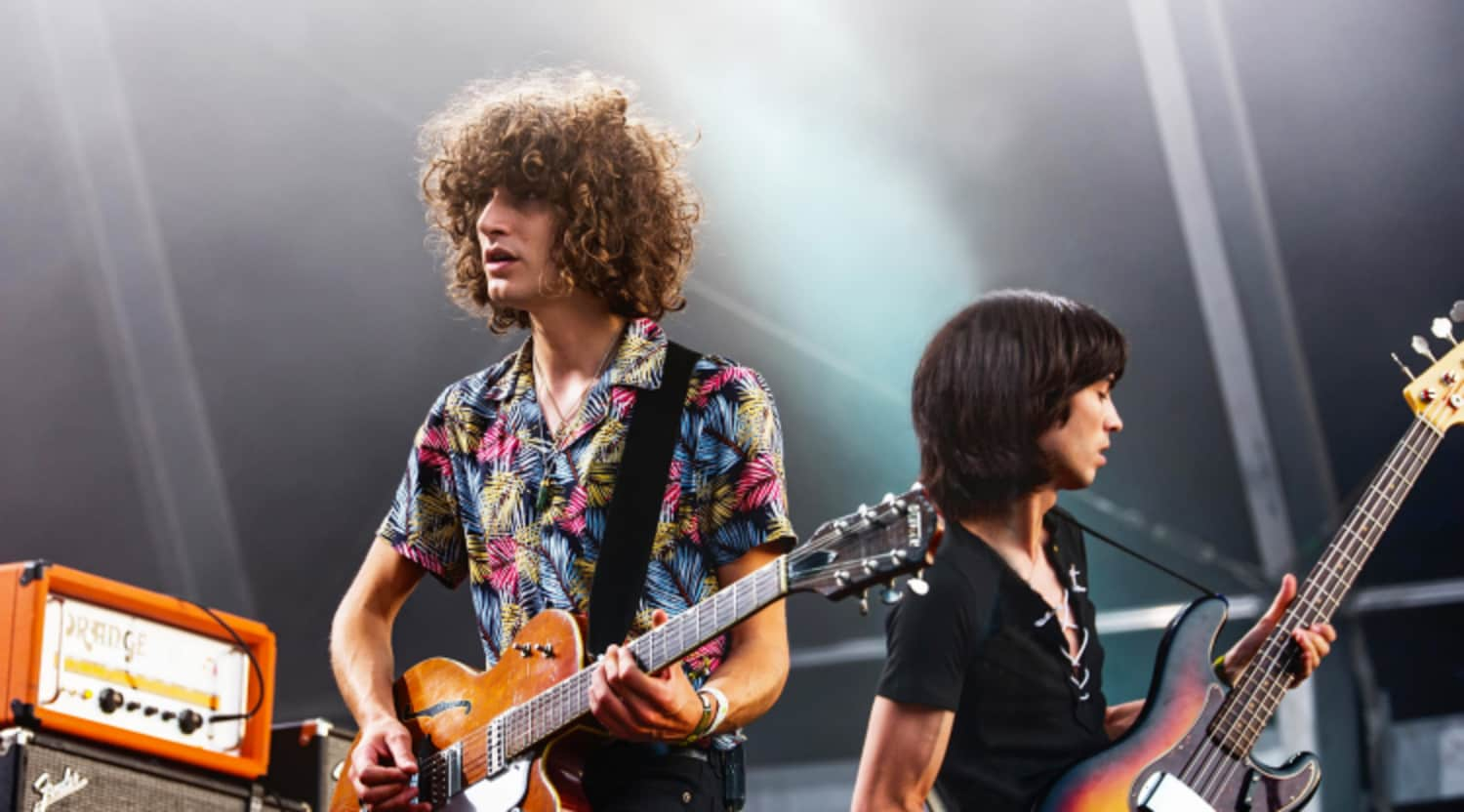 Alamy
Temples Tickets
Temples - The 2015 Tour
English psychedelic glam rockers Temples are back and better than ever, making their way across the pond as they embark on an exciting jaunt through North America that will take them to three of the hottest cities the USA has to offer. Don't miss Temples when they head to a city near you, with stops including Detroit, MI; Cincinnati, OH; and Brooklyn, NY. Don't see Temples making their way to a location near you? Keep calm and keep checking back because these English rock prodigies are constantly adding new performances and last minute special engagements to their compelling, worldwide tour schedule. Whether you're in the US of A, Canada, or anywhere beyond, the Temples 2015 may be making its way to a location near you. Stay up to date on all the latest Temples 2015 tour info right here at StubHub, your number one resource for concert tickets on the web.
First, Temples will be kicking things off right as they head to the heart of Motor City, bringing their nail bitingly addictive psychedelic sounds to Detroit, Michigan. They'll be taking up residency in the Saint Andrew Hall theatre for one special night of old fashioned brit rock magic, shaking up the heart of the midwest like never before. Next, they'll be making their way to Ohio, to light up Sawyer Point Yeatmans Cove, located in the heart of Cincinnati. The band will be playing none other than the world famous Bunbury Music Festival, a legendary rock and hip hop festival event that brings together musicians from all across the musical spectrum. Temples will be sharing the stage with the biggest acts to ever rock the music industry, including living legends The Black Keys, The Avett Brothers, father of hip hop Snoop Dogg, Brand New, The Decemberists, folk icons Old Crow Medicine Show, and many more. Finally, Temples will be ending their Summer time jaunt across North America by making their way to the culture capital of the world, of New York City, New York. The band will make their way into the Brooklyn Borough of NYC, taking no prisoners as they rock the Music Hall of Williamsburg to its very foundations.
Whether you're catching them at epic music festivals or your favorite local amphitheatres, the Temples 2015 is a must see music event that has critics and fans all across the continent buzzing with excitement. The band's Summer time trip to the US of A is just a taste of whats to come in the most exciting year yet for Temples, a prelude to more high octane tours that will zigzagging all across the globe for years to come. Be sure to catch the Temples tour train as it psychedelically chugs its way into a location near you!
About Temples
Temples would kick off as a casual music project between friends and longtime collaborators James Edward Bagshaw and Thomas Edison James Walmsley. Both had been prolific performers on the local England rock scene, fronting their own respective bands before working together on indie music project The Moons. The two would start collaborating once again in the early '10s, publicizing themselves via YouTube as they slowly began to build up a small yet rabid fan base throughout the United Kingdom. The band's ground roots promotional style would eventually catch the eyes and ears of record execs at Heavenly Recordings, giving them the opportunity for a big mainstream breakout as the band enlisted the help of percussionist Samuel Lloyd Toms and keyboardist Adam Smith. After releasing their first hit single through Heavenly Recordings, the band began on their first ever set of live tours as the four piece lineup began making waves all throughout the European rock scene.
The band rapidly rose to widespread international acclaim, performing alongside like minded musicians such as The Vaccines, Mystery Jets, Suede, and Kasabian. Over the next two years the band took their first trips overseas as a band as they made their way to North America and Australia, receiving prime billing at some of the most celebrated festivals throughout the world, including the legendary Coachella Valley Music and Arts Festival held annually in Indio, California.
Today, the band continues on their rapid ascent to the highest echelons of the rock music world, with a global following that eagerly awaits every one of Temples new tour announcements or record releases. The band's work currently spans one LP, two Extended Plays and five hit singles, with the band's popularity growing rapidly with every new release.
Previous Hits
The band's debut full length album would come two years after their appearance on the mainstream music scene, a 53 minute tome of musical excellence that drew widespread praise from critics and fans everywhere. The album featured the production tutelage of the visionary James Bagshaw, and was released on the Heavenly Records label. Critics would rain praise upon the album, including a four star rating from AllMusic, 9/10 from Clash Magazine, a near perfect four nad a half stars from musicOMH, and an 8/10 from NME magazine. The album charted worldwide, including making appearances on Australian, Austrian, Dutch, Belgian, French, German, Irish, and Swiss music boards, eventually clocking in at #2 on the UK Independent Album chart and #31 on the US Independent Album boards. The album features a slew of fundamental Temples hits, including "Shelter Song", "Keep in the Dark", "Sun Structures", "Colours to Life", "Fragment's", and "The Golden Throne".
Trivia
Legend of rock Noel Gallagher has criticised the lack of support for Temples from the domestic UK music industry. Among his complaints is not enough radioplay for the band on BBC Radio 1.
Temples have become familiar faces in US popular culture. They made appearances on The Tonight show Starring Jimmy Fallon and The Ellen Degeneres Show, performing their hit "Shelter Song" for both performances
The Temples Concert Experience
From start to finish, the Temple live experience delivers a nonstop assault of hit psychedelic rock goodness, a melding of indie and classical British rock that has become a musical genre all its own. Don't miss your chance to catch one of the most exciting and innovative young Brit rock bands in existence - get your tickets today!
Back to Top
Epic events and incredible deals straight to your inbox.