We didn't find any Events nearby, but here's what's happening in other cities.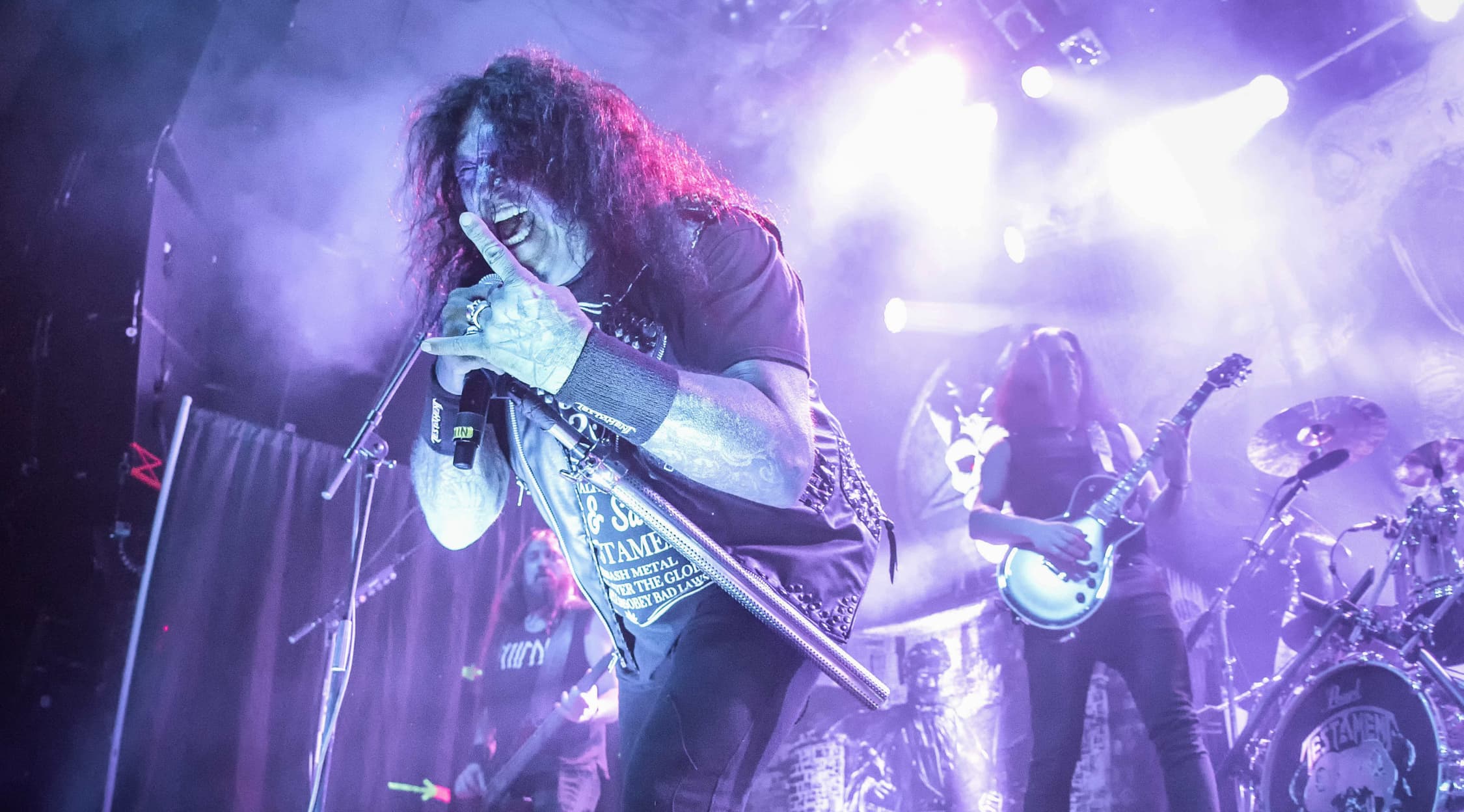 Zuma Press
Testament Tickets
Testament Concert Schedule
Do you miss the wild, electric, and fun-loving rock scene of the '80s? If so, you probably have a craving for an incredible thrash metal concert, and even though we're no longer in the '80s, there is one way that you can satisfy your cravings—with a Testament concert! This thrash metal outfit exploded onto the rock scene in the '80s, winning over the hearts of countless rock fans around the world. To date, Testament is considered one of the biggest forces in the trash metal realm, and now you just might have the chance to see them perform live in concert!
Metal fans are in luck, because this spring is packed with knockout shows from some of your favorite metal bands. Testament is teaming up with Exodus to put on the most thrilling trash metal concerts of the year, and this is an experience you definitely don't want to miss. Take a trip back to the '80s with these rock gods and get ready for an unforgettable performance, because thanks to StubHub you can secure your Testament tickets in a matter of minutes! Beginning in April, Testament will be tearing up stages in cities like West Hollywood, San Francisco, Scottsdale, Albuquerque, San Antonio, Dallas, Houston, Joliet, Detroit, Toronto, Grand Rapids, Niagara Falls, Huntington, Nashville, Louisville, Nashville, Atlanta, Fort Lauderdale, Silver Spring, Philadelphia, and more! Testament will also be rocking at this year's Lunatic Luau in Virginia Beach, so you can bet that they will be one of the most buzzed about metal performances of the entire year! Don't miss out on seeing Testament in concert once again, because this famed '80s thrash metal act definitely knows how to put on an exhilarating live rock show!
Testament Background
Guitarist Eric Peterson first united a group of rockers to form a thrash metal outfit in 1983. This Bay Area band first started performing under the name Legacy, but it wasn't long before they switched to Testament, which they have been known as ever since. After several years of wowing rock fans in the Bay Area and all over the West Coast with their electrifying live shows, Testament released their debut album, The Legacy, in 1987. Almost instantaneously, Testament received rave reviews from both fans and critics alike, earning many comparisons to thrash metal acts like Metallica. Suddenly, Testament was one of the hottest new acts in thrash metal, and they definitely weren't disappearing from the scene anytime soon. Their worldwide fame increased when they headed out on tour with Anthrax shortly after the release of their debut album, and by the end of the '80s, there were few bands in the world more acclaimed and beloved than Testament.
After dominating the thrash metal scene for so many years, Testament adapted to the rock world's current mood and started changing their sound ever so slightly. Their style became more melodic, which kept them current and earned them countless new fans around the world. That's one of the reasons why Testament is still considered one of the last great rock bands of the '80s—they continue to impress rock lovers every decade, and now you just might have the opportunity to see them in concert! When Testament heads out on their upcoming tour, make sure that you have your tickets to at least one of these electrifying rock shows! To lock down your Testament concert tickets, head to StubHub as soon as possible!
Greatest Hits
Testament is revered for their incredible thrash metal repertoire. To date, they have released 10 studio albums, many of which have scored high spots on music charts around the world. In addition, they have released numerous successful EPs, compilation albums, and live albums, all of which have been cult classics in their fandom. Some of Testament's most beloved thrash metal hits include tracks like: "Practice What You Preach," "Return to Serenity," "Dog Faced Gods," "Trial By Fire," "Low," "Over the Wall," "Greenhouse Effect," and "Electric Crown."
These thrash metal legends definitely know how to put on one heck of a rock show—they have been doing it since the '80s, after all! So when Testament heads out on tour this spring, make sure that you have your tickets to one of their knockout shows by checking out StubHub today!
Trivia
Three of Testament's current band members have been rocking out with the band since the '80s: Eric Peterson, Alex Skolnick, and Chuck Billy.
The Experience
If you miss the exhilarating heavy rock of the '80s, here is your chance to jump into a blast from the past and rock out to some of your favorite thrash metal hits of all time! Secure your tickets to an upcoming Testament concert by checking out StubHub's ticket selection as soon as possible. These concerts are right around the corner, though, so don't waste another moment and check out StubHub today!
Back to Top
Epic events and incredible deals straight to your inbox.