We didn't find any Events nearby, but here's what's happening in other cities.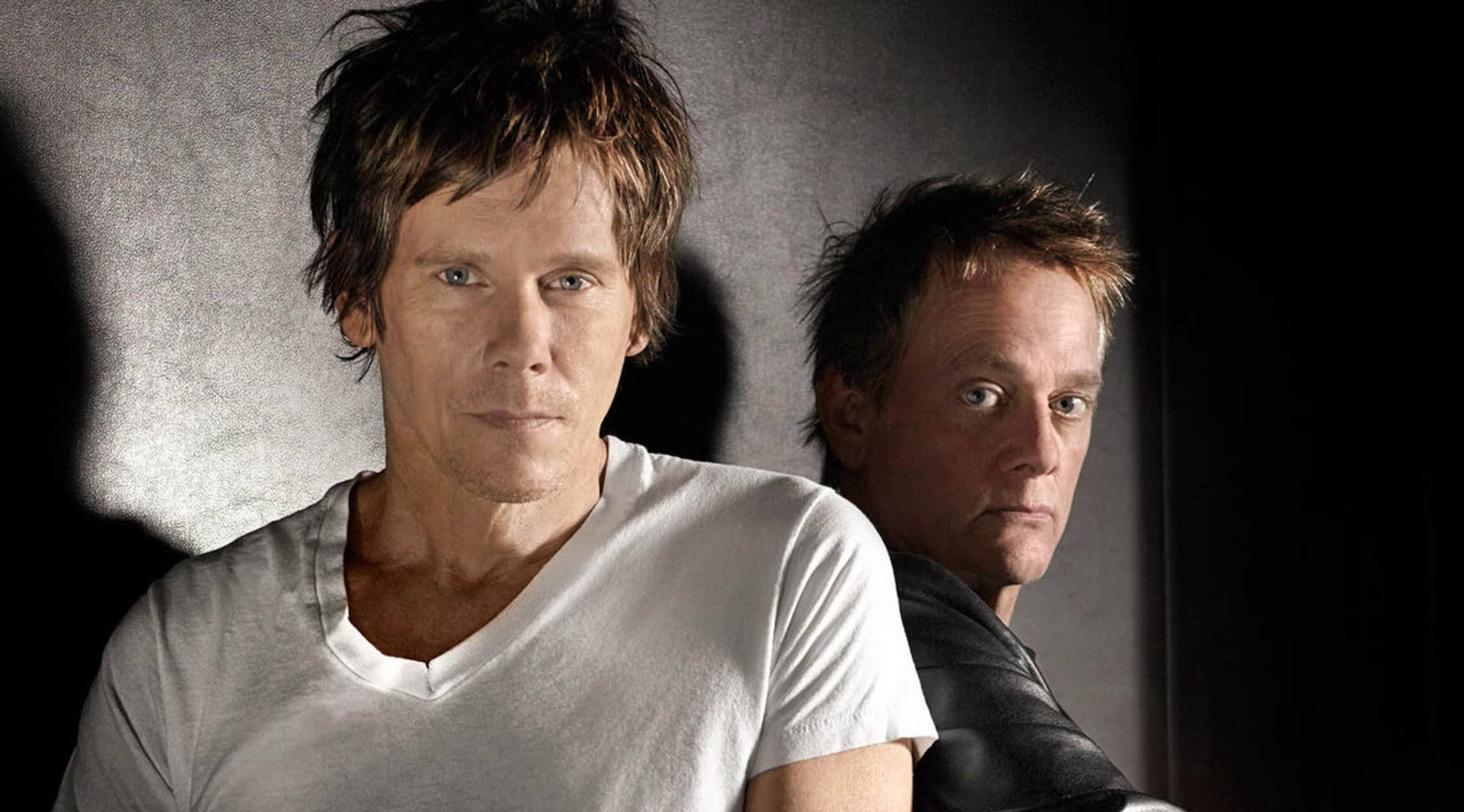 Rovi
The Bacon Brothers Tickets
The Bacon Brothers – 2014 Concert Schedule
You probably know actor Kevin Bacon from his many roles throughout the years, including his work in films like Footloose, The River Wild, Apollo 13, and JFK, and his brother Michael Bacon has written musical scores for a number of award-winning television series. Their band together, the Bacon Brothers, has been making music since 1995, and now these talented brothers are coming to perform at a venue near you. The Bacon Brothers initially formed to play at a charity event in their hometown of Philadelphia, but their passion for music continued to grow, as did their fan base and popularity. Whether you've been a fan of Kevin Bacon since you first saw him in Footloose, or you've always admired the musical talent of his brother, Michael, this duo has proven themselves as a band. With albums like Forosoco, Can't Complain, and White Knuckles, fans will get treated to some of the best songs in their repertoire. In addition to their great music, the Bacon Brothers also make significant efforts to help organizations and giving back to the community. If you want to experience everything that a Bacon Brothers concert has to offer, be sure to visit StubHub today to get your tickets before they're all sold out!
About The Bacon Brothers
The Bacon Brothers are comprised of American actor Kevin Bacon on vocals, guitar, and percussion, his brother Michael Bacon on vocals, guitar, and cello, Paul Guzzone on bass guitar and backing vocals, Joe Mennonna on keyboards and accordion, Frank Vilardi on drums, and Ira Siegel on lead guitar and mandolin. The Bacon Brothers formed their band in 1995, and have been playing music since. The Bacon Brothers released their debut album Forosoco in November of 1997, and they continued to release several more throughout the years that followed, including Getting There in 1999, Can't Complain in 2001, White Knuckles in 2005, New Years Day in 2008, and more, including a live concert DVD.
In addition to their album releases, the Bacon Brothers' music also appears in a number of films, television shows, and even a children's CD. The Kevin Bacon-produced film, The Woodsman, features the Bacon Brothers' song Chop Wood (Carry Water), and they even appeared as guests on Daryl Hall's internet concert series, Live From Daryl's House. On the show, the band performed some of their fans' favorite tracks, in addition to several cover songs. In 2009, the Bacon Brothers broadened their experience as musicians by teaming up with the Philadelphia icon, singer Bunny Sigler, to record a special version of their song New Years Day, which helped to raise money for the Mummers Parade. Their efforts to support the Mummers Parade were so successful that when the parade eventually took place, Kevin and Michael Bacon were able to serve as Grand Marshalls in the parade for their contributions and help.
The Bacon Brothers' Breakthrough Album
With their successful albums and their efforts to help various organizations, the Bacon Brothers have developed quite a loyal fan base across the United States. They began a tour in 2009, visiting cities in New York, New Jersey, Washington, D.C., Florida, and Connecticut, and have since gone on to bring their music to fans from all over. The Bacon Brothers have a special relationship with their fans, and invite them to help promote the band via street teams in exchange for autographed merchandise, concert tickets, and meet and greets after concerts. Between their great music and their efforts at giving back to the community, the Bacon Brothers keep their fans flocking to their shows during every concert season.
The Bacon Brothers Trivia
For which television series did Michael Bacon win an Emmy award?
Michael Bacon composed the soundtrack for the PBS series, The Kennedys, for which he won an Emmy award. He was also nominated for an Ace Award for the musical score he wrote for The Man Who Loved Sharks.
Fan Experience
The Bacon Brothers have established themselves as a popular band, with Kevin Bacon proving any naysayers wrong about making the transition from acting to music. Alongside the impressive musical chops of his brother, Michael Bacon, the Bacon Brothers have continued to churn out great albums since forming in 1995. Whether you're a fan of Kevin Bacon's roles in film, or you just like good rock music, a trip to see the Bacon Brothers live in concert does not disappoint. With concert dates set for locations all over, you and plenty of other fans will finally get to see this talented duo perform live. Their infectious tunes and positive energy will get everyone in the crowd up and moving, and not a person will be left seated. For your tickets to see the rock band the Bacon Brothers live in concert, be sure to visit StubHub today!
Back to Top