There aren't any Events on the horizon right now.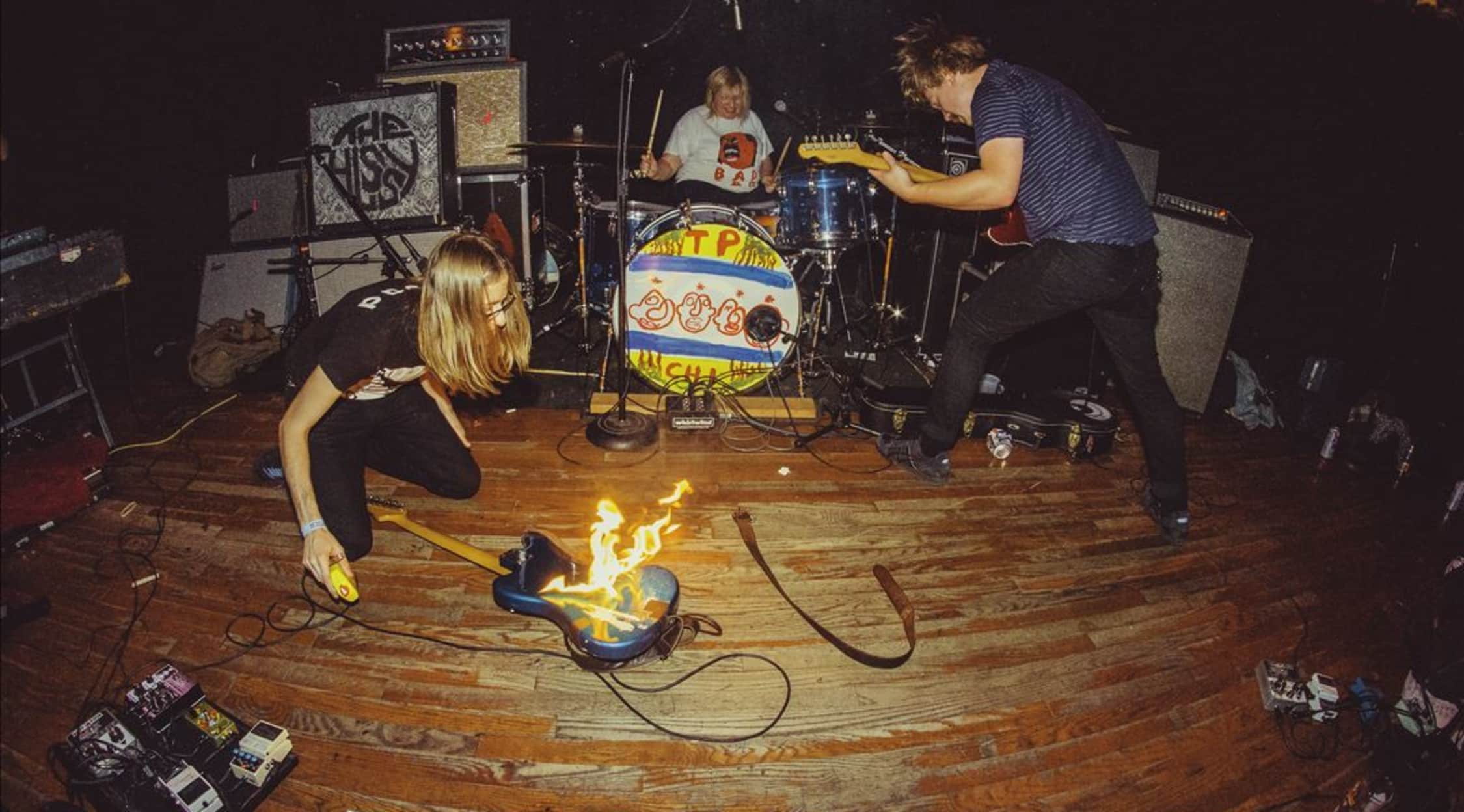 Rovi
The Hussy Tickets
The Hussy – The 2016 Tour
The Hussy are always on the go, bringing their massive collection of punchy, psych-garage tunes to iconic music clubs and bars in the nation. Don't miss them when they come to Crystal Corner Bar in their native Madison, WI on Saturday, April 2nd! If you can't make it out to see these delightfully, brashly spacey garage rockers in April, have no fear! The Hussy are a regular presence on the live circuit, and they are sure to book more tour dates in the near future! Don't miss out! Keep up-to-date with The Hussy on StubHub, and get your tickets today!
About The Hussy
The Hussy are a psych-rock two-piece from Madison, WI. They create a sinister brand of surf rock straight from the heartland. They describe themselves as a "trash band", and they have a very impressive CV for such a scrappy self-designation. They have played shows with the Black Lips, Ty Segall, and King Khan, but they are probably best-known for backing the punky, freaky, costumed Nobunny. On their own, however, they forgo the crusty rabbit ears and bring a little more sand to their sound. This Midwestern duo are continually pumping out first-rate psychedelic garage rock, and they have a ream of full-lengths, EPs, and 7" records to their name. They have taken their radical style of fuzzy lo-fi rock to locations all around the world.
The Hussy consist of Bobby Hussy and Heather Hussy. They came together in Madison in 2008 with the aim of making garage punk a la Cheap Time. Their third full-length, Pagan Hiss, had a huge impact on the local garage rock community. Over time, they have found critical acclaim and have evolved into a more expansive and psychedelic sound, but they never stray far from their straight guitar roots. It's an irresistible mix.
The Hussy had known about Nobunny for some time. They shared the same community of musicians and musical experiences, and eventually the two acts were friends. They played some initial gigs together, and everything just clicked. Nobunny and The Hussy went on to share some Gonerfest experiences, which really cemented their friendship.
One of The Hussy's most striking music videos is for their track "Studs in Love". The concept for the video came from Shane O'Neill, personal friend and fellow resident of Madison (though he is now based in New York City). O'Neill assembled his artist friends to help make the video on the same night that The Hussy were onstage with Nobunny at Baby's All Right in Brooklyn.
The Hussy's brand of psychedelic garage rock stays true to their raw, D.I.Y. roots with three-chord songs and layers of effects, feedback, and distortion. They follow in the footsteps of Ty Segall, David Bowie, Black Time, and others.
Previous Hits
The Hussy's first critical success was their single "Blame", released in April of 2013. Both members sing, with Heather Hussy on drums and Bobby Hussy on guitar. This track, which opens their third LP Pagan Hiss, proves that an energetic two-piece tagged as "punk", "garage", or "psych" does not have to rely exclusively on fuzzed guitars or caveman stomping. Sure, the power chords have a definite menace, and the drums are bashed into oblivion, but the duo also have a fine sense of nuance. On "Blame", they play around with a number of guitar textures, cover a range of dynamics to great effect, and pepper the entire track with sounds worthy of old-school horror and sci-fi movies (such as echoing, hollow laughter and some UFO-worthy samples).
The Hussy followed up with their 2014 single, "EZ/PZ". This premier scuzz-rock band make it sound easy, but their work is actually quite complex. Here, they offer a tasty slab of psychedelic garage punk that, in its first two seconds, establishes the duo's power with nine fuzzed-out, fast strums. Of course, the drumming delivers a hard smack with the first beat, but "EZ/PZ" illustrates just how dominant such a song can be when it is structured around a basic blues riff. Heather's vocals are dynamic, providing the perfect complement to the instrumental attack that doesn't need to rely on a flamboyant guitar solo to keep listeners hooked. The Hussy's volume and speed are their strengths, and the track concludes with a resounding "WOO!".
In May of 2015, the psych-punk act returned with Galore, the follow-up to their critically acclaimed full-length Pagan Hiss (2013). Galore finds The Hussy heading in a slightly new direction as they abandon almost all of the keys in favor of textured layers of percussion, lap steel, violin, effect pedals, amplifiers, and various guitars. Their sonic foundation may have evolved, but the girl/guy interplay and the hooks are still flawless and omnipresent. Galore may be their catchiest and most pop-oriented album so far. It was recorded in The Hussy's practice space on a ¼" tape, and the lo-fi, D.I.Y. aesthetic provides a strong link to their earlier work. The album's sounds is perforated, but has a certain spit-shine that also recalls their previous material They step things up significantly with a wider, richer sonic palette. Galore is the band's first full-length with bass guitar throughout, marking a kind of turning point. The album finds the duo at their most creative to date as they craft terse pop jewels that reward repeated listening. The years that The Hussy have spent practicing, recording, and touring have resulted in an apparently telepathic rapport. Galore establishes The Hussy as one of the most varied and prolific acts in the garage/punk underground.
Trivia
The Hussy recommend a number of other two-piece acts that their fans might enjoy: Obnox, Bantam Rooster, and Pony Time.
The Hussy Concert Experience
Not satisfied with the average psychedelic/garage/punk offerings? Look no further, because The Hussy deliver a varied and swaggering live show that rivals any underground act today. With countless releases and live gigs under their belts, Heather Hussy and Bobby Hussy deliver their extensive collection of critically acclaimed songs with grit and fire. Their loyal legion of fans only serves to make their live performances even more unforgettable. Don't miss out on your chance to see these celebrated garage/punk rockers live and in the flesh!
Back to Top