There aren't any Events on the horizon right now.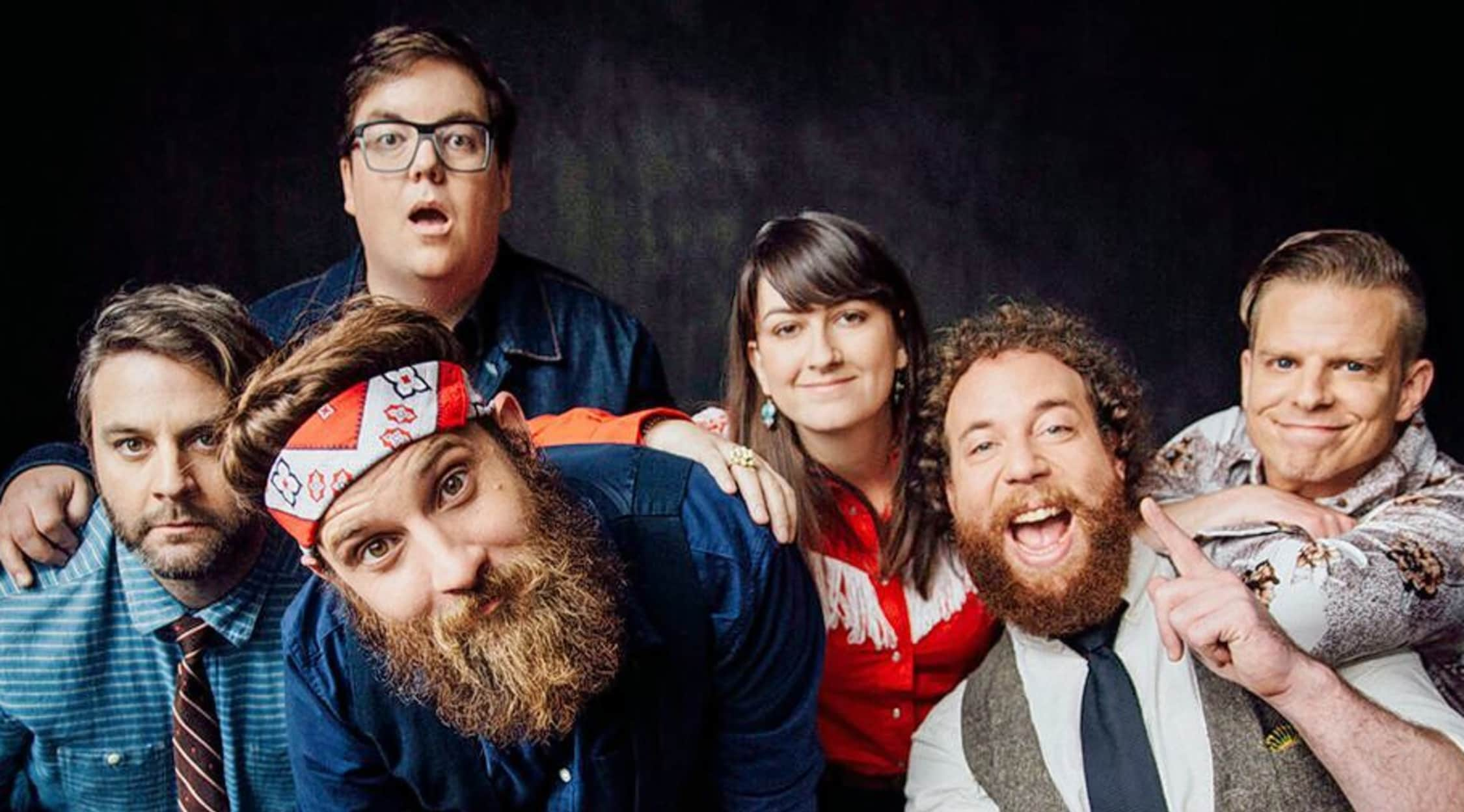 Rovi
The Strumbellas Tickets
The Strumbellas Tickets
With a strong sound and a very organic development into fame, The Strumbellas has definitely earned its success. The Ontario indie rock band has become acclaimed for its musical talent. As The Strumbellas earn more recognition, it shows why it is considered to be such as a draw, especially with its great live shows.
Strum-believable
The Strumbellas was founded in 2008. Its membership has stayed quite consistent. Simon Ward sings and plays guitar while David Ritter sings and plays keys. Additionally, Jon Hembrey plays guitar, Isabel Ritchie plays the violin, Daryl James plays bass and Jeremy Drury plays drums. Not too long after it formed, it released its eponymous EP. This helped to raise its profile considerably. It became hotly in-demand to play many sizable venues, including prominent ones in Toronto. It released its debut album, My Father and the Hunter, through Fontana North and saw a good deal of acclaim for it. At the 2013 Juno Awards, it was nominated for Roots and Traditional Album of the Year – Group. That same year, it released its second album, We Still Move on Dance Floors, on Six Shooter Records. This time, it won the Juno Award for which it was previously nominated. All of this momentum and attention made it seem like something undeniably big was on its way. This happened with the release of its third album, Hope. Released in 2016 through Glassnote, this album was The Strumbellas' biggest success to date, with major help from the single "Spirits." It peaked at No. 3 on the Canadian Albums Chart. In 2019, the band came out with its fourth album, Rattlesnake, which was also released through Glassnote. The band has performed at major festivals, such as Lollapalooza and Bonnaroo. It has also appeared on television series such as The Late Show with Stephen Colbert and Late Night with Seth Meyers.
Where can I buy The Strumbellas tickets?
If you want to see The Strumbellas live, you should get your tickets at StubHub. The FanProtect Guarantee lets you know that your purchase is legitimate and that you'll be able to see your favorite artists perform.
Where can I see The Strumbellas?
The Strumbellas tour has dates coming up in Europe and North America. It will be performing in Pleinfeld, Germany, Zofingen, Switzerland, Wolfenbüttel, Germany, Nashville, Fayetteville, Ark., Keystone, Colo., Richmond, B.C., Ottawa, Sacramento, London and other cities.
What can I expect from a The Strumbellas concert?
When a band is already as good on record as The Strumbellas, you can start to wonder how its live experience could possibly top it. Somehow, The Strumbellas finds a way. Its live shows take everything that's great about its albums, from its musical talent to its country and folk sounds, and brings it up another level. The band knows how to play for a crowd and keep them engaged all the way through. You can gain a great sense of how a band develops a common language through watching The Strumbellas perform. The band's energy is also another excellent part of its concerts. You can tell how much it delights the band members to be able to play for a packed venue or outdoor crowd, and that delight should definitely spread to you.
What is The Strumbellas live setlist like?
The Strumbellas' live setlist consists largely of songs from Hope and Rattlesnake, with a few from My Father and the Hunter and We Still Move on Dance Floors. The most-played songs at Strumbellas' concerts include "Spirits," "Shovels and Dirt," "We Don't Know," "Wild Sun" and "Young and Wild."
Does The Strumbellas perform covers live?
The Strumbellas has performed covers of "Soup" by Blind Melon multiple times. It has also covered "Summer of '69" by Bryan Adams.
Who has The Strumbellas toured with?
Artists that The Strumbellas has toured with include Foreign Air, The Zolas, Cold War Kids, Sam Cash, The Provincial Archive and Corb Lund.
Back to Top