There aren't any Events on the horizon right now.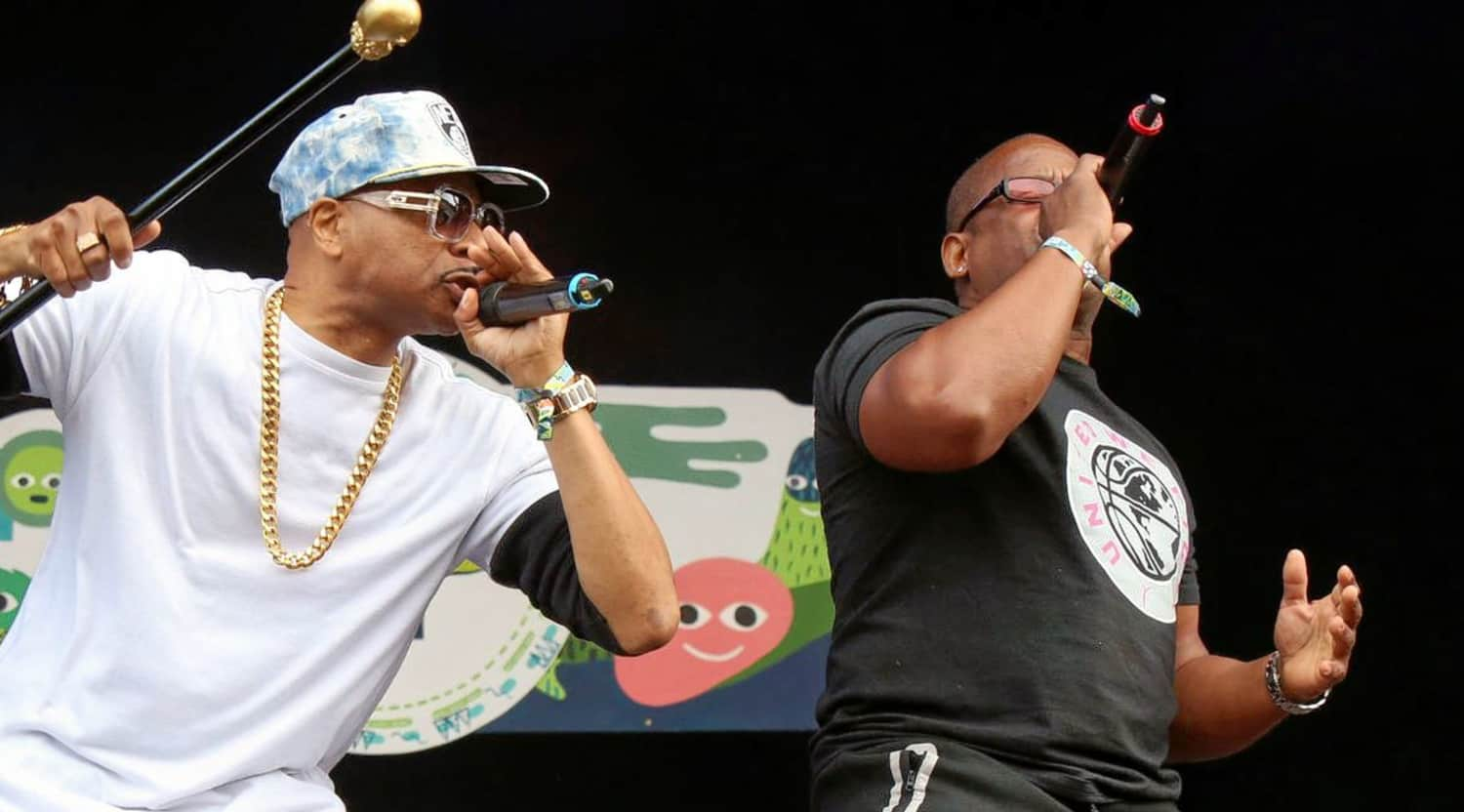 Alamy
The Sugarhill Gang Tickets
The Sugarhill Gang – The 2016 Tour
The Sugarhill Gang will be performing in the Freestyle Explosion NJ alongside Winter Edition and the Cover Girls. Don't miss these historic hip-hop artists when they blow the roof off of Starland Ballroom in Sayreville, New Jersey in January 2016. The Sugarhill Gang is a must-see act for any serious fan of hip-hop, and newcomers will be likewise delighted by their classics such as "Apache" and "Rapper's Delight". Tickets are going fast – get yours today!
About the Sugarhill Gang
The members of the Sugarhill Gang are Mike "Wonder Mike" Wright, Henry "Big Bank Hank" Jackson, and Guy "Master Gee" O'Brien, who was later replaced by Kory O. The story of this rap trio begins with a music industry professional named Sylvia Robinson, who encountered the budding underground genre of rap and sensed that it could be readily marketed. She then started to assemble her own lineup of rappers for a rap album. At the same time, a club bouncer and pizza parlour employee named Henry Jackson was also working part-time as a hip-hop manager. As a hobby, Jackson would listen to various mixtapes from different crews of the era and rap along with the artists. Jackson had grown up in the Bronx during the birth of hip-hop. He had attended high school with rap pioneers like Coke La Rock and Kool Herc, and he later briefly managed an artist called Grandmaster Caz. By 1979, hip-hop had spent five years as live party music, powered by youthful energy and street lights. However, it would not make it to vinyl until producer Robinson recruited Jackson from his pizza parlour in Englewood, New Jersey, where he had been working to save money after graduating from Bronx Community College with a degree in oceanography.
Covered in pizza dough, Jackson auditioned in the back of an Oldsmobile 98 belonging to Robinson's son, Joey. He made enough noise to attract the attention of Wonder Mike and Master Gee. From a late Friday night in the home of Sylvia Robinson, this nobody was recording with Gee and Mike by Monday. This session, which was little more than a take or two of three guys rapping over the studio musicians playing "Good Times" by Chic, was instant musical history.
The Sugarhill Gang, as they came to be called, enjoyed their share of success in the early '80s with "Rapper's Delight", "8th Wonder", and "Apache" – the latter of which is still a sporting event staple the world over. Once the shouted delivery and drum machine pummel of Run-D.M.C. arrived in 1983, however, the Gang's disco-inflected hip-hop was immediately passé. I Want My Name Back, a 2011 documentary, alleged that Robinson prevented the crew from evolving with the times.
36 years later, there is still some debate about whether the classic 14-minute spree of "Rapper's Delight" was really the first recorded hip-hop track, and it is still shadowed by controversy – the Sugarhill Gang and Robinson were New Jersey interlopers who borrowed straight from the rhyme book of Grandmaster Caz. However, there is no question that the hilarious, vivid anecdotes of cuckolded superheroes and dinnertime manners in "Rapper's Delight" were suburban America's first encounter with the nascent genre. The single reportedly reached multi-platinum sales, but Sugar Hill Records was notoriously tight-lipped about their accounting and never had it certified.
Previous Hits
Although the Sugarhill Gang did not invent hip-hop, the trio was the first rap crew to land a major worldwide hit. Arriving in 1979, "Rapper's Delight" was the first mainstream hip-hop single – before that, few music fans outside of New York City had even heard of hip-hop. Apart from "Rapper's Delight", the Sugarhill Gang's hit singles include "Showdown" (1981), "8th Wonder" (1981), "The Lover in You" (1982), "Apache" (1982), "The Word is Out" (1983), and "Kick it Live from 9 to 5" (1983).
The Sugarhill Gang were also one of the first rap acts to issue a full-length album, and their hit albums are Sugarhill Gang (1980) and 8th Wonder (1982). When their eponymous album debut arrived in 1980, most old-school rappers were only releasing 12" singles. Thus, Sugarhill Gang is a historically significant record, even if it is a bit erratic. Both "Rapper's Delight" and "Rapper's Reprise" (the latter features hip-hop's first all-female crew, the Sequence) are excellent, but most of the cuts are merely decent. The irony is that half of the tracks aren't even rap. "Here I Am" and "Bad News Don't Bother Me", both of which find the hip-hop trio singing instead of rapping, are R&B slow jams; "Sugarhill Groove" is a polished disco-funk song that recalls Roy Ayers. This LP, then, is hardly the effort of hip-hop purists. In 1980, record manager and producer Sylvia Robinson (who was a veteran R&B singer herself) apparently felt that releasing an all-rap album was a risk. Although Sugarhill Gang is not a masterpiece, it's still a fascinating slab of hip-hop history.
Although the Sugarhill Gang did not earn the critical acclaim of their label peers, Grandmaster Flash & the Furious Five, they still produced a good number of memorable hip-hop cuts early on. They also helped to bring Sugar Hill Records, helmed by Robinson, into the spotlight. The Gang themselves leaned more towards the funk end of the hip-hop spectrum, playing an all-night steamy mix of rapping, straight funk singing, and go-go grooves. Their sophomore album 8th Wonder includes hits such as the title track and "Apache", as well as slick funk burners like "Hot Hot Summer Day" and the sterling slice of uptown dance magic "Funk Box" (which recalls Prince). 8th Wonder may not be the best starting point for Sugarhill neophytes when compared to roundups on Sequel and Rhino, but it is definitely a set that fans shouldn't miss.
Trivia
"Rapper's Delight" has become a musical bedrock. It appeared in the 1998 movie The Wedding Singer and was covered by Las Ketchup to chart-topping success, and Big Bank Hank's holler of "Woo-Hah!" became part of a Busta Rhymes hit in 1996.
The Sugarhill Gang Concert Experience
The Sugarhill Gang will take you right back to the golden age of hip-hop. The first hip-hop crew to release a mainstream single and one of the first to release full-length albums, this historic trio are definitely no act to miss. Whether they are lighting things up with "Rapper's Delight" or busting out "8th Wonder", the Sugarhill Gang put on a timeless and dynamic show.
Back to Top
Epic events and incredible deals straight to your inbox.