There aren't any Events on the horizon right now.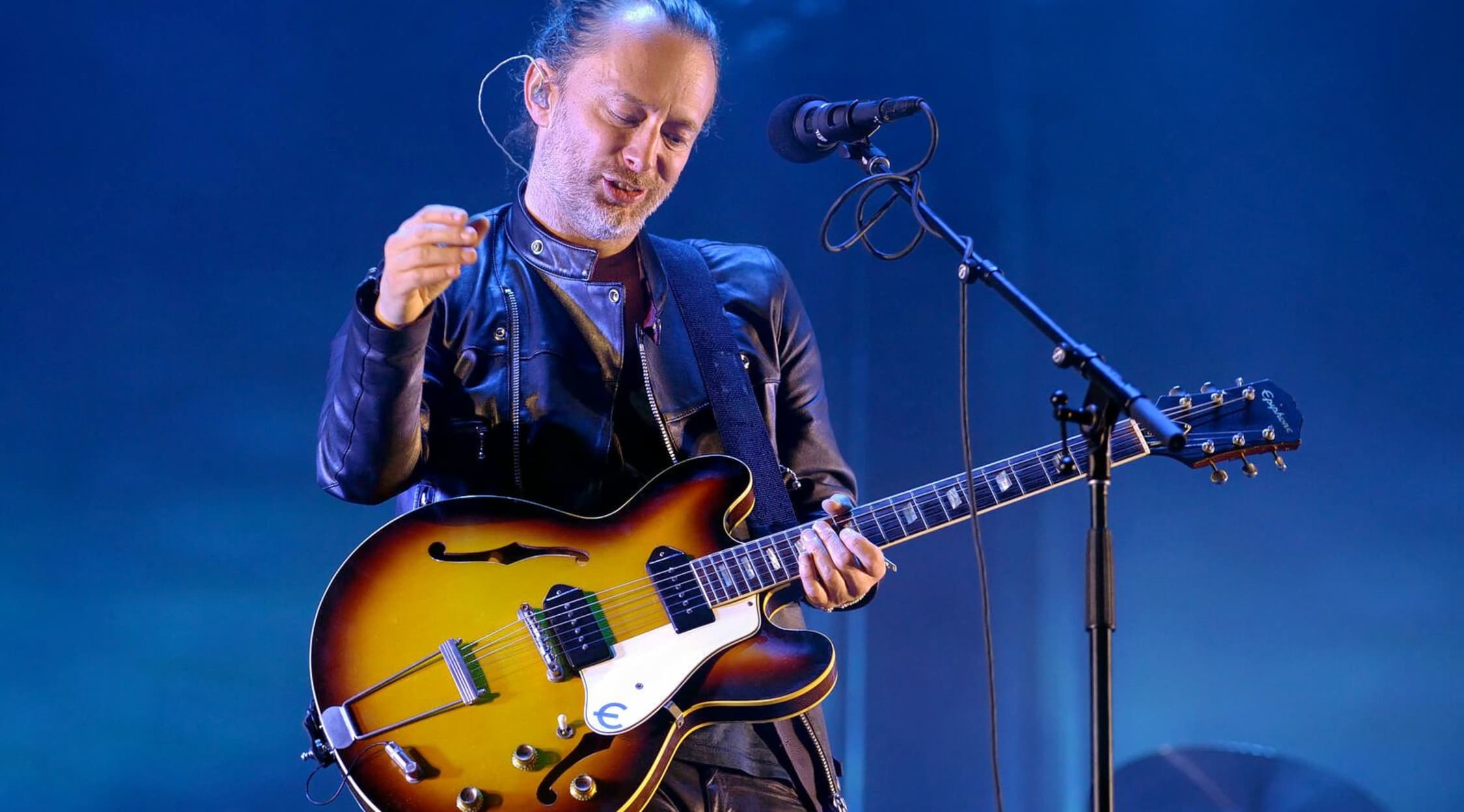 Alamy
Thom Yorke Tickets
Thom Yorke Tickets
As the lead singer of the idiosyncratic alternative rock band Radiohead, Thom Yorke has been a pioneer of the rock and roll genre since the '90s. When he isn't recording or performing with Radiohead, Yorke has a thriving solo career that he uses to blend together rock and electronic music. He is also the lead singer of the band Atoms for Peace, which consists of legendary bass guitarist Flea, drummer Joey Waronker and percussionist Mauro Refosco. In 2019, Thom Yorke was inducted into the Rock and Roll Hall of Fame along with the rest of the members of Radiohead.
Boys from Abingdon
While attending the boys' public school Abingdon in the '80s, Thom Yorke formed his first band, On a Friday, with fellow students Philip Selway, Ed O'Brien and Colin and Jonny Greenwood, all of whom are still members of the band. After signing with Parlophone records, the band changed its name to Radiohead in 1991. Two years later Radiohead released its debut studio album, Pablo Honey, which peaked at only No. 22 but sold 1.5 million copies in the United States due to its long tail. Radiohead experienced consistent, sustained commercial and critical success throughout the '90s and 2000s. Following the band's temporary hiatus in 2004, Thom Yorke embarked on a promising solo career. He released his first solo album, The Eraser, on July 10th, 2006, and it peaked at No. 2 in the US and No. 3 in the UK. Yorke then briefly put aside his solo career to focus on his work with Radiohead and Atoms for Peace. However, he later returned to his solo career with the release of Tomorrow's Modern Boxes in 2014 and Anima in 2019. Thom Yorke has received 21 nominations from the Grammy Awards both as a member of Radiohead and as a solo performer. During his Radiohead career, he won a Grammy three times, including the 1997 Best Alternative Music Performance for OK Computer, the 2000 Best Alternative Music Album for Kid A and the 2008 Best Alternative Music Album for In Rainbows. Thom Yorke also records music for films such as The Twilight Saga: New Moon and Suspiria.
Where can I purchase Thom Yorke tickets?
Fans of Thom Yorke can purchase tickets directly at StubHub either through the website or the mobile app.
Will Thom Yorke tour in 2019?
Thom Yorke is touring around the world in 2019 to promote the release of his solo album, Anima.
Is Thom Yorke coming to a city near me?
Thom Yorke is touring throughout Italy, Japan, South Korea, Canada and the United States. He will also make an appearance at the Austin City Limits Musical Festival at Zilker Park in Austin, Texas. Yorke will attend both the first and second weekends of the festival.
What is Thom Yorke's tour setlist like?
Thom Yorke plays a selection of his hit songs from his solo career and a few from Atoms for Peace, including "Impossible Knots," "Black Swan," "Harrowdown Hill," "The Clock," "Has Ended," "Not the News," "Truth Ray," "Traffic," "Twist," "Atoms for Peace," "Last I Heard (…He Was Circling the Drain)," "Nose Grows Some," "Pink Section," "A Brain in a Bottle," "Interference," "Dawn Chorus," "Runwayaway," "The Axe" and "Twist." The setlist may be subject to change at any time.
Is Thom Yorke touring with anyone?
Thom Yorke will be joined by musician Nigel Godrich and visual artist Tarik Barri, who also toured together for Tomorrow's Modern Boxes in 2015.
Which artists are similar to Thom Yorke?
If you are a fan of the music of Thom Yorke, then you might also want to check out the solo career of fellow band mate Jonny Greenwood, who, in addition to his work with Radiohead, also composes film scores. He has a longtime collaboration with director Paul Thomas Anderson and earned an Academy Award nomination for the score to Phantom Thread.
Back to Top
Epic events and incredible deals straight to your inbox.