There aren't any Events on the horizon right now.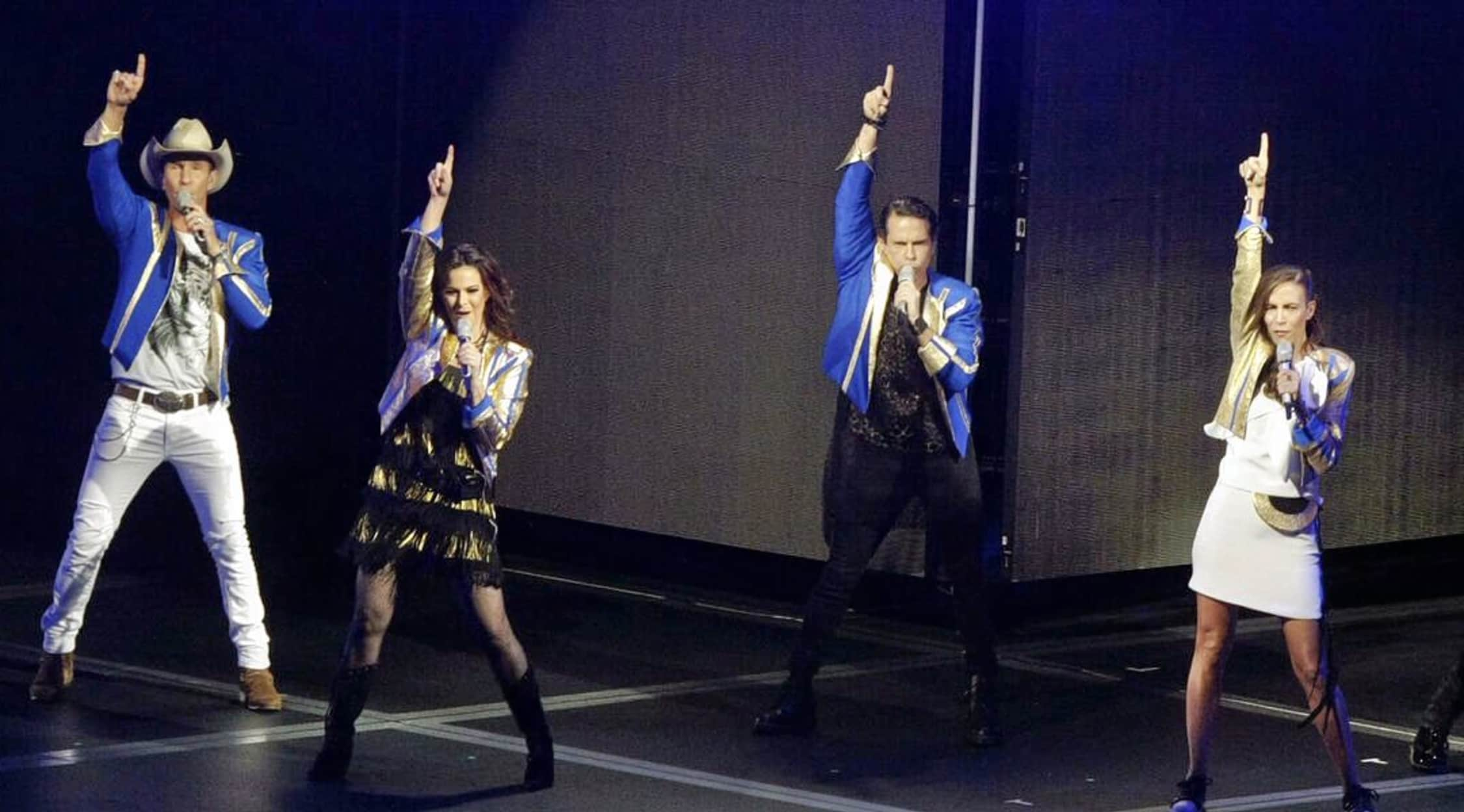 Zuma
Timbiriche Tickets
Timbiriche Tickets
Timbirichi is a pop and dance group that arose from Mexico City in the early '80s. It originally began as a children's group but eventually evolved into a teen and adult band. The name of the band comes from a paper-and-pencil game, which is known as Dots and Boxes in the United States. The members of Timbiriche still reunite on occasion to tour around the United States and Latin America performing the band's classic hits for its legions of fans.
Juntos
Timbiriche was originally conceived in 1982 by the Mexican television station Televisa. Inspired by the success of the children's band Parchis, which was also named after a table game, Televisa began auditions for children who could sing, dance and act. Shortly after it was put together, the group made its television debut on the Mexican variety show "Siempre en Domingo." It also recorded two full-length albums called Timbiriche and La Banda Timbirichi during the same year. Produced by the record label Fonovisa, the albums contained a mixture of original songs and covers of popular international songs. The group reached the apotheosis of its fame with the 1988 release of the double albums Timbiriche VIII and IX, which sold more than 500,000 copies in Mexico and Latin America. In 1989, Timbiriche would release its first compilation album, Los Clasicos de Timbiriche, in which the group was accompanied by the Symphony Orchestra of Mexico City. With the departure of several original members in the early '90s, Timbiriche recruited a new generation of young adults into the band, while its style began to diverge quite a bit from its original formulation and moved toward a more dance-oriented sound. Despite these attempts to keep it together, however, the band released its 12th and final studio album in 1993. Timbiriche would not appear again until 1998 and 1999, when it reformed briefly for a tour throughout Mexico and Latin America. The group reunited in 2007 and 2008 for a 25th Anniversary Reunion and again in 2017 for a 35th Anniversary Reunion. Timbiriche continues to release live albums and compilations albums to the public.
Where can I purchase Timbiriche tickets?
If you want to catch a Timbiriche performance in person, you can find a wide selection of tickets at StubHub, the world's largest ticket marketplace.
Who are the members of Timbiriche?
The original Timbiriche lineup consists of Benny Ibarra, Sasha Sokol, Alix Bauer, Erik Rubin, Mariana Garza, Paulina Rubio and Diego Schoening, most of whom do reunite on occasion to tour together. However, the lineup can vary quite a bit, so you may see a mixture of older and newer members on tour.
Is Timbiriche touring in 2019?
Timbiriche currently has no plans to go on tour for the remainder of 2019. However, the band did tour comprehensively around Mexico and the United States in 2018 and early 2019, including a stop at the Hulu Theater at Madison Square Garden in New York City.
What is Timbiriche's tour setlist like?
Timbiriche's tour setlist includes the songs "Hoy tengo que decirte papa," "Si no es ahora," "Muriendo," "Lento," "Mama," "Mirame (Cuestion de tiempo)," "Besos de ceniza," "Princesa tibetana," "Tu y yo somos uno mismo," "La vida es mejor cantando," "Corro, vuelo, me acelero," "Con todos menos conmigo," "Juntos," "Acelerar," "Me pongo mal," "Amame hasta con los dientes," "Disco ruido," "Port u amor," "Rock del manicomio," "Payasos," "Telefono," "Soy un desastre," "Me planto," "Magico amor," "Micky" and many other favorites. The exact song order may change at any time.
What can I expect from a Timbiriche concert?
Timbiriche concerts are heavily steeped in nostalgia for the '80s and early '90s pop and rock aesthetic. The main group handles all of the singing and choreographed dancing while a full band plays behind Timbiriche. A typical concert may last up to two hours at a time.
Which artists are similar to Timbiriche?
If you enjoy the music of Timbiriche, then you might want to check out the '80s Mexican girl group Flans or the Latin pop band Kabah.
Back to Top
Epic events and incredible deals straight to your inbox.