There aren't any Events on the horizon right now.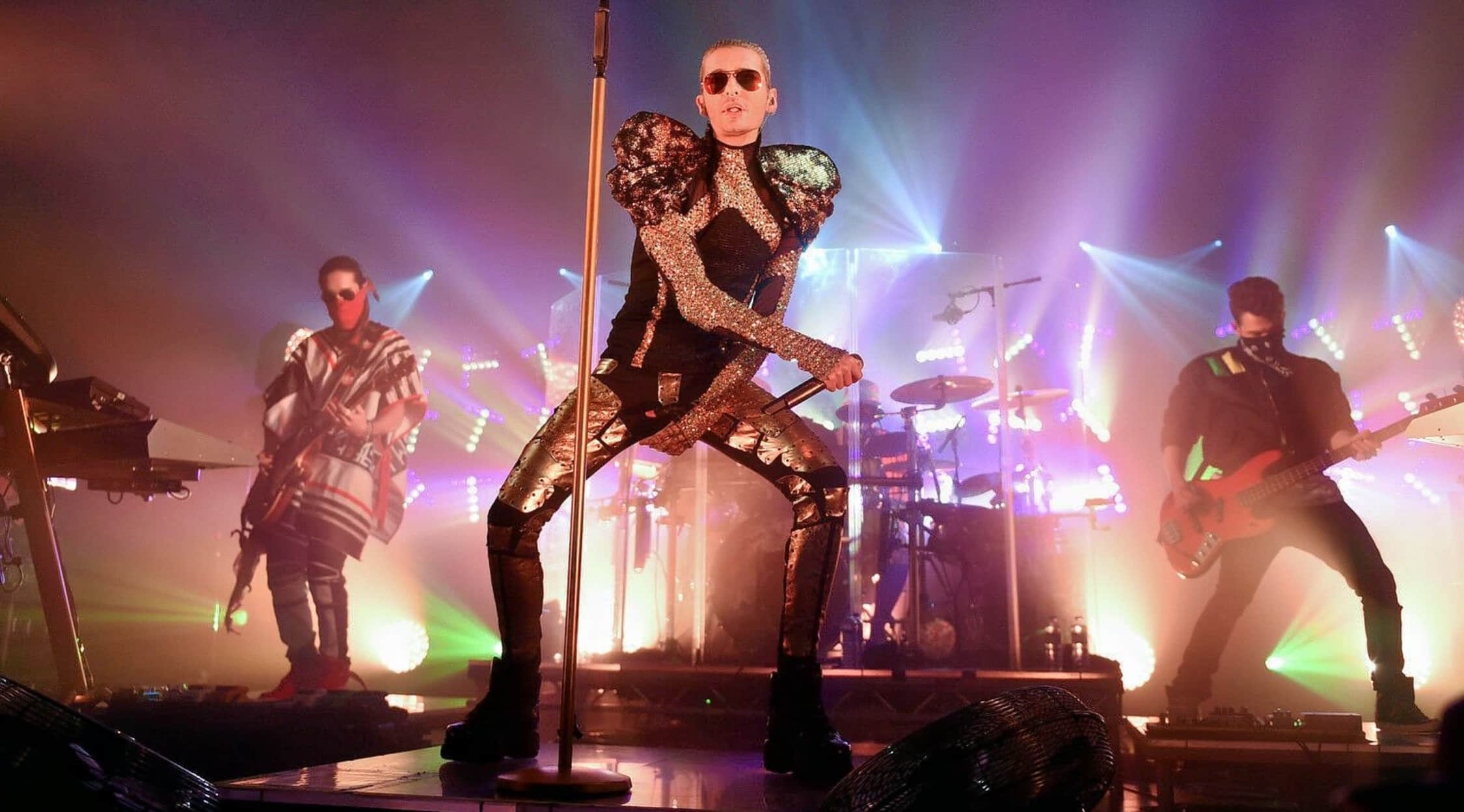 Alamy
Tokio Hotel Tickets
Tokio Hotel Concert Schedule
Tokio Hotel is one of the most popular pop rock acts on the global scene. This German rock act first emerged onto the music scene in the early 2000s, and after achieving great success in their home country, they started churning out English language albums, and since then they have become wildly popular in the North American rock realm. They have pocketed MTV Music Awards in Europe, Japan, Latin America, and the US, proving that Tokio Hotel is easily one of the most popular global bands of the moment. So when Tokio Hotel stops at a concert venue in your neck of the woods this year, make sure that you are in the audience, ready to witness one red-hot rock show!
The North American leg of Tokio Hotel's highly anticipated Feel It All World Tour kicks off this July, and pop rock fans are already on the edge of their seats with excitement. Tokio Hotel will be performing in cities like San Francisco, West Hollywood, Anaheim, Las Vegas, Denver, Chicago, Detroit, Cincinnati, Cleveland, Boston, New York, Philadelphia, Baltimore, and more! These shows are garnering major attention from pop rock fans throughout the US, and thus tickets are flying fast. Fortunately, you still have a chance to lock down your Tokio Hotel concert tickets thanks to StubHub! Simply score your Tokio Hotel concert tickets on StubHub as soon as possible and start counting down to the hottest rock show of the summer!
Tokio Hotel Background
Despite what many people assume given the band's name, Tokio Hotel is not from Japan. This four-piece pop rock act hails from Germany, where they formed in 2001. The lineup consists of Bill and Tom Kaulitz, Georg Listing, and Gustav Schafer. This pop rock quartet first went by the name "Devilish," but eventually changed names to Tokio Hotel (Tokio is the German spelling of "Tokyo"). In 2005, Tokio Hotel signed with Universal Music Group, and the band started releasing hit German rock songs, such as "Through the Monsoon" and "Scream." Their songs flew to the tops of German and Austrian music charts, and before long their singles started achieving gold certification, solidifying Tokio Hotel's spot at the forefront of the German rock scene. After achieving mainstream success in Germany, the members of Tokio Hotel decided that it was time to expand their success worldwide, so they released their first English-language album, Scream, in 2007. The album featured pop rock hits like "Ready, Set, Go" and "Don't Jump," and before long, Tokio Hotel had secured a wildly devoted fan base throughout the UK and North America.
Tokio Hotel continued on their quest to global rock stardom, and they performed at major venues and concert events all over the world. Since emerging onto the scene over a decade ago, Tokio Hotel has won over the hearts of rock fans in Latin America, North America, the UK, and Europe, and now they just might be bringing their hit tracks to a concert venue near you! This famed pop rock quartet is known for putting on explosive live shows, which is why fans always flock to their live shows, no matter where Tokio Hotel is performing. So when Tokio Hotel makes their way to your neck of the woods on their upcoming tour, make sure that you have your tickets to catch this awesome rock band in concert! Score your Tokio Hotel concert tickets here on StubHub as soon as possible!
Greatest Hits
To date, Tokio Hotel has released three English-language studio albums: Scream (2007), Humanoid (2009), and Kings of Suburbia (2014). Their albums have charted in countries all over the world, such as Germany, the US, the UK, France, Portugal, Sweden, Switzerland, Canada, and more! Some of their most popular songs to date include worldwide pop rock favorites like "Monsoon," "Ready, Set, Go," "Scream," "Automatic," "World Behind My Wall," and "Don't Jump."
With massive German hits and English-language hits in their repertoire, there is no doubt that Tokio Hotel deserves to be called a global sensation. So when these international rock stars make their way to a concert venue in your city this summer, make sure that you have your tickets to see them in action—check out StubHub today!
Trivia
Over the past decade, Tokio Hotel has pocketed well over 100 prestigious awards worldwide!
The Experience
Are you ready to see one of the world's most beloved pop rock bands in action? Then make sure to lock down your Tokio Hotel tickets here on StubHub as soon as possible, as this is definitely one knockout rock act that you don't want to miss! Tokio Hotel has been known to put on electrifying shows all over the world, and now you might be able to witness their explosive performance in person—grab your Tokio Hotel concert tickets here on StubHub and get ready for a wildly entertaining rock show!
Back to Top
Epic events and incredible deals straight to your inbox.