There aren't any Events on the horizon right now.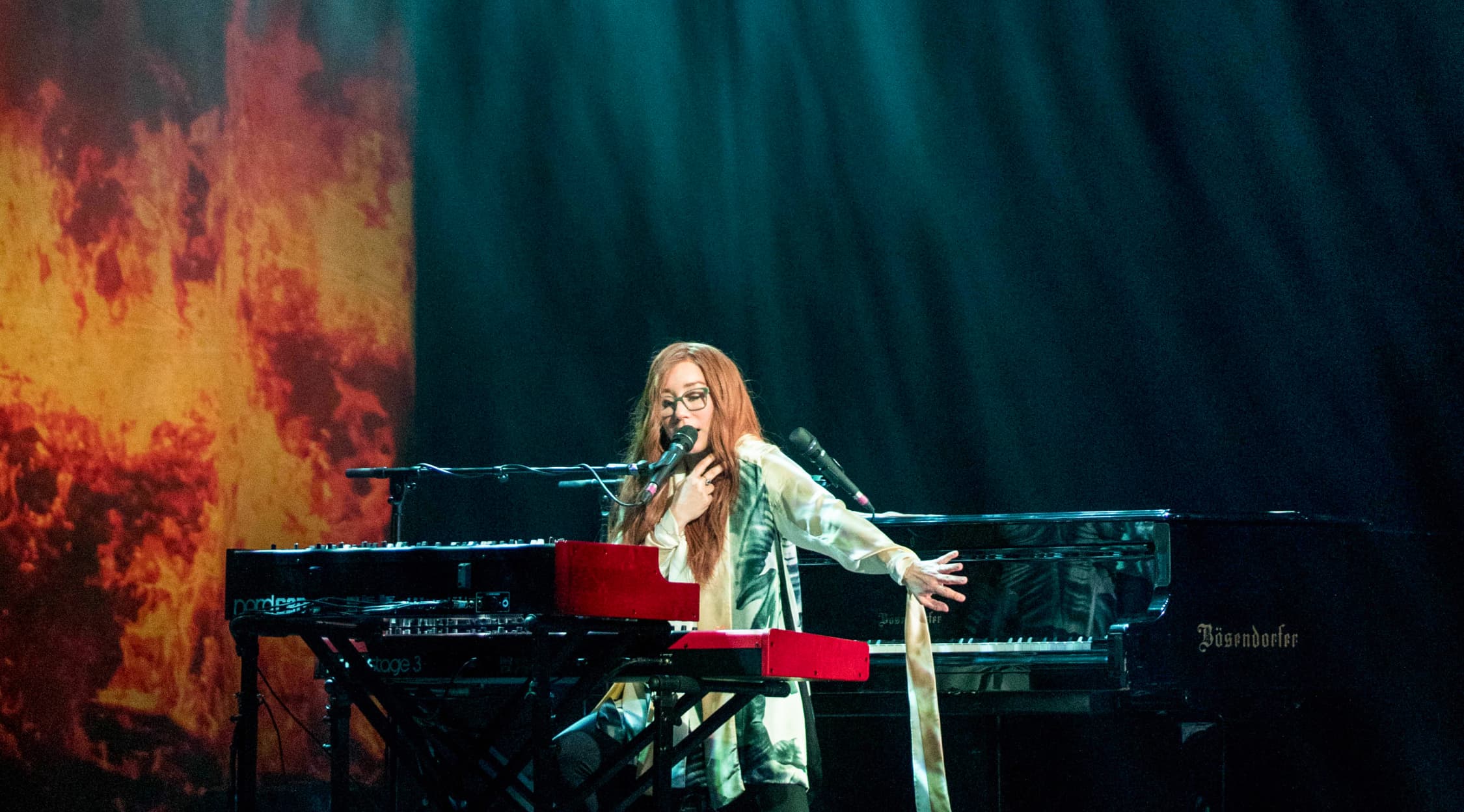 Zuma Press
Tori Amos Tickets
Tori Amos Tickets
Tori Amos rose to fame in the 1990s as a powerhouse with a piano among a veritable Lilith Fair of female artists who finally began to receive much-deserved airplay on alternative radio. As a classically trained pianist with a mezzo-soprano vocal range and the youngest person ever admitted to the Peabody Institute at Johns Hopkins University at age five, Amos has musical and songwriting chops to spare. She spent her teenage years performing in piano bars and sending out demos until she landed a contract with Atlantic Records in the late 1980s. Although her first effort, a pop album, was a flop, she broke through in 1992 with the release of her solo album Little Earthquakes. Since then, Amos has released 15 full-length albums and toured frequently all over the world.
A Venerable Live Act
Amos is almost as well known for her adoring fans as she is for her captivating live performances. In addition to performing in local venues since as early as 1976, Amos has played more than 1,000 live shows since her first global tour in 1992. Despite the rigors of touring, her audience is lucky enough to see an all-new set nearly every night.
Where can I buy Tori Amos tickets?
With diverse setlists full of surprises, Tori Amos shows are a must-see for devotees. Whether you're traveling to several different dates or patiently awaiting your hometown performance, get the best seats for Tori Amos at StubHub.
Will Tori Amos tour in 2019?
Tori Amos doesn't currently have any concerts scheduled for 2019 or 2020. She completed a European and North American tour in support of Native Invader, her 15th studio album, as of October 2018.
Who performs with Tori Amos?
As a veteran solo performer, Tori Amos sometimes plays alone and sometimes uses a backing band of musicians. For the Native Invader dates, she played solo with British indie pop band Scars on 45 as the opening act. Although she also played solo during the Unrepentant Geraldines tour in 2014, her 2011 Gold Dust Orchestral Tour featured backup by the Metropole Orchestra in Europe and by a Juilliard School string octet in North America.
What is Tori Amos's tour setlist like?
Amos is known for performances that often vary dramatically from one show to the next as well as from tour to tour. For this reason, fans collect and trade setlists online and attend as many Tori Amos concerts as possible on each tour. Some of the songs that show up most frequently in Amos's sets include tracks from her 1992 breakthrough album Little Earthquakes, especially "Precious Things," "Silent All These Years" and "Me and a Gun." Covers are also a staple of Tori Amos performances as they are on her records. Artists she covers most frequently include Nirvana, Joni Mitchell, The Rolling Stones, Led Zeppelin, The Cure and Fleetwood Mac.
What artists has Tori Amos toured with?
Although Amos rarely plays festival dates and often tours alone, she occasionally has dates scheduled with other artists. Her 2011 Night of Hunters tour featured the Apollon Musagète Quartett. In 1999, Amos co-headlined a short North American tour with fellow singer-songwriter Alanis Morrisette.
How long is a typical Tori Amos concert?
Tori Amos usually plays for at least 2.5 hours. The average setlist includes 18 to 22 songs as well as medleys, improvisations and fan singalongs.
What are Tori Amos's most notable albums?
The artist's first two studio albums, Little Earthquakes and 1994's Under the Pink, both went double platinum in the United States. Her platinum albums include Boys for Pele (1996), From the Choirgirl Hotel (1998) and To Venus and Back (1999).
Back to Top
Epic events and incredible deals straight to your inbox.