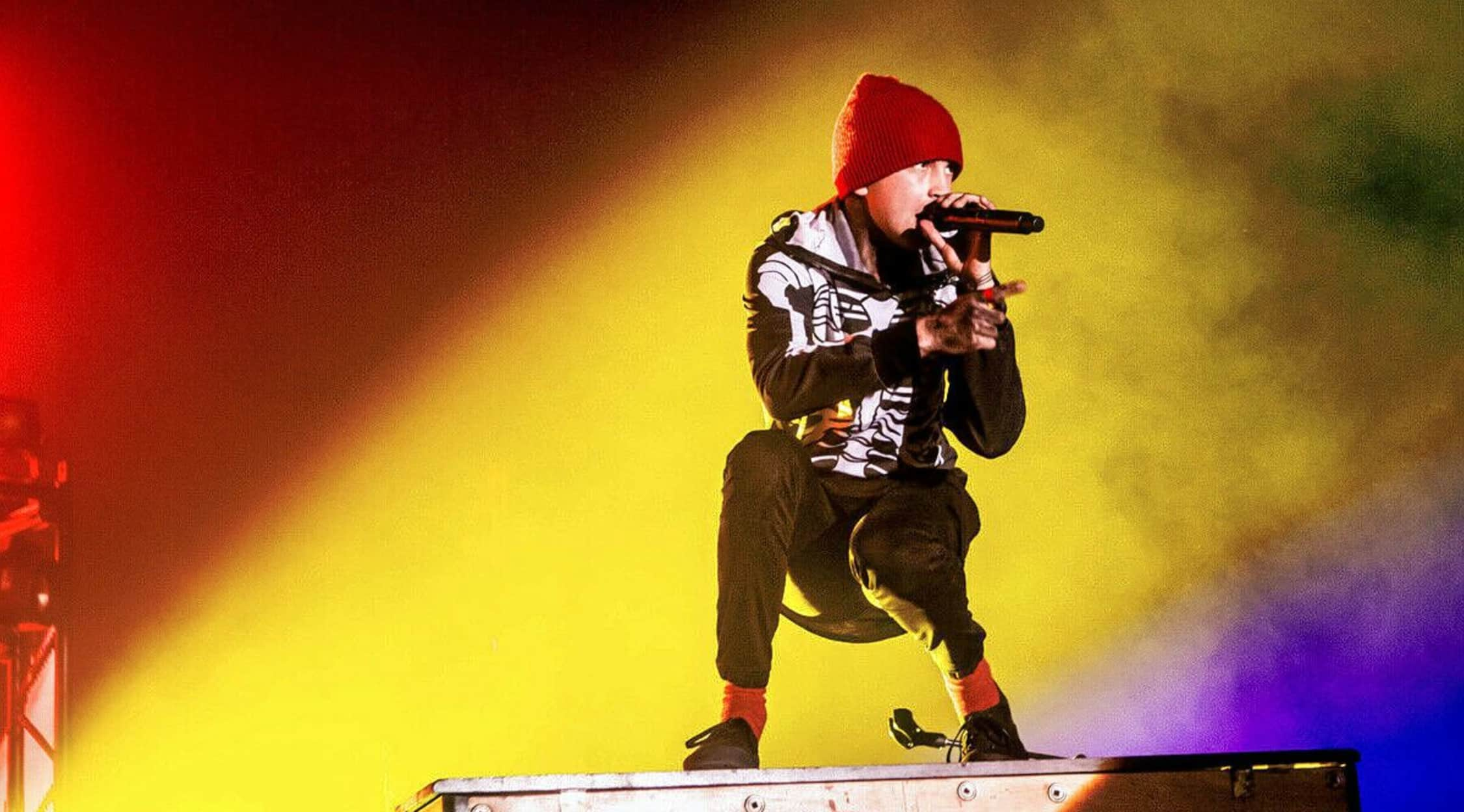 Alamy
Twenty One Pilots Tickets
Twenty One Pilots Tickets
Don't miss your chance to see the alternative rock duo that's sweeping the nation. Since 2009, Twenty One Pilots has won fans over with radio hits like "Stressed Out," "Chlorine" and "Car Radio." Its shows are unforgettable. From lead singer Tyler Joseph climbing to the top of the stage, to Josh Dunn playing the drums while crowd surfing, these two rock stars put on a truly once-in-a-lifetime show. Don't miss your chance to see them live.
Humble Beginnings in Columbus
Twenty One Pilots' hit song, "Stressed Out," details the pair's upbringing in Columbus, Ohio. One of the ways the band shows support from the state where they're from is by playing shows there. In 2017, Twenty One Pilots went on its Tour De Columbus -- five shows across five dates in various venues in Columbus, including Newport Music Hall. Just this past summer, the band played a free outdoor show in downtown Cleveland to help kick off the 2019 MLB All Star Week. Another unique tribute to Columbus that the band has done is making a vinyl in the shape of its home state. Since its humble start, Twenty One Pilots has gone on to win countless awards, including a Grammy for Best Pop Rock Duo in 2016. And with its latest album, Trench, there's nowhere for the band to go but up.
Where can I buy Twenty One Pilots Tickets?
No matter when or where you want to buy, StubHub is the best resource to get your tickets at the best price. And you can get tickets anywhere with the StubHub App.
How many members are in Twenty One Pilots?
Twenty One Pilots consists of rock stars Joshua Dunn and founder Tyler Joseph. It wasn't always just the two of them, though. Before they were signed on to Fueled By Ramen records, there were two other members in the band: Nick Thomas and Chris Salih. These two were involved in the first EPs, but they later dropped out to continue their schooling. However, Thomas later returned to help manage the band's merch.
What is the band's musical genre?
Twenty One Pilots combines hip-hop with pop and rock to create a unique blend of sound that's 100% its own. More recent releases from Blurryface and Trench even have the duo adding reggae to the mix.
What songs can I expect on the set list?
You can expect to hear some of its bigger hits like "Stressed Out" and "Heathens" from the Suicide Squad movie during a Twenty One Pilots tour. You'll also hear some earlier songs like "Car Radio." Blurryface is still considered one of its most popular albums. In addition to "Stressed Out," you'll hear other songs like "Ride" and "Lane Boy" in addition to quieter songs like "Hometown." More recently on its Bandito Tour, the band played songs from Trench, including "Chlorine," "Jumpsuit" and, most recently, "The Hype." You might hear some covers as well -- and you can always expect crowd interaction as Joshua Dunn crowd surfs with his drum kit and as Tyler Joseph directs the crowd to do as it's told.
Is the band touring now?
Currently, the band is on the Banditio Tour in support of its latest album, Trench. While it has already toured the United States, you can still catch it at festivals like Lollapalooza. And even between album cycles, Twenty One Pilots' schedule has been known to include a tour -- like when it closed out its Blurryface era with the Tour De Columbus.
Does the band play big arenas or small shows?
While Twenty One Pilots got its start playing smaller venues in Ohio, it has since grown to a stadium-selling band. Fans have even been known to camp out for hours before the show just to guarantee getting close to the stage. While it mostly plays stadium shows now, it has been known to play smaller venues on occasion. During the Tour De Columbus, Twenty One Pilots played five shows in Columbus. Originally, there were only three shows at smaller venues like Express Live!. As demand for the shows exceeded expectations, Twenty One Pilots added two more shows at slightly bigger venues to make sure all of its hometown fans got the chance to see the band.
Back to Top